Fresh Salsa, without a doubt, is one of my FAVORITE things to make and eat. EVER. Fresh salsa can hardly be compared to it's cooked namesake. It's just so fresh and so zingy, and so DELICIOUS – Gah!!! I love the stuff, with my whole nacho loving heart… and I reeeeeeaaaaallly love nachos.
Despite our summer's slow start (June was basically winter), our garden is producing bountifully, and right now we have a bumper crop of tomatoes, and they are sweet, tangy, delicious and perfectly beautiful! Just look at these little lovely cherry tomatoes!
We also have so much cilantro growing EVERYWHERE. We let some of last year's cilantro go to seed, and it just popped up all over the place this summer.
And did you know that coriander is just cilantro seed??? My mind was blown when I learned this!
Not only that, but before the seed pod dries and develops the tough husk to protect the seed, the whole thing is tender and green and ridiculously delicious. It tastes like cilantro and lime had a baby – it's a burst of freshness that is incredible in so many recipes, including fresh salsa.
This is what it looks like…
So here's my "recipe", but truthfully I actually don't have a recipe – I just wing it every time I make it and it's slightly different every time, but always wonderful.
I want to share with you that this recipe is only a guideline or template; I encourage you to play around with it to suit your taste. Feel free to add more jalapeños or not add the onion. If you don't have fresh green coriander seeds, it's totally ok, just add a little more cilantro… or don't add the cilantro at all if you don't like the stuff!
I'd love to hear if you made any alterations to the recipe, what they were, an how it turned out!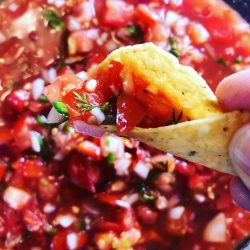 Fresh Garden Salsa
Fresh salsa – it's easy to make, and is so light, zingy, & absolutely delicious! It's sure to become a staple in your summer menu plan!
Ingredients
3-4

large

ripe tomatoes (about 3 cups worth)

finely chopped

1-2

cloves

garlic, minced

1

lime

zest & juice

1-2

jalapeños, finely minced (add the seeds for extra heat!)

1/2

small

red onion

finely chopped

1-2

bunches

fresh, green coriander seed (see above pictures)

This isn't something you can find in your local grocery store, it's just an ingredient you'll have if you grew cilantro in your garden and let it go to seed. It's a lovely addition, but totally ok if you don't have it.

1

tsp

cumin seed, ground in mortar & pestle, or 1 tsp ground cumin.

Toasting it first adds lovely flavor!

1

pinch

cayenne pepper

1

bunch

cilantro, minced

1

tsp

salt

or to taste

fresh

ground pepper

1-2

pinches

sugar
Instructions
Do all of your chopping, mincing, & zesting, then combine the ingredients in a medium bowl.

If you can resist the urge to eat it immediately, this salsa is even more delicious if given time to rest so the flavors increase and meld. Cover and put in the fridge for 30 minutes or longer.