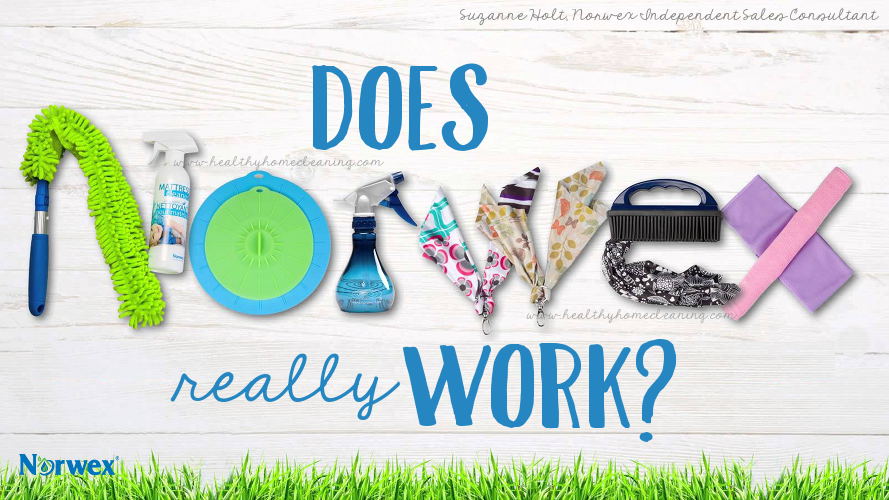 Norwex claims that their microfiber products can remove up to 99% of bacteria from a surface when the cloth has been made wet with just water. This is one of those statements that sounds too good to be true. How is that even possible? Does Norwex work? Like, REALLY work?
I thought these same things when I first heard about Norwex. And to be truthful, when I'm introducing the product at a party, the guest are saying the same thing!
Does Norwex Work?
Yes! Science proves that it does!
"But wait," you're thinking, "Why would I believe someone who sells the product that it really works? She's just trying to sell me a product, so of COURSE she'll say that!"
Trust me, I get it! 
Understanding WHY I sell the product will help you see why you can believe what I say.
WHY I Stand Behind Norwex:
Many of the Norwex products work better than other products I've tried. 
This includes the traditional (harsh) chemicals you get from the store shelves, other 'green' cleaners from                    the store, AND the all-natural homemade cleaners you can make.
They legitimately save me time while I'm cleaning
You wouldn't believe how much faster you can mop a whole house with the Norwex Mop compared to a  standard mop and bucket system! And running around with just your EnviroCloth and Window Cloth to clean the majority of surfaces?
You feel like a Rock Star when you zip through the house with just those two items!
The company core values of Integrity, Trust and Respect
After meeting our Global Chief Sales Officer, Debbie Bolton,
 you would discover, as I did,  just how much of a genuine person she is. She started this company because she believes that it improves people's lives. She's making a difference, in people's lives, and for the earth, through Norwex!
I want to help YOU understand just how Norwex Microfiber works. Stay tuned for my next post on the science behind microfiber and why you can really trust that it's removing everything from the surface you wipe!