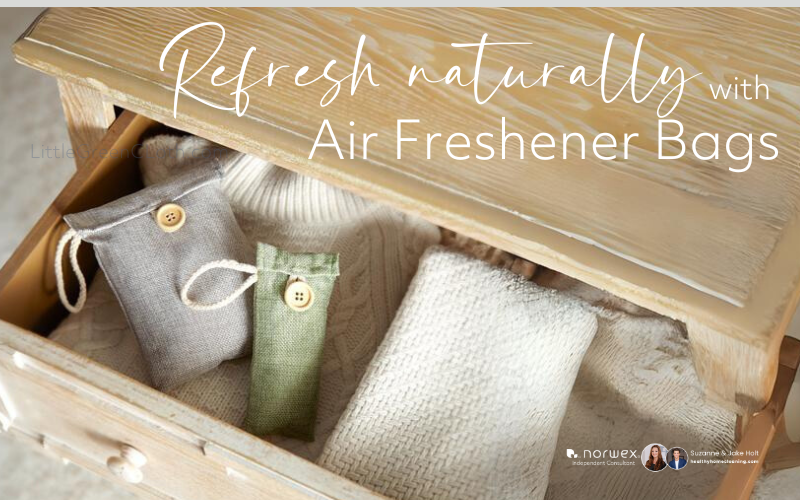 If you want to refresh air naturally, you'll need to get to the source of the problem.
Stinky smells don't just come out of nowhere. They usually have a source. Whether it is your toddler's leaky milk cup, a gym bag of sweaty clothes, old food, or a wet dog, the odors start somewhere. But even after it leaves, the smell lingers in the air.
Decide whether to Conceal or Refresh Air Naturally
When faced with a bad smell, you have a few choices. Most of the obvious choices offered conceal the smell- car vent clips, aerosol chemical air fresheners sprays, essential oils, candles, etc. Many of these options contain carcinogens, volatile organic compounds (VOC's) and phthalates. Now you're not only breathing in a stink, but some pretty rotten ingredients!
Research your Options for Natural
I'm sure you don't want to be filling your lungs with all those chemicals so now it's time to research other options. Check out my previous post "4 Ways to Get Rid of Bad Smells Naturally" to learn more about air fresheners. Either way, you've got a few problems on your hand now. Now what?
I LOVE the Norwex Air Fresheners Bags because they naturally deal with the stink in my car or other confined spaces. Even when fast food bags get left in the car, I don't smell them the next day. It is awesome at absorbing smells. Another friend of mine hangs hers over her bunny cage. Other places they work well are closets, litter boxes, refrigerators, lockers, gym bags, or shoes. Since it absorbs odors, it leaves the car smelling neutral.
These bags come in two sizes: Slim Air Fresheners Bags and Large Air Fresheners Bag; I use the Large Air Fresheners Bage in my car. The linen bags come in pretty colors and have a cute button on them. These outer bags are reusable. The button opens a flap and inside is a rechargeable, biodegradable, bamboo charcoal bag.
Charcoal is excellent at absorbing odors. It has been used for centuries in many interesting ways; do a little research on it. To recharge, all you need to do it put out in the sun for at least an hour. When you do this, one bag can last you up to 2 years!! Imagine how much you'll save since those other car air fresheners only last 30 days! When you need a new one, you can just order a replacement charcoal bag to place in your linen bag.
I give the Norwex Air Freshener Bags 5 stars!! They effectively take away stink, don't add fake smells to the air, and are so health and environmentally friendly!
What do you think? How many of these do you have in your home to refresh air naturally?
~ Suzanne
Save
Save