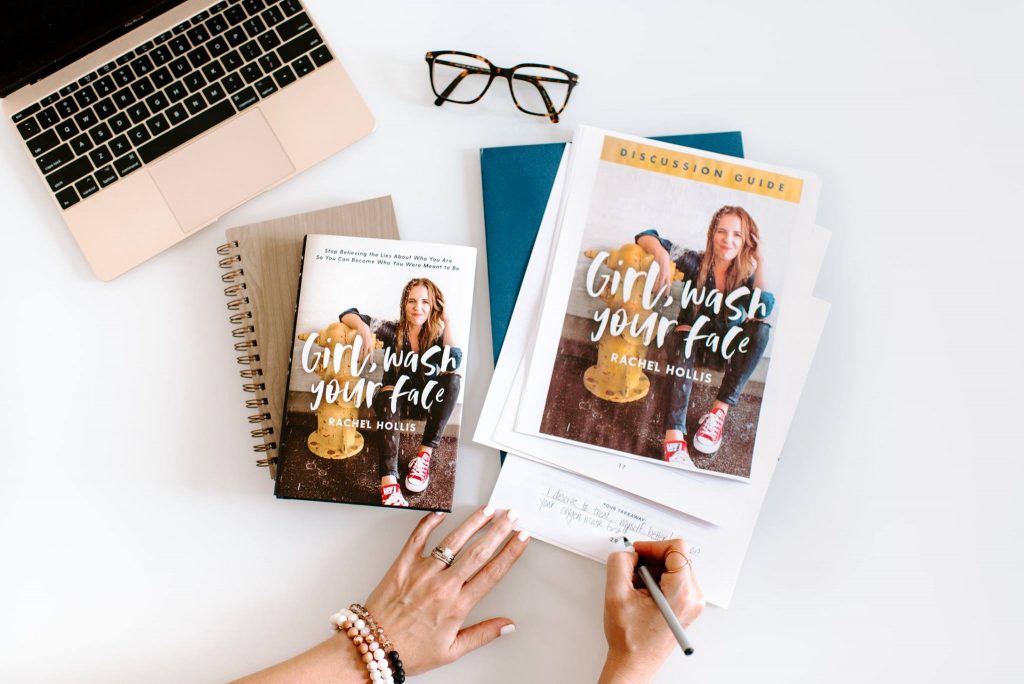 I recently read a book that spoke to me. It grabbed deep down in my heart and in my soul and said "Yes! This is me! This is what I've been doing. This is what I've been teaching. This is what women need. I want to be best friends with the girl that wrote this!" That book is called Girl, Wash Your Face, by Rachel Hollis. Have you read it? If not … stop what you're doing (after you finish reading this of course) and rush right out and buy a copy. Buy one for your best friend while you're at it.
Here's how 'Girl, Wash Your Face', ties into my Norwex journey (and into my hopes and dreams for all of you)
In January, I shared with you all the darkest secret in my Norwex journey when I wrote "My Whole Norwex Story." I shared that I came to Norwex through a painful experience at my previous career, and that during that season, I was in a dark valley. I also shared that in January of 2018 I had another painful experience at a firm that caused me to make a choice – a choice to leave financial planning and focus just on my Norwex business. It wasn't pretty and it wasn't fun, but I did what I needed to do. I walked away from that situation.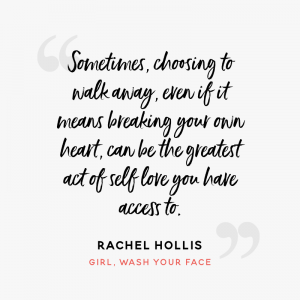 That decision caused pain. I had to mourn the loss of team members, clients, and work that I loved. I cried; I cried a lot. I won't pretend I didn't.
I'm seven months past that choice now and although I still get a bit emotional when I remember that season, I'm also keenly aware of all of the good that has come into my life because I took a risk. And I am so thankful. There are so many things I would have missed out on had I not made that leap of faith.
The past 7 months
Almost immediately following me leaving financial planning, my mother-in-law became quite ill. I loved her very much. She was a world class grandma to my boys, and a good friend to me. It was wonderful to control my own schedule with Norwex so that I could be there for Marilyn. I was able to talk to her every day, see her most days, coordinate her medical care, handle her personal affairs, and really just make her a top priority in our lives. I wouldn't have been able to do that if I had still been committed to a full-time financial planning job.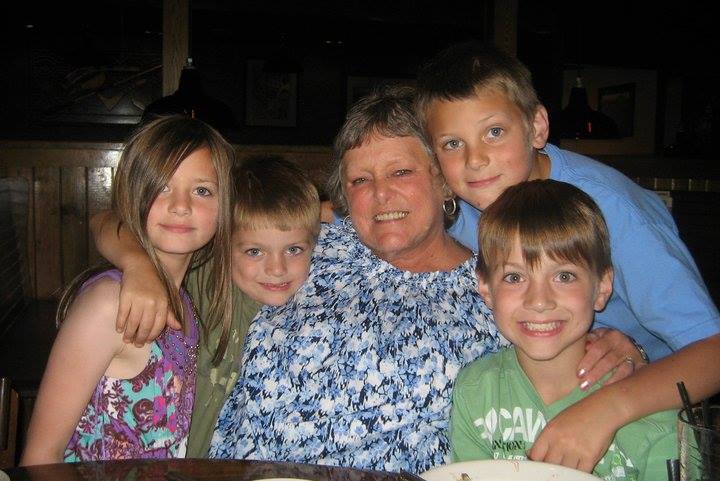 We lost Marilyn in early April. It was the middle of the night when I got the call from the hospital. I was in Colorado on a Norwex trip and I immediately got on the first airplane flight home. Norwex is a family oriented business, so everyone understood and supported my decision to leave the conference, one where I was scheduled to speak the next day. A colleague stepped up and taught in my place while I was home making funeral arrangements and comforting my family.
Following the loss of Marilyn, our family was 'raw' emotionally. Some days I felt like there was a gaping wound in me. At that time, I very much appreciated having the freedom to stay home with my sons and work my Norwex schedule around my family's needs. For the first summer in 23 years, I had time to get up in the morning and take long walks with my kids and dog. I had time to relax and become well rested for the first time in years (maybe since becoming a mom 16 years ago). I had time to heal.
This spring, I provided training at the Norwex' Senior Executive Sales Leader Academy in Dallas for the second time. I was able to share four presentations with senior leaders within Norwex. I was able to bless them because I was in control of my own schedule.
This summer I took my family on a two week trip to Italy, France and Spain. It was a fantastic bonding time for myself, my husband, and our 12 and 15 year old sons. It gave us time to get away and heal. We laughed a lot on that trip, and we grew even closer as a family.
Right now, I'm in Australia with my husband and am preparing to be the keynote speaker at the Norwex Australia / New Zealand Annual Conference.
None of these things would be possible if I was still at that financial planning job. All of these things are things that have grown me individually and blessed my family and colleagues. I wouldn't have been able to share those blessings if I was still tied to a full-time job.
Getting off the merry-go-round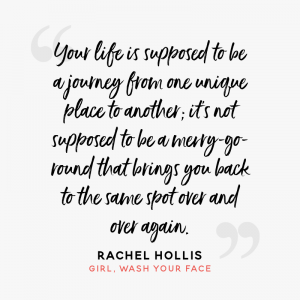 In the introduction of Girl, Wash Your Face, Rachel says "Your life is supposed to be a journey from one unique place to another; it's not supposed to be a merry-go-round that brings you back to the same spot over and over again." You see, while I have soared with my Norwex business over the past almost ten years…building a team all around North America, training globally, doing parties throughout the US, I wasn't doing that in my financial planning life. I was on a merry-go-round that didn't let me grow. I was using my skills to help others on my financial planning team, but I was hiding in the shadows.
She goes on to write "I believe God loves each of us unconditionally, but I don't think that means we get to squander the gifts and talents he's given us simply because we're good enough already. A caterpillar is awesome, but if the caterpillar stopped there – if she just decided that good is good enough– we would all miss out on the beautiful creature she would become."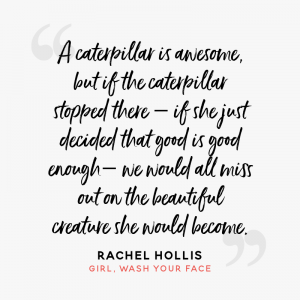 This was like a lightbulb going off for me. I had become a beautiful butterfly within Norwex, but each day I went to my financial planning office, I was trying to hide that and pretend I was still a caterpillar. That's impossible. Once the caterpillar does the work to become a butterfly, there is no way to turn back time, no way to go back into the cocoon. A butterfly must fly.
Don't let anyone or anything make you think you need to stay small.
Don't Stay Small
Rachel talks about trying to "be small" to avoid making other people uncomfortable. She says "Being big while also being small is an impossible task for anyone." Wow; that spoke to me. I spent the past nine years become 'BIG' with Norwex. I added new skills, grew by leaps and bounds personally, and was impacting people at a rapid pace. I became one of the top consultants and leaders in the company, yet each day I went to my financial planning office, I tried to make myself small. I didn't want to show the full me (as Rachel says ) "for fear of what everyone might think of the real me." During my financial planning office hours, I was living as just part of me because I was afraid of what would happen if I showed the real me.
Fear is ugly, and it has no place in our lives. Don't fear showing the "real you" to people. God says that you are uniquely and wonderfully made. He wants the real you to be the one that shows up each and every day. Rachel puts it as "Do you really think God made you – uniquely, wonderful you – in hopes you would deny your true self because it might be off-putting to others? I can't believe that's true. … God made me this way. He knew I would have a worker's heart, and he knew I would want to build big dreams."
God knew I would build big dreams with Norwex, and He knew I needed to stop trying to stay small.
Back to My Story
Leaving financial planning in January broke my heart a bit (maybe more than a bit). You see, I LOVE Norwex, and I know I'm making a massive impact in the world each and every day as a Norwex leader and consultant. No doubt about that, and impact is important to me. Norwex has been a dream come true for me.
With that said, I know that God gave me gifts and abilities to help people through financial planning. He's helped me enhance those gifts through Norwex because I've learned coaching and behavioral skills that are helpful when talking to people about their financial life. When I quit using those skills, I reduced the blessing that I'm able to be in the world.
I've recently started doing financial planning again on a part-time basis. It has been fun to use the skills I've learned with Norwex to help a new group of people grow. I have a business partner that is caring and supportive and that loves that I'm bringing all of these Norwex leader skills into his financial planning office. I'm working in the financial industry again, but something is very different this time. I'm no longer doing it out of a fear of leaving what's familiar. I'm now doing it because I realize it's how God wired me, and I believe it is a way He wants me to help others.
I'm finished being a caterpillar, both in Norwex and in financial planning. In Girl, Wash Your Face, Rachel says "But if the caterpillar just chose to stay a caterpillar, if she decided that the chaos of metamorphosis would be too much for her to handle, she would never know what she could become. Do you think that changing her entire being isn't painful? Do you think it's not scary and hard and overwhelming? Of course it is, but if she didn't fight against the fear, if she didn't allow the change to turn her into her true self, we would never know how beautiful she is. She would never know that she was meant to fly."
It was painful to deal with my fear and leave that old office. Very painful. It was painful to leave colleagues and clients behind that I cared about. It's been scary and hard and overwhelming to stretch and grow and do things like fly half-way across the world to train at this Norwex conference. That's how I've grown however, and how I'll continue to grow. I was meant to fly, and I was meant to help others fly.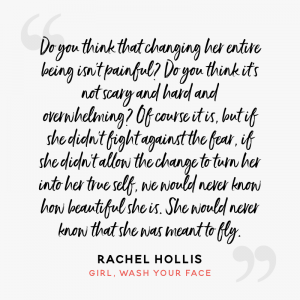 What about you?
What is it in your life that is making you feel you need to stay small? Is there something that is making you call this a 'hobby' or 'side gig?' Are you minimizing the work you're doing?
What is it that is making you hide in your cocoon as a caterpillar rather than do the work to become a beautiful butterfly? Do you want to do the work? Do you want to FLY?
How can I help?
Norwex isn't just a product to me; it's not just selling microfiber cloths. Norwex is a lifestyle, an opportunity, a means to changes lives of tens, hundreds, thousands and tens of thousands of people.
This isn't a hobby and this isn't a side gig. This is a career that is important, a career that is professional, a career that will change your life and allow you to change the lives of others.
If you're already a Norwex consultant, congratulations! Well done taking a big step toward making the world a better place.
If you're already a Norwex customer, I encourage you to talk to the person who first shared Norwex with you and ask them about our consultant opportunity.
If you're not familiar with Norwex yet or don't have a consultant – Let's Talk. I'd love to share more about how the Norwex business opportunity can help you be all that God created you to be, and how it can help you fly.
Thanks for stopping by! (Now go buy that book!)
~ Suzanne