"I'll be darned. I've been looking for something to get rid of my fruit fly infestation and absolutely nothing has worked. But I set up your vinegar/dish soap combo in my kitchen this afternoon and I have nearly 20 dead flies in the bowl!" ~Jessica
It's that time of year again… fruit fly season.  They are EVERYWHERE and they are so GROSS, and such a nuisance.
Actually, I don't know if "fruit fly season" is a real thing, but here in my little part of the world, fruit flies arrive in ABUNDANCE during the late summer months (and September, and October). Getting rid of them before they take over our house, proves to be a challenge every year.
After trying a few different fruit fly traps, I've found the one that has worked the best for me.
This fruit fly trap will help you get rid of fruit flies from your house in no time at all.
MATERIALS:
small glass bowl
'fermented' vinegar (apple cider, balsamic, wine vinegar) or a sweeter wine. My personal favorite is white wine vinegar.
DIRECTIONS:
1. Fill the bowl about 3/4 full with the vinegar or wine.
White vinegar or plain fruit juice don't work very well to attract the fruit flies.  Fruit flies are attracted to, feed from, and lay eggs on rotting, fermenting fruit/vegetables, so it's necessary to have something that's undergone a fermenting process.  If all you have on hand is fruit juice, you can add some chopped up bits of rotting banana to the mix which will help lure the flies to your trap.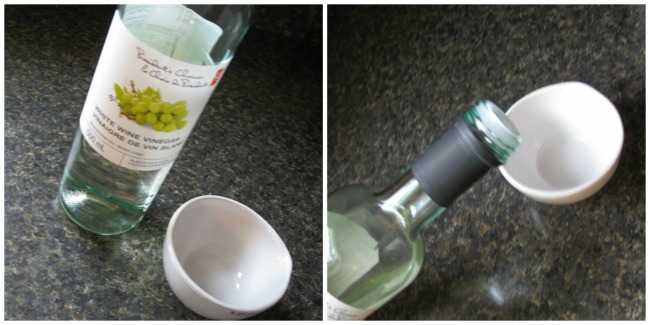 2. Put a small drop of dish soap on your finger and gently swirl your soapy finger on the surface of the vinegar.
Why the need for dish soap?  Fruit flies are small enough that the surface tension of the liquid can support their weight, so normally, they can land on a liquid, and not fall in.  Dish soap breaks the surface tension, so the fruit flies drop into the vinegar and drown.  Yipee!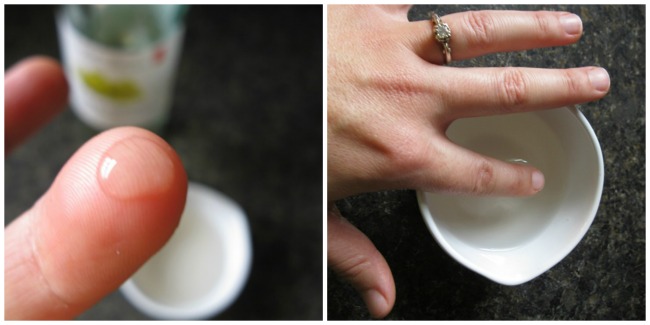 3. Make sure you remove ALL fruit from your counters or fruit bowls so that the only source of temptation for the fruit flies is your bowl of vinegar.
4. Put the 'bowl of death' on a window ledge, counter, table… floor even. The fruit flies will be drawn to the fermenting smell (thinking it's food), land on the booby-trapped vinegar, and fall to their demise.
(Insert evil laugh here)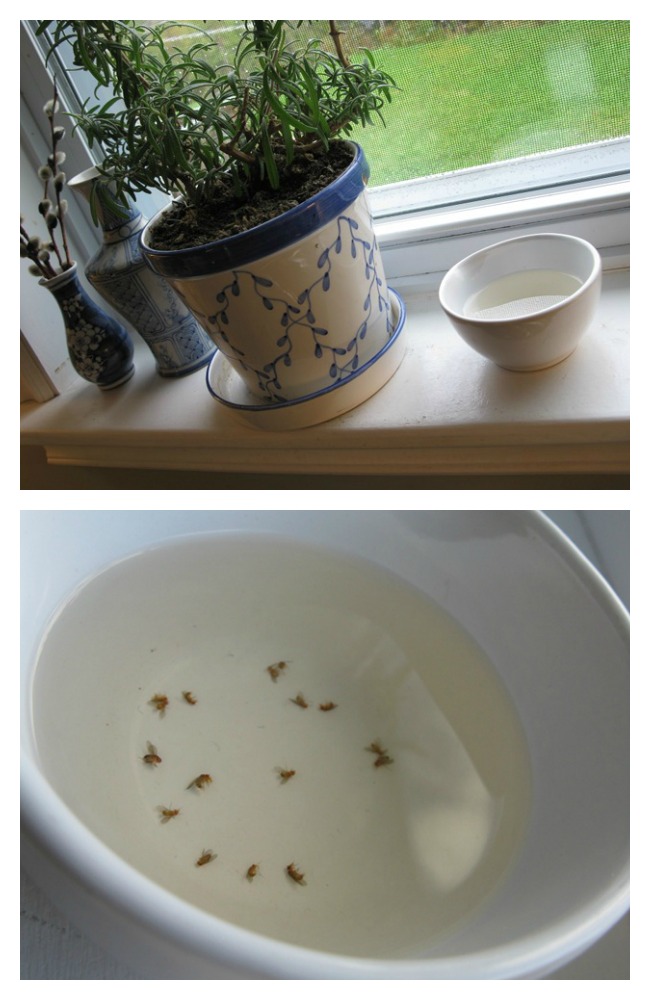 5. Sit back, coffee in hand, and enjoy your reclaimed kitchen – it no longer belongs to the flies, but to you!
I can't tell you how much joy it brings me to see the bowl filling up with little dead fruit flies. Weird? Maybe. But if you've had a fruit fly infestation in you house, you know that same giddy feeling of discovering that the little pests are no longer hovering around your bowl of salsa and nachos, but instead "resting peacefully" in your little death trap.
Oh, and for the record; even though I love to kill the fruit flies in my house, I am not an 'insect hater'… I love and have great respect for the insect world, and know their value to our earth and environment. Just had to get that cleared up.
If you found this helpful, please share it with your friends!