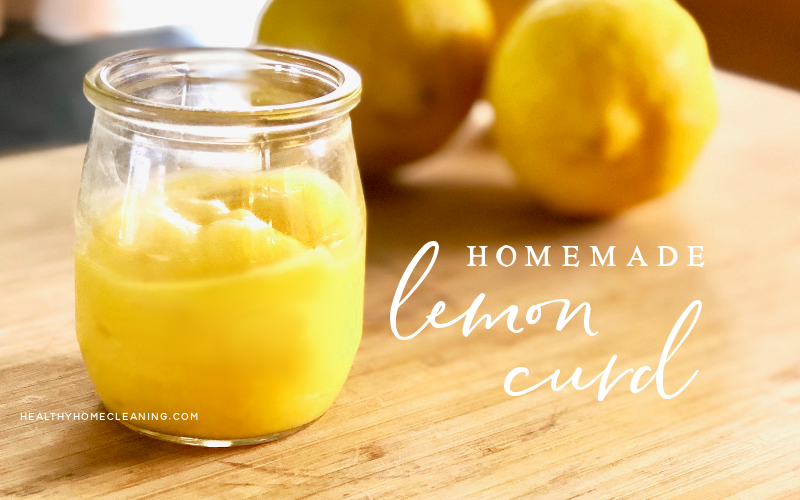 It's true, you can buy bottles of lemon curd from the grocery store, but they're usually small, expensive, and they don't hold a candle to the zingy taste and creamy texture of homemade lemon curd.
If you're into lemony desserts, this lemon curd is the bomb!
I could literally eat an entire bowlful of just this stuff all by itself, but it makes an amazing topping for my lemon cheesecake, a divine addition to vanilla ice cream, the perfect lemon cream filling for cakes, and a delightful dip for shortbread cookies. The possibilities are limitless!
Don't be intimidated by this recipe.
It's not hard to make, but it does require your full attention.  This isn't a walk-away-to-do-some-laundry-while-it's-cooking kind of recipe, so make sure you make it when you can devote your full self to the process.
This is a Marth Stewart Recipe – I've only changed one thing – I use a double boiler to cook the lemon curd, rather than using a pot directly on the stove. This one difference completely eliminates the possibility of burning the curd! If you don't have a double boiler though, you can still make the lemon curd, just be very careful with your heat and remember to whisk, whisk, whisk!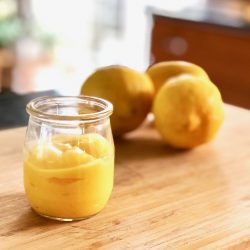 Lemon Curd
Deliciously tart and dreamily creamy, this easy-to-make lemon curd is a perfect topping for cheesecake, biscuits, ice cream, cookies, and a host of other baked treats! You might just find yourself eating spoon-fulls right from the jar!
Ingredients
1

cup

sugar

8

large egg yolks

reserve the whites for another use

1

Tbsp

finely grated lemon zest

2/3

cup

fresh lemon juice

3-4 lemons

10

Tbsp

unsalted butter

cut into 1/2 inch pieces

1/4

tsp

salt
Instructions
In the top half of a double boiler, combine sugar, lemon zest, and egg yolks. Whisk together until well combined. Whisk in the lemon juice and the salt.

Add the pieces of butter.

In the bottom pot of a double boiler, put about 1 inch of water. Bring the water to a boil, then reduce to a gentle boil - medium heat.

Set a fine-mesh sieve over a glass bowl. Have it on close by, you'll need it soon.

Put the top of the double boiler, full of the mixed ingredients, into the bottom pot which now has simmering water in it. Cook the mixture, whisking constantly, until the butter has melted, and the mixture is thick enough to coat the back of a spoon. Do NOT boil.

Remove the pan from heat, and remove the top part of the double boiler from the bottom. Quickly pour the hot curd through the mesh sieve into the glass bowl. Use a spoon or spatula to press it through. This removes the zest, and any chunky bits of yolk.

Press plastic wrap against the surface of the curd to prevent a skin from forming on the top. Chill in the fridge for at least 3 hours.

This can be kept in the fridge for up to 2 weeks.
Notes
Serve it over cheesecake, ice cream, biscuits, as a dip for cookies, and even on pancakes!  One of my favorite ways to eat it is by the spoon full, right out of the jar.
And if you do better by watching someone make it (as I do), here's the very helpful, short and sweet video!