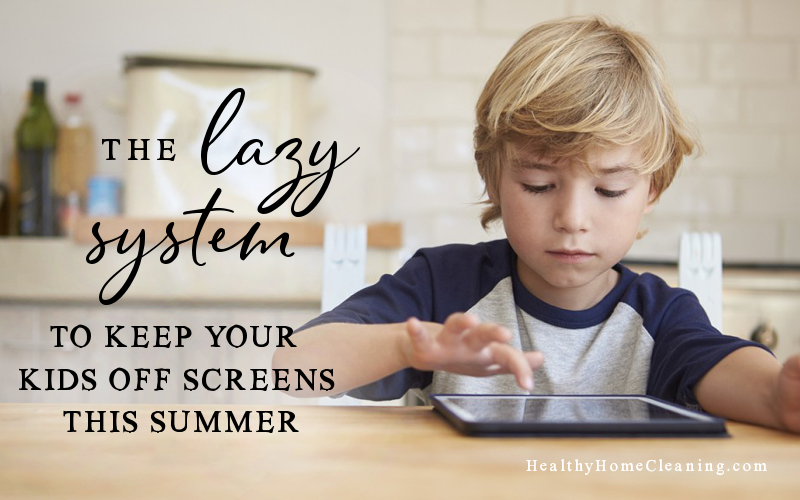 Now that we're really 'IN' to summer, you may already be struggling to keep your kids off screens and devices. Kids and electronics are like a moth to a flame! With schedules out the window, extra screen time just happens in the summer months. My kids become absolute gluttons for screens in the summer! You may already be starting to go crazy with how much they're in front of a screen. Or maybe they're just driving you crazy with how often they're asking to use a screen. I've got a simple system that will help you reign screen time back in to a reasonable amount! It's actually so simple, it truly does feel lazy!
The Ticket System That Keeps Screen Time in Control
Here is a system that works very similar to the Marble Jar reward system. But instead of cold hard cash as the reward, the reward is screen time.
This system is PERFECT because your kids essentially have to *work* for their screen time. I first heard of this method from the "Don't Mom Alone" podcast. Laura Hernandez was a guest on the "Summer Strategies" podcast, and she shared the ticket system she uses in her home. Chores completed equal tickets earned. And tickets can be redeemed for different things, like candy, pop, a new toy, or screen time.
My friend Crystal has incorporated this system in her home this summer, but made the tickets redeemable for just screen time. She's surprised at how effective it's been so far this summer. She's relayed to me that her kids are MORE than happy to do tasks to earn tickets (there's NO grumbling and complaining). It's amazing what kids will do happily, when motivated, isn't it?
It's Easy to Adjust This System However You Need
Crystal shared with me that she's tweaked it so that it's not just chores that earn her kids tickets, but also other activities, like being creative (ie. drawing a picture, or creating a lego structure) or completing a page in an activity book (she has a stack of math activity books. *Insert evil laugh*).
She has a list of chores she's put up on the wall, for her kids to reference. But her kids can check in to see what needs to be done as well. Laura doesn't have a list on the wall, but just doles out tasks based on what needs to be done that day.
Earned tickets are popped into little jars that have the kids names on them. When it's time to redeem tickets, they 'cash in' however many tickets they'd like. Crystal's kids have egg timers that they set (this takes the monitoring job off mom!).
Earned tickets create set limits, which keep kids off screens. When they're all out of tickets, they have to either work for more, or just…go outside to play!
This system is a lazy one because ultimately, it's the kids doing all the work, not the parent!
There's Other Positive Side Effects!
While this system is helpful in keeping screen time to a limit, it's doing more than just that! It's putting responsibility into the kids hands! They are learning how to work, and the value of hard work. A system like this one also takes the burden off MOM (or Dad). It distributes household tasks to other members of the family!
This Can Work For ALL Families!
The beauty of a system like this one is that you can make it however you want. You don't have to do it exactly like Laura, or like Crystal. It can be fancy, with everything written out on the wall. Or, it can be simple, with kids checking in with a parent, on a daily basis, for tasks.
You decide on what tasks you want your kids to complete, and what the tickets are redeemable for more than just screen time. Which makes this work for families' of all sizes and busyness levels, and kids of all ages!
If you're going crazy with the screen monsters growing in your home, this system may be just what you need! If you do try it out, I'd love for you return and share in the comments how it has worked for your family!
~Suzanne