If you've been following our spring cleaning series over the last few weeks, we've given a rundown on how to clean just about every room in your home using only Norwex products. Now it's time for one of the biggest jobs of all – the bedrooms!
Whether you have two bedrooms or six, cleaning them all is bound to be a time-consuming task. Not only that, but if there is any area of the home where it is crucial to avoid strong chemicals and synthetic cleaners, the place where you and your children sleep is definitely it. The following list will guide you through every step to give your bedrooms a thorough clean using only chemical-free Norwex products.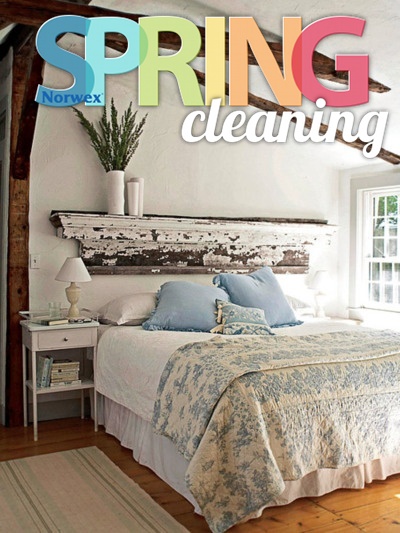 How to Spring Clean Your Bedroom with Norwex
Beds & Pillows
Strip all the linens, wash them in hot water with the Norwex Ultra Power Plus Detergent.
Spray each mattress and each of the pillows with the Mattress Cleaner.
Once it's dried (about 30 minutes) flip the mattress, and put clean linens back on the beds.
Windows:
Wipe each window clean with the Window Cloth.
Clean the sills with a wet Enviro Cloth. Follow up with a dry Dusting Mitt.
Lightly mist drapes with the Norwex Mattress Cleaner, or remove curtains and launder with Norwex Laundry Detergent.
Dressers:
Empty out every drawer and get rid of/donate any items that have not been worn or used in a year or anything that doesn't fit.
Remove any contact paper from the drawers and wipe the inside and outside of every surface down with a wet Enviro Cloth. Replace contact paper if needed.
Shelves/knick knacks/books
Remove items from shelves and wipe them down with a wet Enviro Cloth.  If there are things and books that you no longer want or need, add them to the "donation pile".
Wipe down any knick knacks or other items with a dry Dusting Mitt, and then put them back.
Under the bed:
Remove all items and donate anything that has not been used in the last year.
Using the Norwex Dry mop pad, gather up any dust bunnies (or vacuum if you have carpet), and then wash wood floors with Norwex wet mop pad.
organize items into underbed bins, and replace.
Floors:
Vacuum carpet floors and remove any stains with the Carpet Stain Buster.
On wood floors, sweep with the dry Superior Mop Pad and mop with the blue Wet Mop Pad.
For stubborn stains, use a dab of Cleaning Paste and a Spirisponge.
Here is an overall roundup of items used to clean your bedroom with Norwex:
That's it! With a basket of Norwex products and a little elbow grease, you'll have every bedroom in your home spic and span in no time.
Do you have any tips or tricks for cleaning your bedroom with Norwex? Share in the comments!