Up next in our spring cleaning with Norwex series is the laundry room! Since most of my time in the laundry room involves cleaning clothes and wiping down muddy shoes, I tend to neglect the space surrounding me and don't think to keep it clean and tidy at all times. I'd say it's about once or twice a year that I give my laundry room a thorough scrub-down, and all I need is a handful of my favorite Norwex products.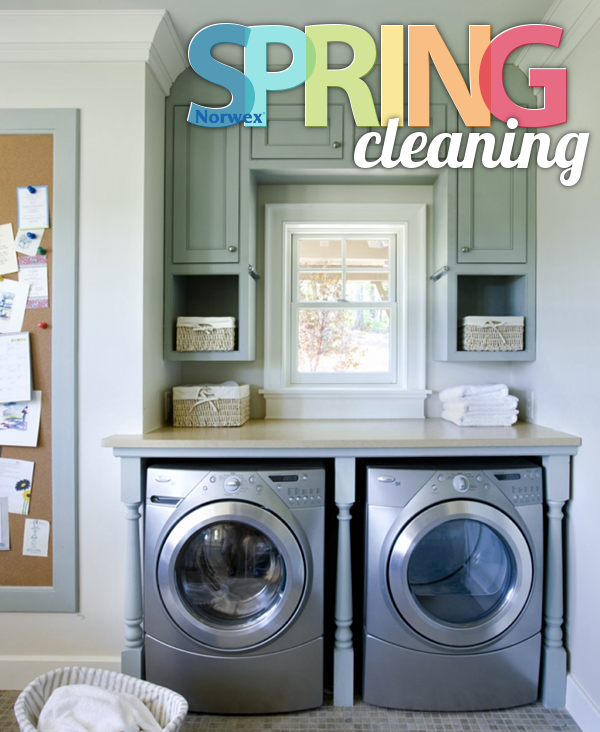 If you're getting ready to Spring clean your laundry room, here is a list of what you'll need to do and the products you'll need to do it.
* Washer and dryer exterior: Wipe down with a wet Enviro Cloth. Follow up with a dry Window Cloth on any glass surfaces.
* Washer and dryer interior: Wipe down the inside with a wet Enviro Cloth as well; make sure to pay extra attention to the seal, lint trap, and inside of the door. If it's smelling a little funky, run an empty load with hot water and a teaspoon of Ultra Power Plus.
* Drawers, shelves, cupboards: Wipe down shelves, the inside and outside of drawers, and cupboard doors with a wet Enviro Cloth. Remove any contact paper from drawers or shelves and wipe down the surface before re-applying fresh sheets of paper.
* Toxic cleaners: If you have any old laundry detergent, fabric softener, or dryer sheets, recycle them and replace them with the Norwex Ultra Power Plus Detergent, Norwex Stain Remover, Odor Eliminator, and Dryer Balls. These are safer, toxic-free laundry care products that will not only prolong the life of your clothes, but also prevent skin allergies/irritation and prevent build-up that can lead to fires or other hazards.
* Hampers: Wipe down the inside and outside of clothing hampers with a wet Enviro Cloth. Give it a quick spray of Sportzyme.
* Laundry baskets: Wipe down all laundry baskets with a wet Enviro Cloth.
* Floors: Use the Dry Mop Pad and Wet Mop Pad to clean up floor build-up. If possible, move your washer and dryer and wipe down the floor under them as well. If there are any stubborn stains or spots, use a dab of Cleaning Paste and a Spirisponge to wipe it clean; just be sure to test it in an inconspicuous spot first.
Here is a roundup of products used to clean the laundry room and maintain a chemical-free laundry routine:
That's it!
How often do you clean your laundry room? Are there any tips or tricks you'd like to share?