Have you been looking for THE all inclusive bathroom cleaner that not only works, but makes cleaning the bathroom less of an exhausting chore, AND isn't a toxic waste factory? Then I've found the product you've been looking for!
I've tried out the Norwex Bathroom Cleaner out on multiple surfaces, in multiple homes, and I give it 5 stars . My experiences have demonstrated that this is a green product that actually works, saves you money, and leaves your tub so sparkly! It's basically the product I spent my whole life looking for, that I now can't live without. Once you start using the Bathroom Cleaner, you'll never want to go back to any other product!
*This product was renamed and improved recently. You may know this product by its former name, Norwex Blue Diamond Cleaner*
All The Deets About the Norwex Bathroom Cleaner
The Norwex Bathroom Cleaner is a concentrated, all-in-one bathroom cleaner.  It's a gel which can be used straight from the bottle OR diluted in a spray bottle (7 parts water : 1 part Blue Diamond Cleaner).
This Bathroom Cleaner is DESCALING – which means it has ingredients (organic salts rather than strong corrosive acids) to "eat" and remove hard water build-up such as rust, calcium, and limescale as well as urine salts (did you know there was such a thing?).
It also contains SURFACTANTS to help it better remove soap scum,  grease, oil, dirt, and stains.  Another function of surfactants is to aid in the rinsing process, to remove the product and the yuck from whatever surface you're cleaning.
It has natural CHELATING ingredients in it.  "What are those?" you ask?  Chelating agents are a special type of organic complexing agents that makes hard water softer.  In the case of the Norwex Bathroom Cleaner, the chelating agent is non-toxic citric acid.  By reducing the hardness of the water with a chelating agent, the other detergent ingredients (surfactants) are better able to clean, and you only have to use a small amount.
It's safe for septic systems.
Does NOT contain APE (alkylphenol ethoxylates) which mimics estrogen and has reproductive effects on aquatic organisms.
It contains NO corrosive fumes or dangerous hydrochloric or phosphoric acid. It does contain some skin irritating ingredients, so you'll want to wear gloves to avoid irritation.
Artificial Fragrance free.  While it does have a very light scent, the product doesn't have artificial perfume or fragrance to give it that scent.
WARNING: If you switch to this product, and you run out without having a backup bottle on hand,  you'll have Michael Bolton singing in your head until you get some … "How Am I supposed to Live Without You ?!" (based on actual personal experience ). Or maybe you won't be able to get " I'm Missing You Now " out of your head!

Where and How to Use the Norwex Bathroom Cleaner
The Bathroom Cleaner is great for:
Toilets – great for that build up under the rim and hard water rings inside the bowl.
Sinks, faucets, & vanities
Bathtubs (both tiled and tub surround units)
Shower & Shower Doors… A-MAZING for glass shower doors that are covered in hard water spots!
NOTE: It's NOT recommended for natural stone surfaces, such as marble or granite.  As well, use caution when using it on "brushed" metal – most often that brushed look is created by a special coating on the stainless steel, and the acids in the this cleaner may eat away at it.
How to Use it in Your Toilet
DEEP CLEANING – Does you toilet have built up "crusties" under the rim and a brown rust ring at the water level?  First, empty as much water out of the toilet bowl as possible by poring a bucket of water into the bowl.  Squirt a stream of Bathroom Cleaner under the rim of the bowl, and let it run down to coat the ugly rust ring.  Let it sit for at least 10-15 min.  Using the Norwex Spirinetts, GENTLY & LIGHTLY start to scrub the rust ring and any accumulated rust under the rim.  NOTE: Don't scrub too hard as you don't want to scratch the porcelain.  If it's really bad, you may have to do this process a couple of times.  And voila, your toilet will be white again!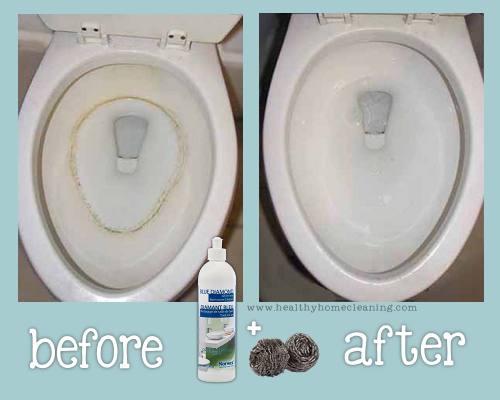 ROUTINE/WEEKLY CLEANING – Just add a few drops to your toilet brush (the Ergonomic Norwex Brush works great), and swish it around your toilet like you normally would.  You can let it sit in the bowl for awhile for further descaling, if you need to.
SHOWER & BATHTUBS
The Bathroom Cleaner really shines when used in showers and tubs. It essentially reduces the amount of work you do and makes things REALLY shiny. Sometimes, I go back into the bathroom to admire my handiwork (I know you do it too) and imagine there is an actual sparkle that makes that 'magic shimmer sound' when I walk in. Like this sound:
How to Use it in Your Showers & Tubs
DILUTED – Use 1 part Bathroom Cleaner and 9 parts water and mix in a spray bottle. (you can use a stronger concentration of the cleaner if you have really hard water and find the 9:1 isn't strong enough).  Simply spray the diluted Bathroom Cleaner on all the dirty surfaces and then let it sit for about 10 min.  Then, take a wet Norwex Enviro Cloth or (even better) the Norwex Bathroom Scrub Mitt, and scrub away the dirt and cleaner.  Now, just rinse and you're done.
UNDILUTED – Wet the walls of your shower and tub, add a few drops to the scrubby side of the bathroom scrub mitt or Enviro cloth, and clean away.  This method is best if you're in maintenance mode, and there's not weeks worth of hard water build up.  If you've neglected your cleaning routine for a while, you would need to use more than a few drops, and let it sit for 10 or so minutes before scrubbing it.
I love that you don't need much of this concentrated product, so you don't need to be apprehensive about its small size . It is TOTALLY worth the price tag.
The added benefit of cleaning with this cleaner, that I have found,  is that it keeps glass shower doors clean LONGER, compared to other products that they've used! That means less cleaning for you! *cue Michael Bolton celebratory tune, such as 'Fools Game'*