The Norwex Odor Eliminator is a safer alternative to room sprays, that packs a punch with its ability to eliminate odors in so many places! This is a safer alternative because it is both biodegradable and contains no harsh chemicals. The formula is enzyme and pro-biotic based, and the "critters" eat through the bacteria that causes organic odors.
This formula has a light scent when you first use it, which eventually fades.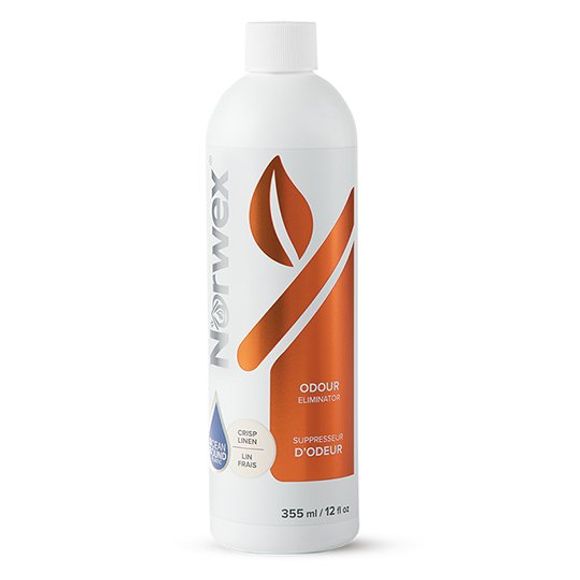 It's crazy effective
Deja Peterson, fellow Canadian Consultant, offers this testimony of the Odor Eliminator:
"The first place I tried Odor Eliminator was in my young son's plastic toy chest, where I've discovered he likes to hide his pyjamas if he's wet the bed. By the time I figured out what was happening, the urine in my son's clothing had permeated the toybox so thoroughly, and the toybox smelled so disgusting, that I was just going to put it out in the garbage and buy a new one. But when I put some Odor Eliminator and water in the toybox, swished it around and let it sit for twenty minutes, the smell vanished! Amazing. I have also discovered that a capful of Odor Eliminator in my laundry will completely remove the urine smell from my son's pyjamas and bedding!"
This bottle comes to you highly concentrated, so to use it, dilute it in water. For example, only a small capful is needed in a load of laundry.
I like to keep a spray bottle of this made up at all times. To do that, mix one part Odor Eliminator with 7 parts water. I can testify that a little of this and a lot more of that also works well as measurements!
When you reach for your spray bottle, just shake it slightly before spraying, to ensure the contents are still mixed. Only a few mists are necessary for all odor eliminating jobs!
Norwex Odor Eliminator removes organic odors. Here are some ideas of where you might use it:
Mist on carpets & furniture as a (light) spray-on room deodorizer
Use with water to wash out diaper pails, garbage cans and cat litter boxes
Spray in stinky washrooms, musty basements and smelly shoes
Refresh a stale smelling room with a few sprays
Put a capful in the washing machine to remove: underarm odor, musty smells, campfire and cigarette smoke, and other organic smells from clothing
Lightly mist anywhere that a pet may sleep or had an accident to freshen the area. It will also eliminate the smell of cat pee
Spray a bed that has been peed on, or wipe down plastic mattress covers with it, if a child has had an accident
has a 2-yr shelf life once opened (keep it out of direct sunlight)
it is highly concentrated, so must be diluted with water
it leaves no residue and will not stain
My Review
This product gets used so often in my home that it's a definite staple. I keep my bottle in my laundry room, since I frequently put a capful in a load. I also have a spray bottle of it I keep diluted with water in a bathroom, so that it's handy (keeping it diluted like that won't affect its performance!). Even though this product is used frequently in my home, I find it lasts a really long time! All of these features make this a 5-star review product!
I think you'll love this product as well, and will find it becomes a staple in your home! Grab a bottle from my shop.