It's difficult keeping a vehicle clean and orderly – they become like temporary homes, but rarely do they get the same attention and TLC that our houses gets, especially concerning cleanliness.
The messiness factor goes WAAAAAAY up when kids are thrown into the equation….
Toys, shoes, clothes, hats, food wrappers, food still in wrappers, rotting food out of wrappers, kleenex boxes shoved under the seats, ground in mud & dirt, and a host of crumbs and mystery bits in the booster and car seats. Not to mention the stains on the upholstery and the finger prints and smears all over the windows!
It wouldn't be fair to lay all the blame on the kids though – us grown-ups leave coffee cups and coffee spills, receipts, and old grocery lists, and our own collection of food crumbs.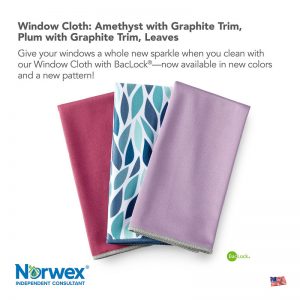 Normally you would take on the van cleaning challenge armed with MANY different cleaning products – Mr Clean, Windex, Armour-All, lots of rags and a bucket of warm water. However, you'll be please with how quickly you can clean your vehicle with Norwex, with NO chemical smell lingering when you're done!
Follow these simple steps to get your vehicle Norwex Clean:
Thoroughly vacuum the floors and vehicle upholstery – sorry, there's no Norwex Vacuum!
Using a wet Norwex Enviro Cloth, wipe down the interior of your car (dash, steering wheel, doors, door handles, etc.), rinsing your enviro cloth with water as needed.
Again, using your Norwex Enviro Cloth, wipe the insides of your windows – one at a time – and then immediately wipe dry with you Norwex Window Cloth for a streak-free shine!
If you have one, use the grey Norwex Car Cloth to wipe over all of your clean surfaces – it "buffs" them to a nice shine!
Next, spray any stains or ground-in dirt on the upholstery with the Norwex Carpet Stain Buster (both floor and seats).  Give it a few minutes to penetrate and "eat" the stains, then, using your wet Norwex Enviro Cloth give the upholstery a little scrub.  You will be amazed at how well this works!
Stand in awe of your fresh, clean and serene vehicle…..at least until the kids pile in again!
As for washing the exterior of our van, the Norwex Car Wash Mitt is a favorite with car lovers though… I'd love to hear the opinions of those who've used it.