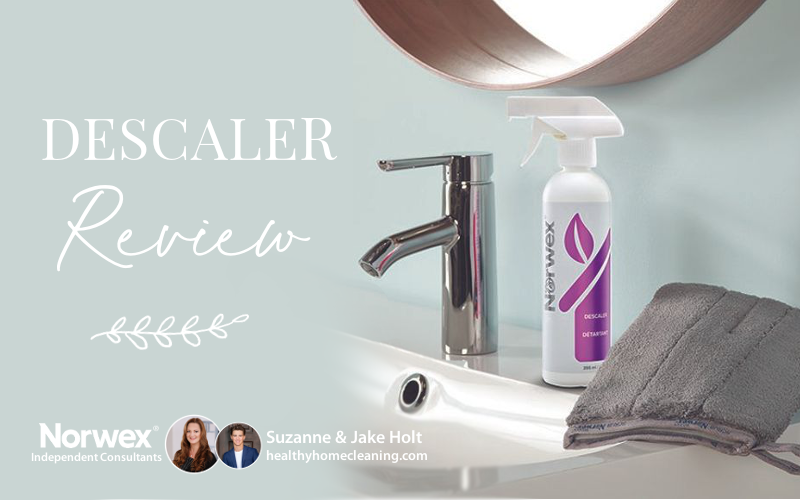 Norwex Descaler is simply amazing.
What it Does
Norwex Descaler is the absolute best product I've found for safely removing soap scum, heavy calcium, lime, and rust deposits from shower doors, bathtubs, taps, drains and more.
How it Works & How to Use It
USDA certified 86% biobased formula contains natural citric acids, so it's both highly effective and environmentally friendly.
I just spray it on, wait 5 minutes, give it a scrub with my Norwex Bathroom Scrub Mitt (another fav of mine) or a Spirisponge, and wipe it clean with a wet Enviro Cloth. It's incredible. It works better and faster than any other chemical alternative I've tried. It's fume-free and can be used by people with chemical and environmental allergies.
One thing to keep in mind with the Descaler – Don't use it for any type of cookware, other than coffee pot carafes. It is also not recommended for natural stone surfaces like tile, marble, or granite.
Norwex Descaler vs "leading descaling product "
Here is the testimony of one customer;
When I moved into my current house last year (before I had even heard of Norwex), the bathtub and shower head were disgusting! They were white with years of built-up "yuck." Repeated application of the leading descaling product and a ton of elbow grease just couldn't get it off. When I tried Norwex Descaler for the first time, it removed ALL of the soap scum and lime in the FIRST application.

It works much, much better than the leading descaling product I bought at the grocery store. And faster. And SAFER. It leaves a smooth, shiny, and CLEAN surface. I seriously can't say enough about it – it is one of my favorite and most-used cleaning products."
And if the above testimony doesn't convince you, maybe the picture below will help!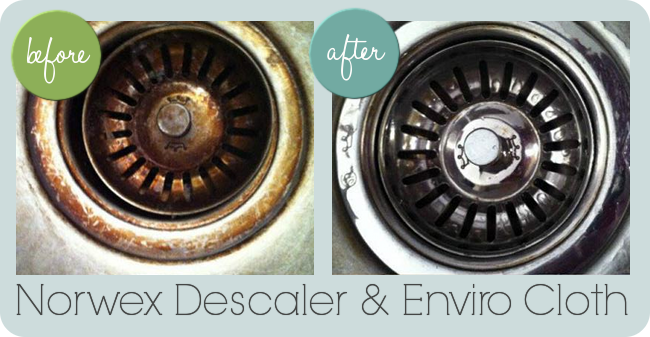 Purchase Products in this Post: