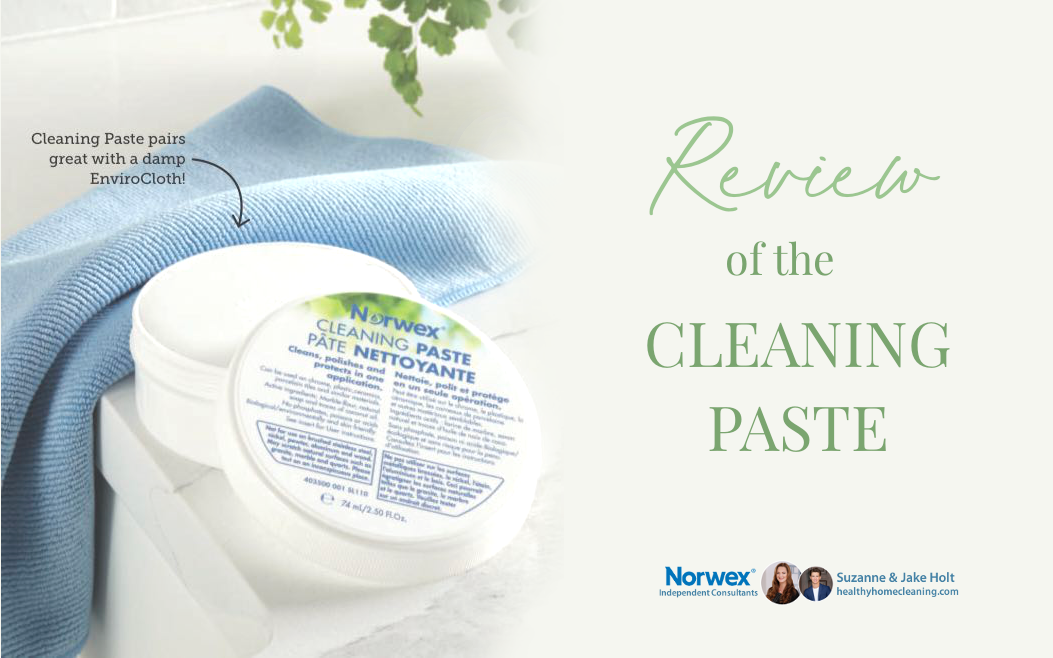 I'm going to get straight to the point – Norwex Cleaning Paste is, without a word of a lie, a 5-star Norwex Product.
I'd give it 10 out of 5 stars, if that was allowed. And Good Housekeeping magazine believed it worthy of the MOST POWERFUL CLEANING COMBO award when used alongside the EnviroCloth during their 2022 Good Housekeeping Cleaning & Organizing Awards! Their cleaning experts tested over 200 of the most innovative cleaning and organizing products and brought the list down to 65 winners, with Cleaning Paste and the EnviroCloth winning the Most Powerful Cleaning Combo category! We've always said Cleaning Paste is "Elbow Grease in a Jar," and now there's even more testing and credibility to this claim!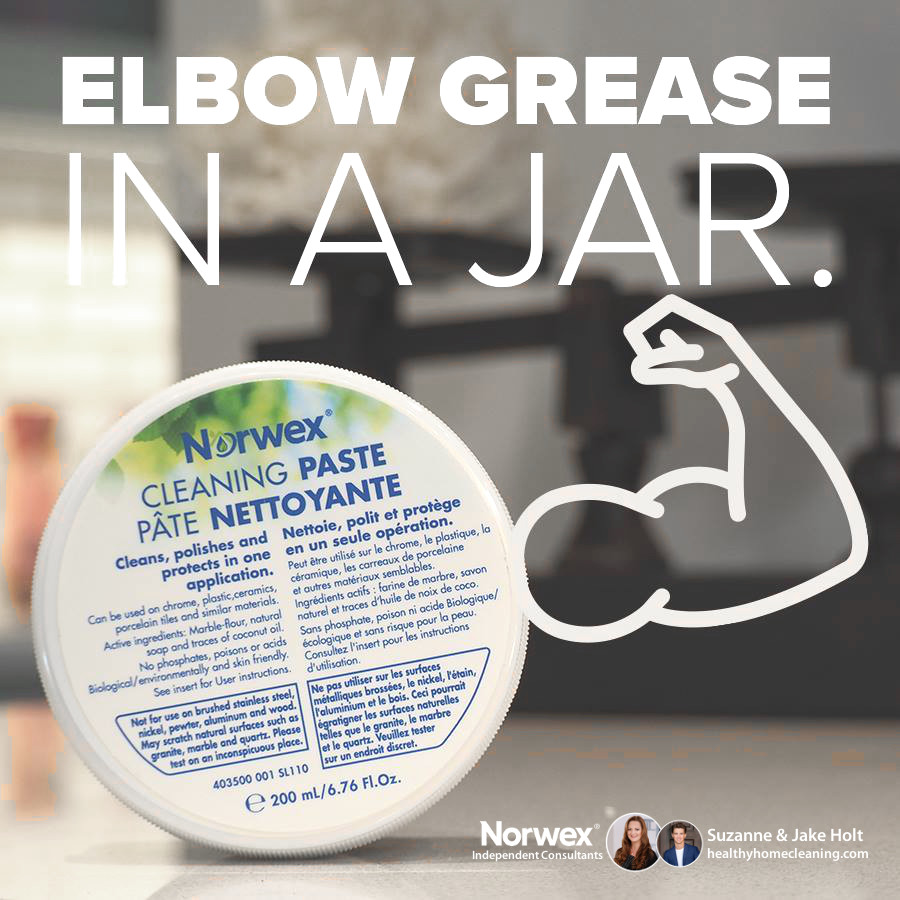 Norwex Cleaning Paste, AKA Elbow Grease in a Jar
IN A NUTSHELL:
I LOVE the Norwex Cleaning Paste. I mean, I really, REALLY love it. Anyone who's used it will tell you that a little goes a loooong way. Just a dab will do a big job. It's affectionately referred to as "elbow grease in a jar". It cleans tough, baked-on, stuck on grunge and gets rid of stains. And the best thing is, you only need a small amount! Just a couple of dabs will clean your entire kitchen sink (stainless steel), and a few dabs will do your bathtub!
Depending on how much scrub power you need, you can use it with the Norwex Spirisponge or an Enviro Cloth.
I've had some customers say that they would love to try it, but that the price is a little steep for a small container; it's just too expensive. I thought the same thing before I bought it. But let me tell you, the Norwex cleaning paste lasts and lasts and LASTS. Because the paste is so compact, there isn't a tendency to use too much for the job. I've had my present container for about 4 years, and I still have over 1/2 left. And it's not because I don't use it very often… I use it ALL the time, but like I've already said (lots of times), a LITTLE goes a LONG way with this stuff.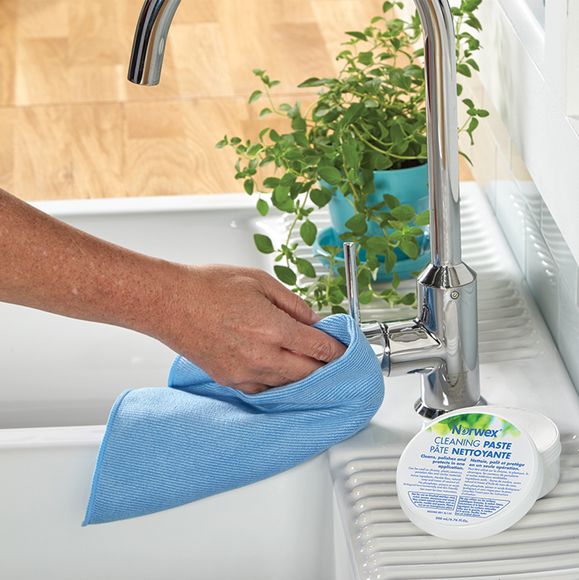 A little about Norwex Cleaning Paste
Norwex Cleaning Paste is an environmentally and skin-friendly cleaner that replaces all of your chemical abrasive cleaners. This polishing agent cleans, polishes and protects in one application. It contains absolutely no poisons, phosphates or acids.
It can be used on surfaces and materials made of:
chrome
nickel
stainless steel
aluminium
plastic
enamel
ceramics
porcelain
tile
painted surfaces
and on coffee pots
and on glassware and foodware products
NOT  RECOMMENDED FOR USE on brass, copper, silver and acrylic surfaces, as it may cause scratching.
(although, there are MANY customers who have used it on these surfaces with GREAT success – just check an inconspicuous area first, before going hog-wild on it!)
Cleaning Paste can be used for:
your bathtub (porcelain, not acrylic) to get the "ring around the tub" off.
your bathroom (great for really stubborn soap scum, rust stains, hard water spots and build-up)
cleaning the sludge and stains from your kitchen sink (stainless steel) – especially down in the little drain part… you know, the section that turns all brown & gross?
getting burnt off crud from your smooth top stove.  Get your stove surface a bit wet.  Use a Norwex Eviro Cloth (or Spirisponge if the mess is bad) to scoop up a bit of the paste.  Scrub your stove until the gunk is gone!
cleaning burnt-on food from Pyrex and glass baking dishes.
getting rid of stains on light-colored countertops (laminate), like coffee/tea cup ring stains, marker stains, and mystery stains.
coffee-stained travel mugs… if you can get your hand down inside of it!
stains in your microwave or fridge.
polishing your pots and pans, both stainless steel and brass.  I have a hanging pot rack, so my pots are always on display… the cleaning paste comes in very handy (when I'm inspired to actually do the polishing).
cleaning the rust ring from the inside of your toilet bowl.
Shoes! Yes, the cleaning paste is amazing for cleaning the rubber toes and soles of sneakers, whitening them up and making them look brand-new again.
and probably many things that I just haven't thought of!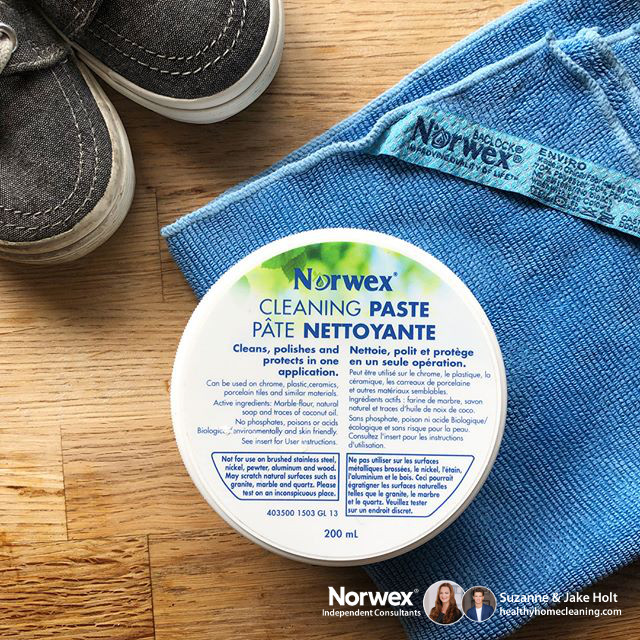 How to use Cleaning Paste
The cleaning paste is not creamy or shakable – it's hard and compact in the container.
Get your Enviro Cloth or Spirisponge damp.
Using your cloth (or Spirisponge), dab at or rub some of the paste from the container.
Rub the cleaning paste onto the surface you want to clean and polish.
Rinse afterward with water and dry with a clean enviro cloth.
PRO TIP: If I'm using it to clean a large area, or I want to use my bulkier bathroom scrub mitt, I will often use the edge of the lid or a butter knife to scrape off a little pile of the cleaning paste onto whatever surface I'm cleaning.
Cleaning Paste gives you a clean, shiny surface that lasts!
NOTE: While the Cleaning Paste is very gentle, you should always test on an inconspicuous surface if you are concerned about the possibility of scratching.
I have found that the Norwex Cleaning Paste not only cleans my kitchen sink but it also prevents the build-up from returning as quickly and my sink stays cleaner longer.
At first, I thought that maybe I was just overly enthusiastic about the Norwex Cleaning Paste, and was therefore imagining this, so I decided to do a little experiment:
I cleaned one side of the sink with a chemical abrasive powdered cleaner, the one in the green container, (I'm not technically allowed to name the brand) and the other side with the Norwex Cleaning Paste. Both did a great job of cleaning, but the test was "how long would the sink stay clean"? After about a week, it was clear that the Norwex Cleaning Paste did indeed help protect the surface of my sink from "holding onto grunge" – the Norwex side was cleaner after a week of use. I'm not sure which of the ingredients is responsible for this lovely benefit – I'm thinking maybe the coconut oil? But it doesn't really matter – the point is, it works and works very well.
And, of course, there's the winning fact that the grocery store abrasive cleaner is laden with unhealthy chemicals and Cleaning Paste isn't.
Norwex Cleaning Paste – what isn't there to love about it?
Purchase Products in this Post: