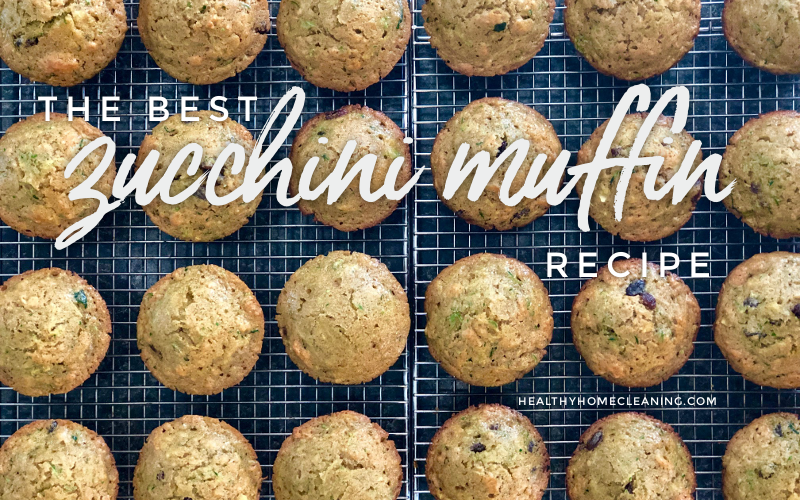 It's raining today, and it makes me so happy. Our little area of the earth was looking & feeling rather parched from the many glorious days of summer sun.
I too was needing a break from the sun, and an excuse to stay home in my jammies and bake my favorite zucchini muffin recipe. Our 2 zucchini plants are being extravagantly fruitful this year, and even though I feel like I'm handing out a zucchini out to every person I see, we still have soooo many!
With school lunches looming on the near horizon, stocking up my freezer with muffins seems like a smart way to use up some of these beauties.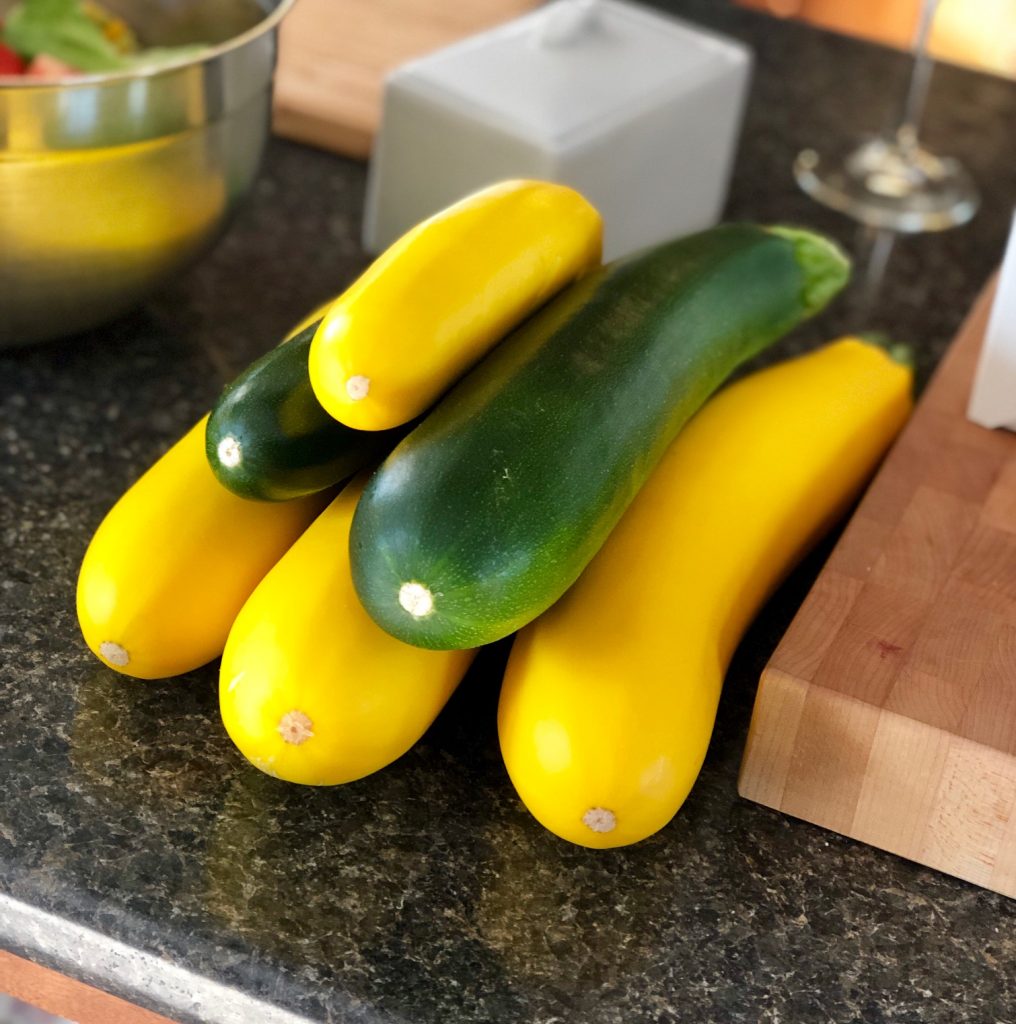 I've been experimenting with zucchini muffin recipes for a few years now, and this one has emerged as the clear winner. The muffins are perfectly moist, the crumb is tender, and the flavor is delicious. Just ask my kids… they've almost polished off a dozen since I pulled the last batch out!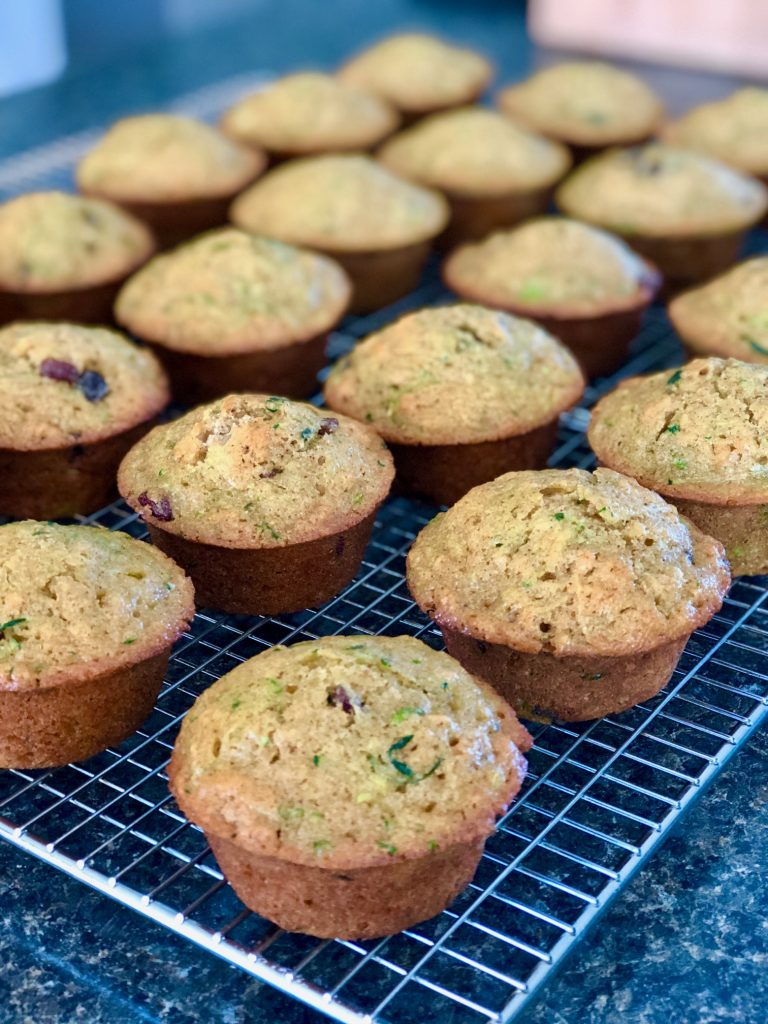 And the BEST thing about this recipe is that it makes 2 dozen, big muffins! If I'm going to make the effort to bake muffins, I want there to be ample rewards for my work.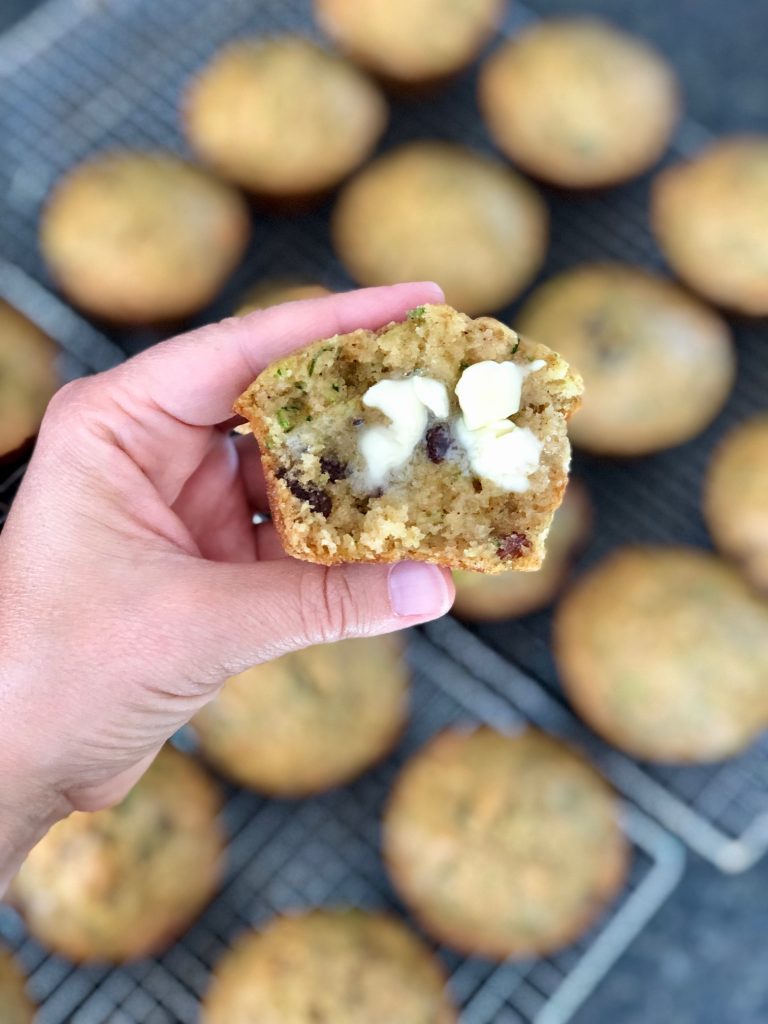 I've shared "Muffin Making Tips" in a previous post, so if you're new to the wonderful world of baking muffins, I suggest a quick read before making these zucchini muffins.
You can turn these muffins into, what my family affectionately call, Bikini Muffins. Banana + Zucchini = Bacchini, aka Bikini! Simply substitute some of the zucchini with ripe, mashed bananas!
I hope you enjoy them as much as our family does!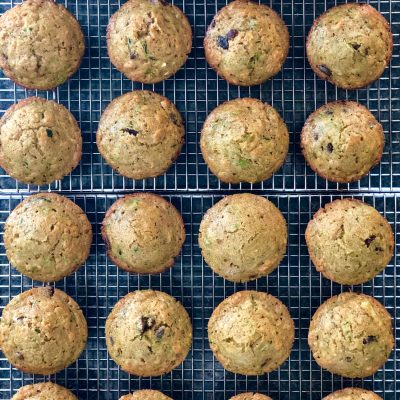 Zucchini Muffins
The absolute BEST zucchini muffins. Deliciously moist, perfectly sweet, the crumb is tender, and the flavor is delicious. You'll wish it was zucchini season all year long!
Ingredients
Wet Ingredients
3

large

eggs

2

cups

sugar

2

tsp

vanilla

4 ½

cups

(packed) finely grated zucchini (800 grams)

Or you can substitute some of the zucchini with ripe, mashed bananas!

1

cup

+ 2Tbsp melted butter (255 grams), cooled, not hot.
Dry Ingredients
5

cups

all-purpose flour (600 grams)

1 ½

tsp

baking powder

1 ½

tsp

baking soda

½

tsp

salt

3

tsp

cinnamon

2

pinches

ground clove (I use generous pinches)

½

tsp

nutmeg
Optional
2

cups

raisins or chocolate chips – these are optional, but I always make them with one or the other! You can also add chopped pecans or walnuts.
Instructions
Preheat the oven to 350° and prepare 2 muffins tins by coating each muffin cup with a little butter or vegetable oil.

In a large bowl, mix eggs, sugar, and vanilla. Add the melted butter (make sure it's not hot or it will start to cook the eggs), and the zucchini. Stir in the raisins (optional)

In a medium bowl combine the dry ingredients – flour, baking soda, baking powder, salt, cinnamon, ground clove, and nutmeg.

Combine the dry and wet to make the batter. Stir the dry ingredients into the wet mixture. Do NOT over mix, but gently make sure all the dry is incorporated.

Use a spoon to evenly distribute the batter into your muffin cups. Fill each cup almost to the very top. This recipe makes 24 large muffins – you should not have to use a third muffin tin.

Bake at 350° for 22-25 minutes. The muffins should be golden brown and the top should spring back when you press on them. Test with a toothpick to make sure the muffins are baked all the way through.

Set the muffin tins on a cooling rack and let them cool in the pans for about 5 minutes. Gently remove them from the tin to the cooling racks and let them finish cooling.
Notes
These zucchini muffins freeze very well, and since this recipe makes 2 dozen I usually freeze 1 dozen and let my family devour the other!