It's a coffee & muffin sort of day.
I love muffins, especially on cold, house bound days.  If I could, I would eat a feast of muffins, every day.
Unfortunately, eating too many muffins contributes to my own personal "muffin top" growing bigger, and that's not good at all.  So, in order to make me feel better about my muffin habit, I do my best to bake healthy muffins… and then I eat 4 of them.  In one sitting.
This Raisin Bran Muffin recipe fits the bill perfectly.  They are simple to make, but oh so moist, delicious, AND healthy.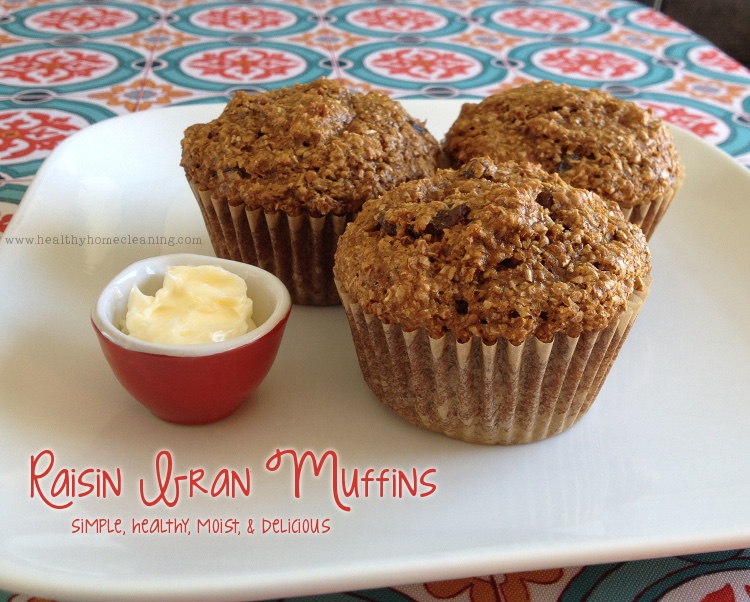 Muffins are always better with butter, and a cup of coffee or tea.
Want Marvelous Muffins?  Here are a few tips:
The most important rule of muffin-making is DON'T over-mix your batter.  Unless, of course, you want tough, chewy hockey pucks.  You want to mix them until the ingredients are barely incorporated, and your dry ingredients have been just moistened.  Your batter should still be lumpy.
Use room temperature ingredients.
Instead of using an electric mixer (like your Kitchen Aid), opt for an old fashioned wooden spoon to stir your batter – you'll be much less likely to over mix it.
Position your oven rack in the middle of your oven.
Practice makes perfect.  If at first you don't succeed, just make another batch!
Make them, eat them, share them, and let me know what you think!
Here's the printable Raisin Bran Muffin Recipe.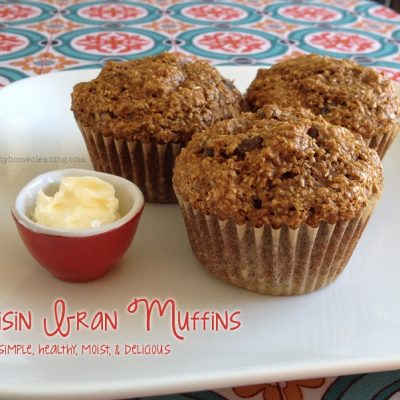 Raisin Bran Muffins
Healthy, moist, and DELICIOUS! Even your kids will love them.
Ingredients
Dry Ingredients
1

cup

flour

1

tsp

baking soda

1

tsp

salt

2

cups

natural bran

1/2

cup

raisins
Wet ingredients
1

cup

milk

1/3

cup

molasses

1/4

cup

sugar

1

egg

lightly beaten

2

Tbsp

oil

2-3

Tbsp

unsweetened applesauce

optional, but it helps the muffins stay moist longer!
Instructions
Preheat oven to 350°. Grease or line a 12 cup muffin pan. (Parchment paper liners are my fav!)

In a large bowl, combine flour, soda, and salt. Mix well. Add the bran, and fully combine.

In a medium bowl, combine milk,, molasses, sugar, egg, oil, and applesauce. Add the raisins, making sure to break up any clumps of raisins.

Pour the wet into the dry, and gently mix using a spoon - don't use electric mixer. Stir until the ingredients are barely incorporated, and the batter is still lumpy.

Spoon batter into prepared muffin cups, to about 2/3 full. You should get an even dozen.

Bake 18-20 minutes, or until a toothpick inserted in a center muffin comes out clean.