A post for all you 35+ women out there (And those almost there too)
Age defying face moisturizers from a cleaning company… What?!
I know, you're right.  If you're familiar with Norwex, you think 'Cleaning.'  But Norwex has evolved since its beginnings, with a global mission to improve "quality of life by radically reducing chemicals in our homes".  While cleaning products tend to be a big contributor to the chemicals we bring into our homes, our personal care products contain them too.  So, if you're in the market for moisturizing and skin care products, you know that you can trust Norwex to create a product that doesn't contain dyes, mineral oil, sulfates, or parabens.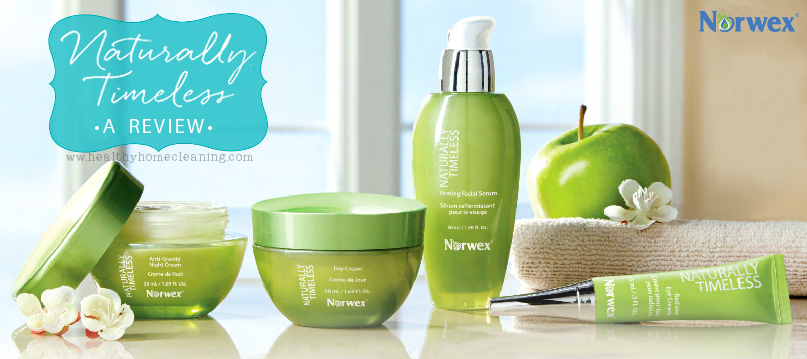 The Naturally Timeless product line uses the stem cells from a rare apple as their 'secret' ingredient.  So rare, you not only have really never heard of it, you will never hear it spoken outloud! "Uttwiler Spatlauber."  Utt…wha? *Side note:  Did you know that there are 7,500 varieties of apples grown throughout the world?  (Incredible!)  Stem cells from this apple are "said to protect skin cell regeneration and so delay the onset of wrinkles".  Sounds gimmicky, I know.  It's an apple, people!
But I'm here to tell you that this. stuff. is. awesome!
It's great for sensitive skin. It's not going to burn your skin, or make it red and blotchy, like some! It's also great for rough skin – it'll smooth it out. Oily skin? This stuff is great. Dry skin – will fix you right up. That's what's great about the Naturally Timeless line – it's for ALL skin types!
Even better – it kind of smells like cake. Weird, I know. But never a problem, right?! By the way, any fragrance added to these products are ALL-NATURAL!
As for delaying the onset of wrinkles, I have no idea if this stuff is better or the same as any other product.  I never took any 'before' pictures so I have no way of looking back.  I just know that I like it, and I bought two more bottles when I ran out 🙂
Other Norwex Products you may want to use with this product:
Make-up removal cloths
Body Cloths
Click here to discover which of the Norwex face cloths would be best for your skin