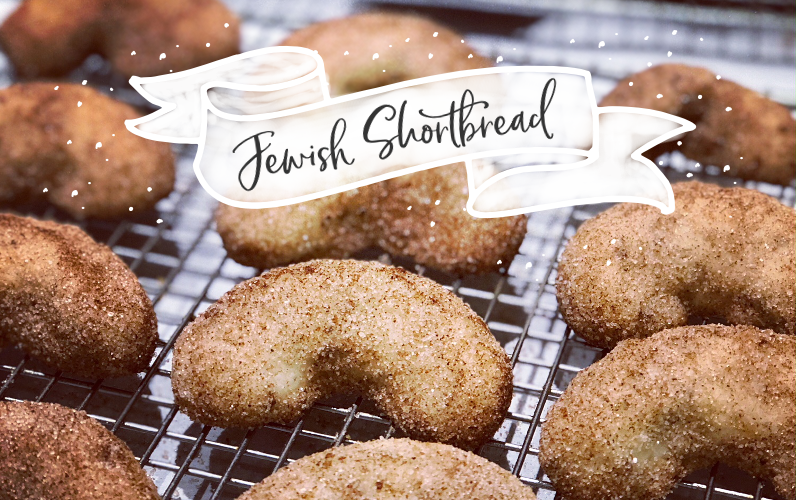 Jewish Shortbread Cookies
A few years ago a dear friend shared her recipe for Jewish Shortbread, and they instantly became a Christmas staple in our house.
For me, shortbread is the taste of Christmas. I loooooove them; the not-too-sweet, buttery taste, and the melt in your mouth texture is perfection. Unlike traditional shortbread, Jewish Shortbread cookies incorporate nuts and cinnamon making them even more delectable.
I don't have pictures of the entire ingredient-combining process as I only decided I needed to share this recipe with you after I started forming the cookies. The process is basic though, and rather fool proof.
Again, I want to reiterate, you really want to make these cookies.
Let's get started. Making the Cookies
1. Pre-heat your oven to 325°F (163°C).
2. Start by creaming your softened butter and sugar together in your mixer, or with hand held beaters, or even by hand, the way grandma used to do. Just be sure it's well mixed.
3. Add the vanilla, then the nuts, then the flour and salt. The nuts are optional, BUT highly recommended!
4. Mix well, until a lovely soft dough forms.
(This is when I thought to start taking pictures)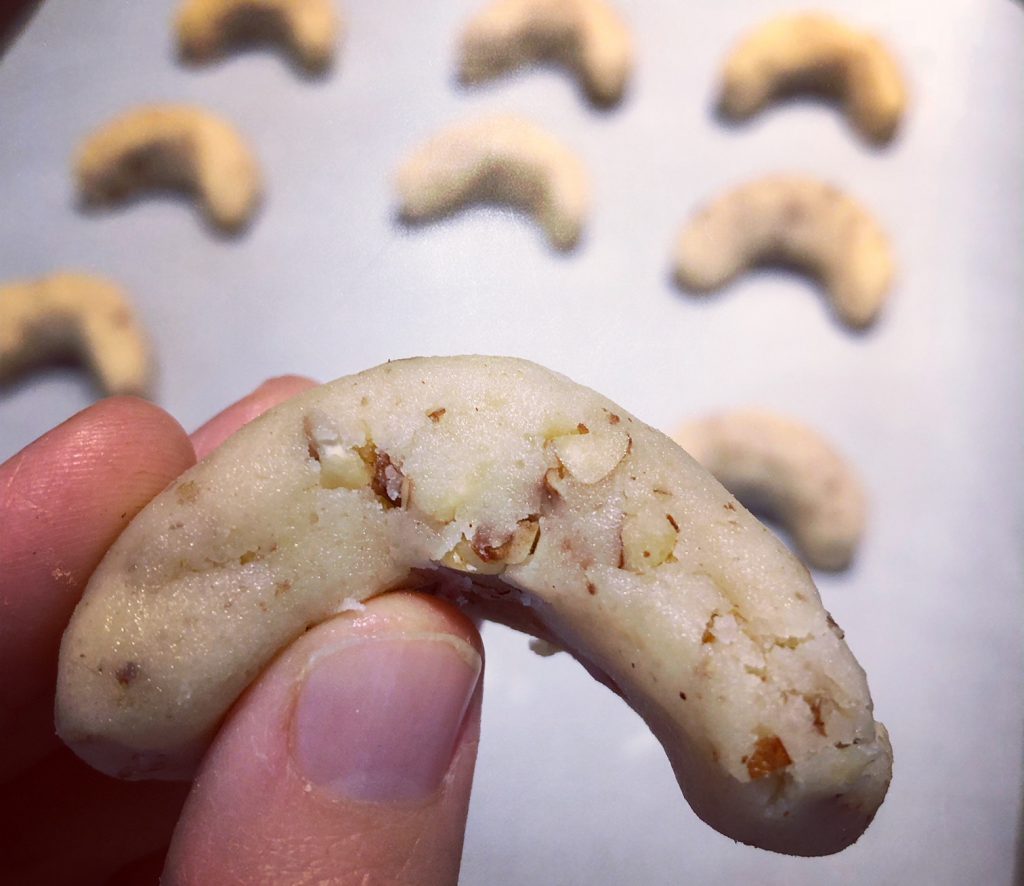 5. Taking a generous Tbsp of dough (I weigh mine – 30g each), form the dough into a little tube, then curve it to make a crescent shape.
Put formed cookies on a parchment lined cookie sheet, about 1 inch apart.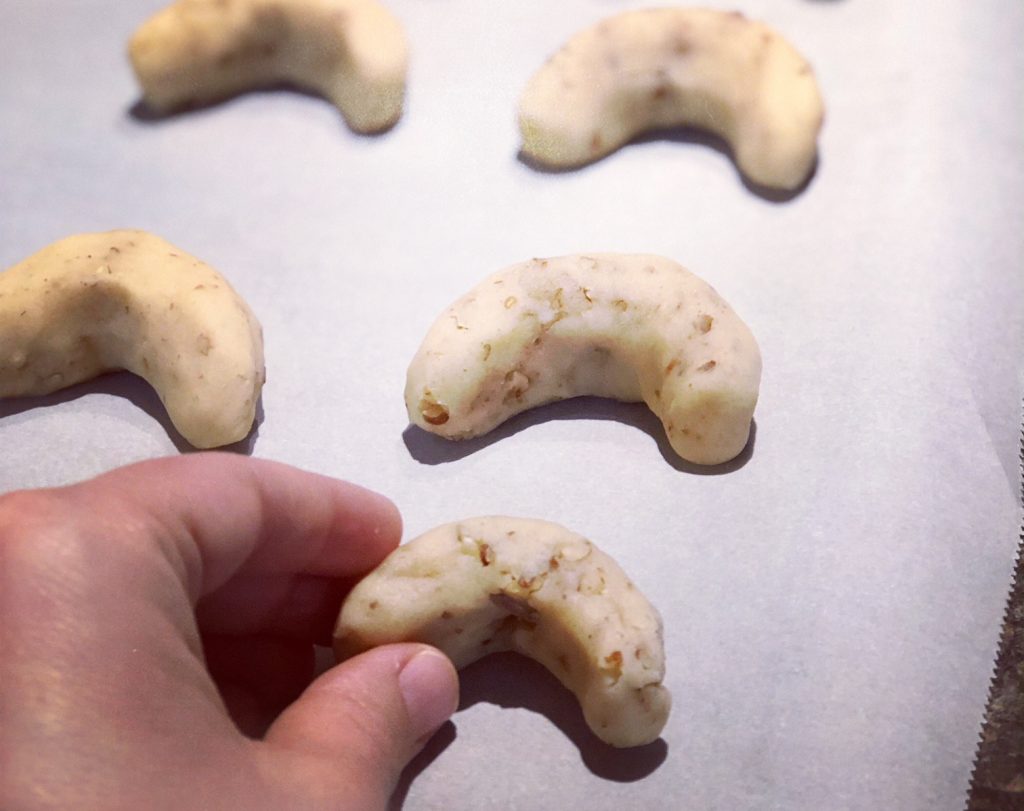 Although it's not in the original recipe, I find it very helpful to put the cookie sheet into the FRIDGE for about 10 minutes prior to baking. This helps to firm up the soft, warm dough, and prevents the cookies from over-spreading and over-baking.
After 10 minutes of fridge time, bake cookies for 20 minutes. They will be a pale, golden color, with only a bit of brown on the bottom.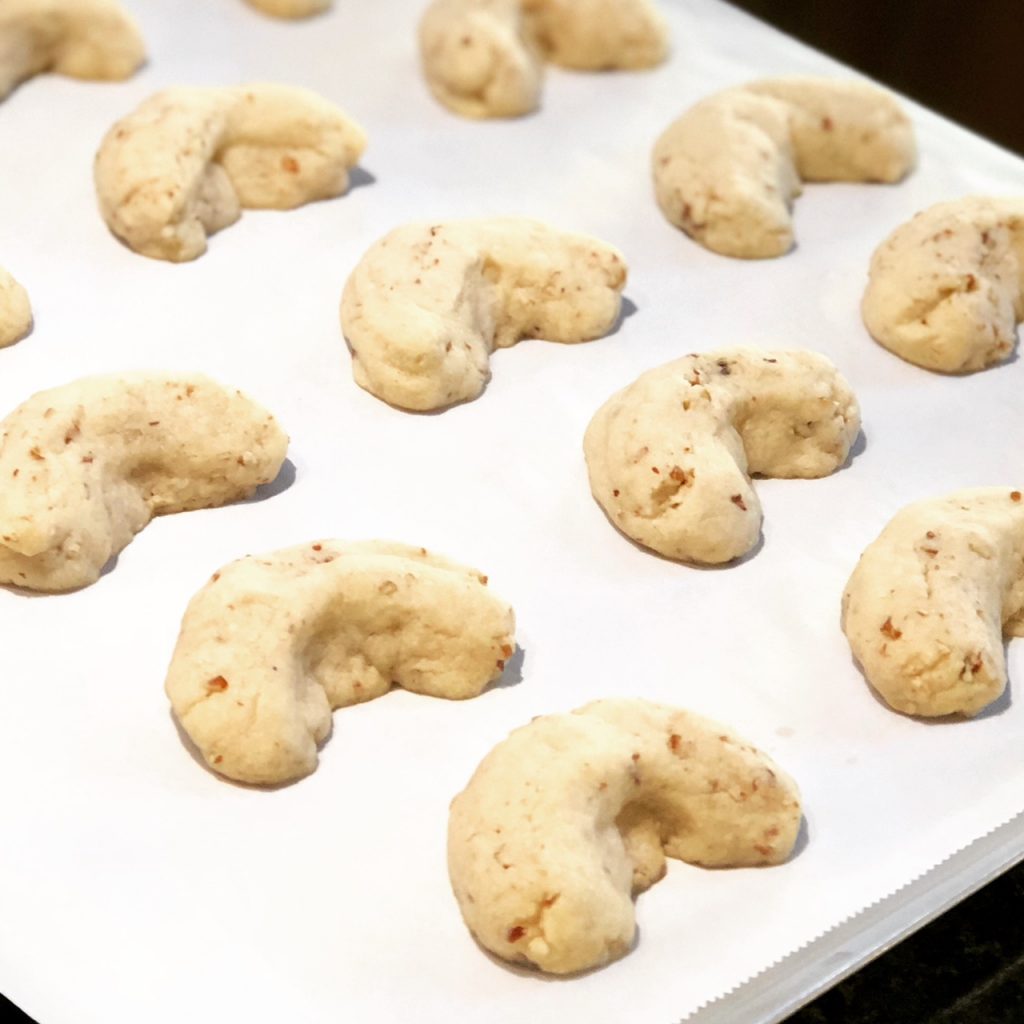 While they're baking, combine 1/2 cup of sugar with 1 Tbsp cinnamon in a small bowl.
Let the cookies cool for 5-7 minutes, then roll the warm (but not hot) cookies in the sugar mixture, fully coating them in the cinnamony deliciousness.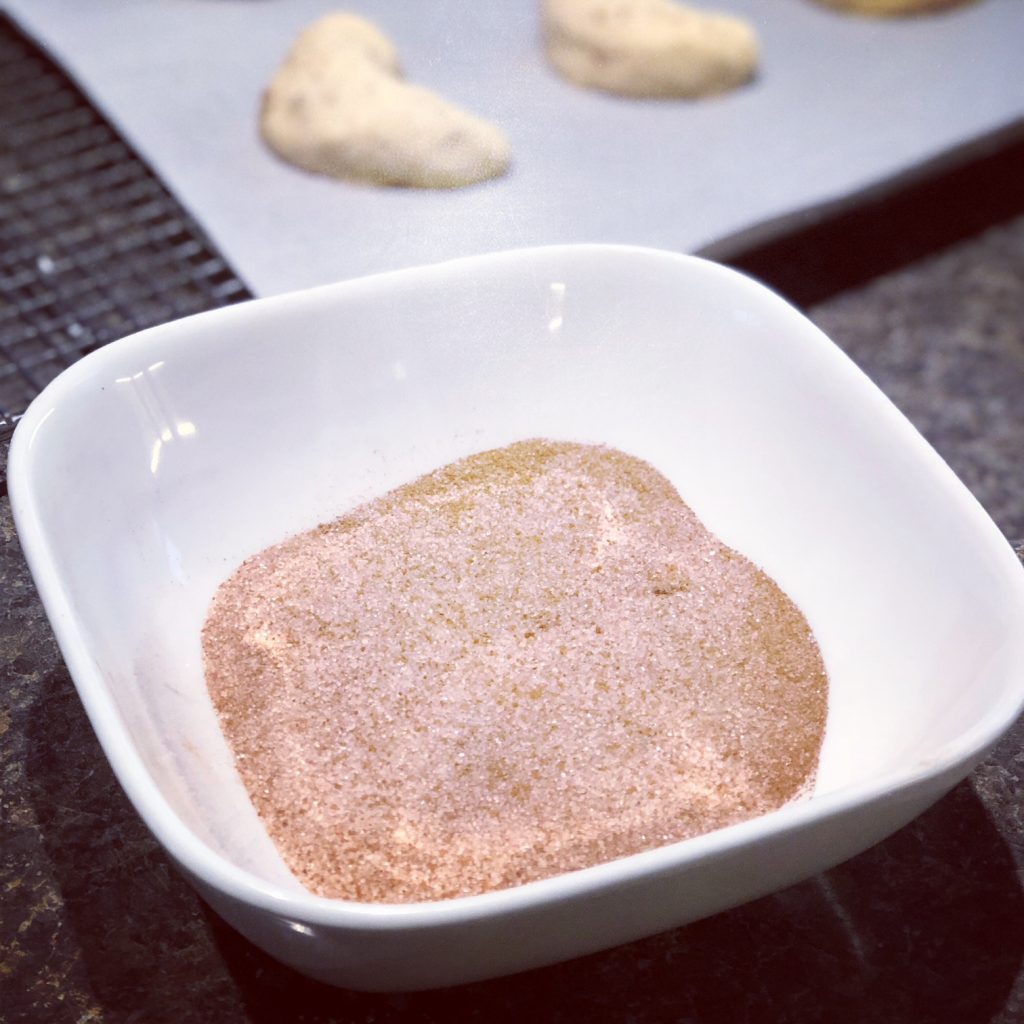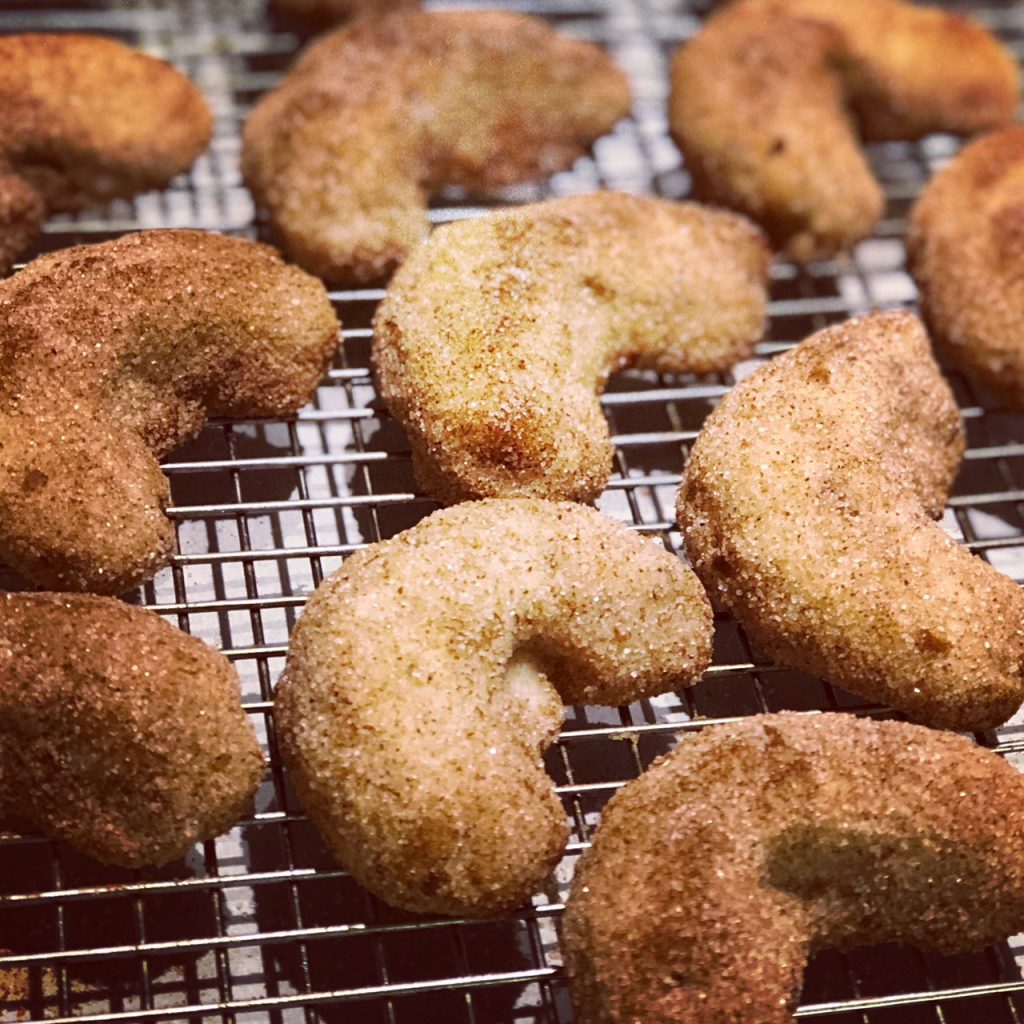 The Jewish Shortbread cookies are extremely fragile when they're warm, so make sure you handle them delicately so you don't break them in the process.
Or, don't be careful, and enjoy eating the cookies you (oops) break!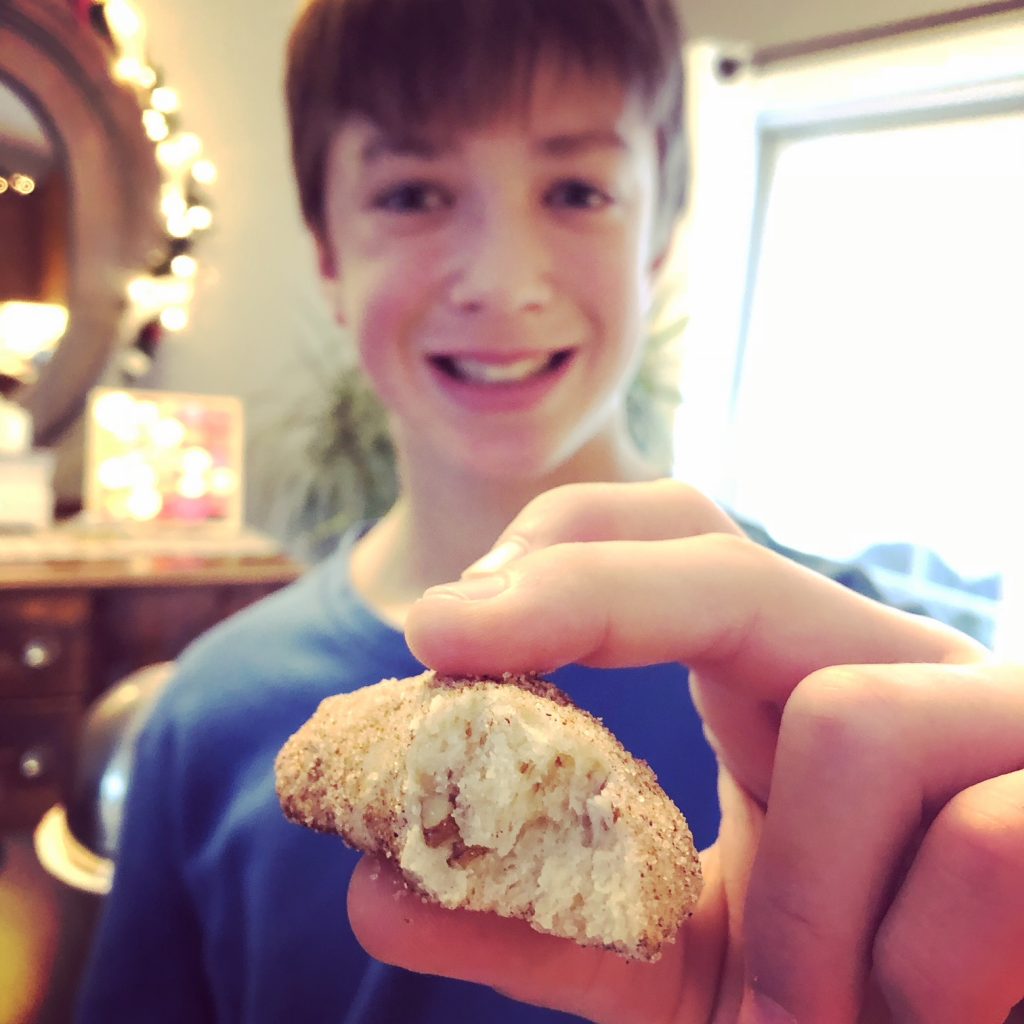 Allow them to cool completely before storing. I freeze them to keep myself from eating them all in one sitting.
They freeze and thaw brilliantly.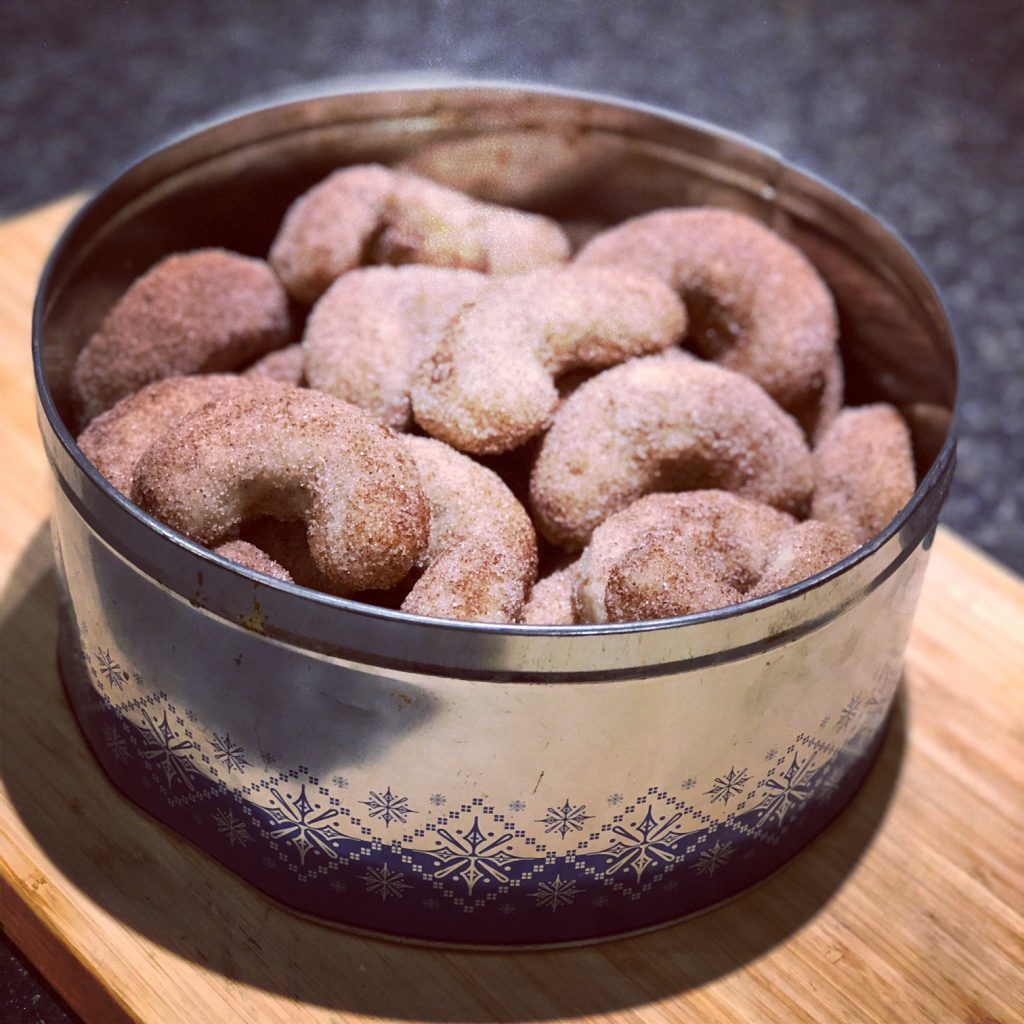 These are pretty much the yummiest shortbread cookies I have ever eaten, hands down. And they are wonderfully simple to make. Do as I've done, and add them to your Christmas cookie tray this holiday season!
Oh, and make sure to have a Norwex kitchen cloth on hand to wipe up your baking messes 😉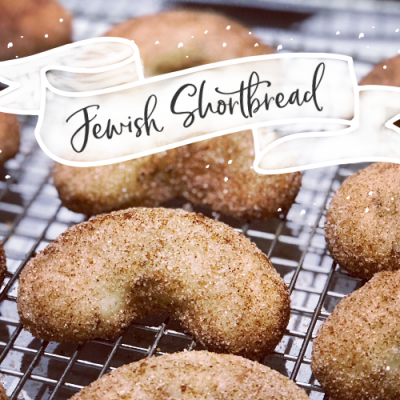 Jewish Shortbread Cookies
These rich, nutty, & buttery shortbreads are the quintessential taste of Christmas, and are a must have for your cookie tray this year.
Ingredients
1

cup

butter – softened

I use salted – do NOT use margarine

1/3

cup

white sugar

1

tsp

vanilla

1 2/3

cups

flour

1/2

cup

finely chopped pecans or walnuts

optional but amazing

*1/2 cup sugar & 1 Tbsp cinnamon

for rolling cookies in after baking
Instructions
Preheat oven to 325° F (163° C)

In the bowl of your mixer, cream together the butter & sugar until fluffy, scraping down the sides of the bowl with a spatula as needed. Mix in the vanilla.

Add flour and nuts, fully incorporating, until a soft dough forms

Form dough into crescent shaped morsels – approximately 30g each – and place 1 inch apart on parchment lined cookie sheet.

I find it helpful to put the cookie sheet in the fridge for 10 minutes to firm up the dough to help prevent over-spreading of the cookies while baking.

Bake in 325° oven for 18-20 minutes, until light & golden.

*While the cookies are baking, combine 1/2 cup sugar & 1Tbsp cinnamon in a small bowl.*

When the cookies are finished baking, let them sit for about 5-7 minutes, then roll the warm cookies in the cinnamon-sugar mixture.

Allow to cool completely before storing in a container. These freeze very well.