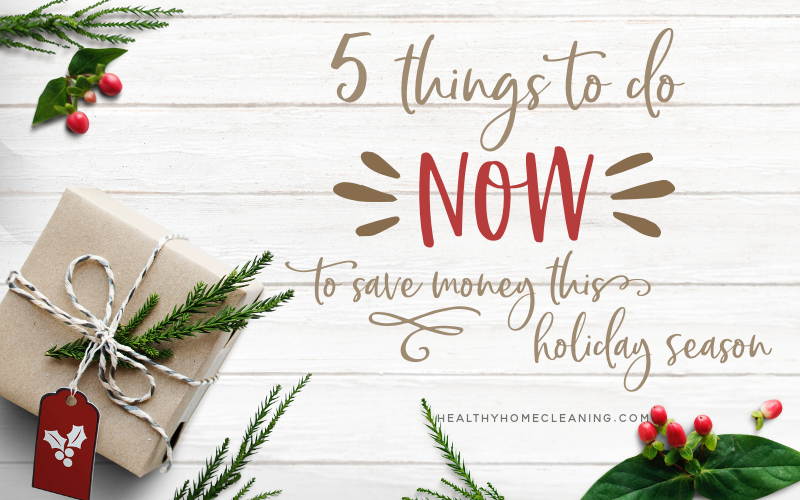 Christmas is a lovely and wonderful time of the year. It's this one event that we basically look forward to all year long. It's also a holiday that we kind of dread, because of the costs associated with it. And then when we're in it, we stress over money. And then when it's done, we are still stressing over money! Avoid that stress this year, and let me help you enjoy this lovely season a whole lot more by following these 5 tips to help you save money this Christmas.
5 Things to do NOW to Save Money This Christmas
1. Decide NOW how much you want to spend and set a budget.
Being specific helps you know when to say 'No'. To set a realistic budget, you need to sit down (tea or coffee in hand), and make a list of everyONE and everyTHING you want to buy for. Maybe last year you went a little wild, and you want to pull it back this year. If that's the case, ask yourself: where can you cut back this year? You may need to make these lists in order of priority, as you may discover you don't have the funds to do everything you want. I'm here to say that's okay. It's okay to live within a limit. In fact – that's the most realistic thing ever! So, list names and 'stuff' from most to least important. If you've run out of money by the end of the list, you can cut some of the names or items from the very bottom of your lists!
People: Make a list of the friends and family you want to buy for. Then, add the people outside of your inner circle you may also buy for every year. Maybe it's teachers, bus drivers, accountants, your Norwex consultant, etc.
Things: include items in your budget like: extra groceries and alcohol, new decor, wrapping paper and ribbons, and charitable donations.
The MOST IMPORTANT PART of all of this is this: when you run out of money, stop buying. Yup. I said it. Don't purchase another thing for Christmas. This is the key to saving money this Christmas! 
2. Purchase gifts and extra holiday items with CASH.
Withdraw your budgeted amount, and put it in an old-fashioned envelope. Everytime you make a purchase for the holidays, whether it's a gift, a donation, or a new Christmas decoration, you pay for it with the cash in your envelope.*GASP* I know that this is a wild idea, in our day of bank, credit cards, and Apple Pay! But physically seeing that money dwindle inside your envelope helps you to easily keep track of how much you've spent, and truly know how much you have left. Plus, as I learned from Dave Ramsay, handing over cash actually hurts! When spending is a little painful, you're less likely to over do it!  But what if you do a lot of online shopping? An easy alternative to this is to purchase a Visa Gift Card for yourself,  load it with some of your budgeted money, and use that card for your online purchases. Eventually, it will run out of money, and you can't keep spending. Budget kept!
Pro Tip for next year: set up automatic monthly transfers, starting in January, into a separate account, for your Christmas budget. If you put aside a little bit NOW, and do it every month, you'll have accumulated a nice stash of extra cash by next December! You can even throw in bonus money, or extra savings, into that account, throughout the year, to help it grow even more!
3. Make it homemade!
Not all thoughtful gifts have to be purchased. And a homemade gift can give you the control to make items in bulk and create cost savings. I have made bags of homemade caramel corn for people like teachers and associates, and they never stop talking about that gift (homemade caramel corn is the BEST!). I'd say that they appreciate that gesture MORE than a pricey item you don't even know if they'll like. Maybe it's homemade jams and jellies. Or maybe you're a knitter or an artist or a crafter. Let your creative juices flow (or hit up Pinterest ).
4. Keep it simple.
Don't worry about elaborate gifts. Sometimes, a simple gift, when it's given thoughtfully, is the most appreciated. Personally, I love receiving thoughtful cards and practical items I will actually use!
5. Make a list of WHAT you want to buy, and then pay attention to sales.
Why pay full price for items on your shopping list when you can get them on sale? Regularly check the flyers for the items on your kids wishlists. Subscribe to emails from your favourite companies and direct sellers (for example, I've been subscribing to Chapters Indigo emails. They recently had a 25% off sale for in-store purchases. I had some items from there I knew I wanted to purchase for my kids, so I hopped into the store and bought the items then, instead of paying full price later). Flash sales offer items at great prices. Be flexible with WHAT you purchase for people and work their item around great flash sales that you see come up (Norwex has great Flash Sales in the fall months, *hint hint*).
Capitalize on Black Friday and Cyber Monday.  Pay attention to communication from your favourite direct sellers and stores to nab their Black Friday specials. Make sure that you are either subscribed to their email updates, or that you are a part of their exclusive customer groups, if they have one!
I always like to stock up on my wrapping paper, bows and tags after Christmas, when they're all marked down after the holiday season. There are HUGE savings to be had by doing it this way. The added benefit to this is that when Christmas rolls around next year, you're already ready! I love have everything just 'there' when it's time to start wrapping!
WIth these 5 tips, you're golden. You're on your way to saving money and making this Christmas season easy-breezy! Thanks for stopping by, and share any additional tips you may have, for my readers, in the comments below!
~Suzanne