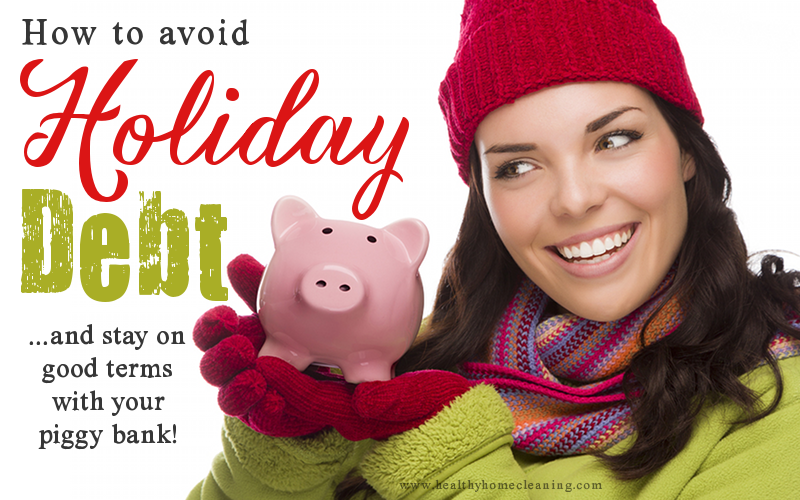 Christmas is over, and it was awesome, I bet! The family, the food, the fun, the celebrating, the gifts. You're on a Christmas high still. But – then your credit card bill comes in the mail, and your high crashes. Maybe this year, you crashed hard? Credit card debt is definitely a party crasher!
The hardest part about the holidays for most families is the expense of it. Do you wish you didn't get left with debt after the holidays, but it feels like a cycle you can't get out of?
Here are some ways you can avoid debt next January (and make sure you start this NOW!)
1. Set a Budget
Decide on how much you want to spend on Christmas, long before Christmas. It's not crazy to sit down and decide right now, in fact! Write out all of the people you'd be buying for, remembering who you bought for last month. Include everybody that you anticipate buying for, like family, friends, teachers, and charitable organizations. Once you're done, keep your list in a safe place, so you know your budget when it's time to shop.
2. Set up automatic withdrawals into a savings account.
You've got your budget. Now, you know how much you need to save each month! The easiest way to make sure you actually save money is by setting your bank account up to do it automatically. This is really easy, in the age of online banking. Set up a separate account (or accounts) for putting your savings into.
If you have a free or cheap banking option, it's easy to have multiple accounts. If you only have one savings account, use a spreadsheet to track all deposits and withdraws, so you know exactly what the money is for.
When you set up automatic withdrawals, you don't even notice the money disappearing.  The added bonus is that you don't have to think about it. Now, you'll have the cash on hand you need in 11 months! So, set up these automatic withdrawals NOW. It may be hard to save enough if you're currently paying off your debt, so start small. Put away something little now. You may not have everything you need for this coming Christmas, but you'll have way more than you did last year. Which means that next year, you'll have more money to put away every month, and you WILL have enough in your Christmas savings account next year!
3. Withdraw your savings when you begin shopping for Christmas.
Keep this money separate, such as in an envelope, and purchase Christmas items only with this cash. It'll be easy to keep track of how much you have left, and you are forced to NOT overspend and you won't be accumulating debt! Shopping online? Instantly pay for those online credit card orders by transferring the funds from your savings account onto your card as SOON AS YOU'RE DONE your purchase, so it doesn't get forgotten.
4. Make Homemade Gifts
Simply spend less by shopping less! Consider sprinkling some simple, homemade gifts into your gift pile. And the key word here is simple. Don't overcomplicate it. People love thoughtful (especially if it's delicious thoughtfulness!). The bonus is that your inspiration is limitless, with the existence of Pinterest!
4. Consider a second job
I know that you already feel busy. But take a look at your Christmas budget. Do you feel that you can afford what you really want to spend on Christmas? Showering friends and family with gifts is a truly joyful experience. If it's important to you to have extra cash around the holidays, consider getting a second job (or maybe for you, it's your only job) for the sole purpose of having money to contribute to that savings account. And I gotta tell ya, from experience, direct selling is a really fun way to make a little extra cash! The key to being successful in direct selling is to find something that your passionate about. If you're passionate about any of the following: saving money, healthier homes, easy cleaning, caring for the earth, then find out more info about joining Norwex here!
What about other seasonal expenses?
Do you live where there's lots of snow in the winter months? Depending on the size of your driveway, and the amount of snow fall you get, you may need to employ the services of a snow plow. That can be a BIG bill come spring! The best way to avoid that big bill is to start saving in the Fall! Set up automatic payments starting in September, based on an approximation of how many plows you might have that winter. You'll have that money being put aside during the fall and winter months, in small amounts, so when it's time to pay your plow guy in March or April, you can hand him the money instantly and leave winter completely behind! (Don't forget your free spreadsheet download to help you with your tally!)
What about summer expenses, like summer camps, sports or swimming lessons? Save all year long to prepare for the summer season, so when registration time rolls around in the spring, you're already set!
Following these tips will be a big relief to you every season you have a new expense! It does take a bit of time to get used to. I recommend you start saving for just one expense, such as saving for Christmas, and then when you feel ready, in 6 months, or a year, even, start saving for summer expenses. Once you begin this, you'll grow into it, and it will just be a normal, way of life in your finances. And you'll no longer need to dread the arrival of your credit card bill!
~Suzanne