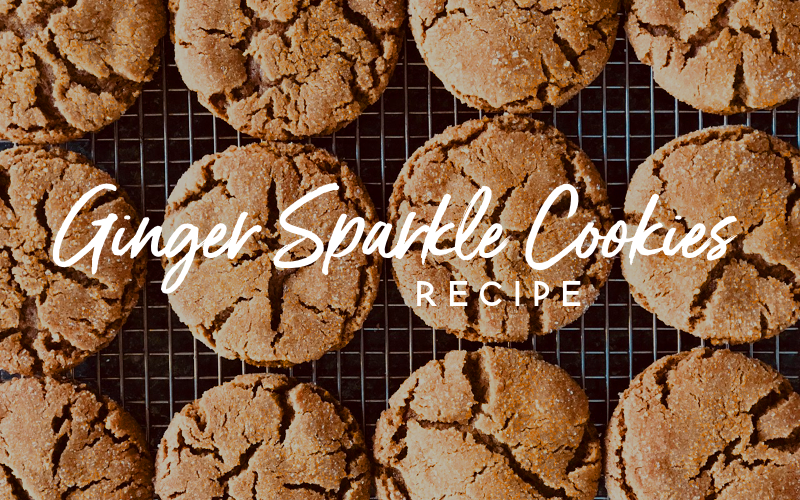 Also known as Ginger Snaps, or Ginger Molasses Cookies, these are seriously PERFECT cookies. Crispy on the outside, soft & chewy on the inside. With a sparkly, golden color and beautifully crackled tops, they are the perfect dessert or snack, and because they're nut-free, they're great for school lunches!
This is my all-time favorite soft Ginger Cookie recipe, and I've tasted LOTS over the past month as I've tested multiple ginger cookie recipes. This one is perfection; the spices are balanced and not overpowering and they spread and crackle just right when they're baked. Oh, and they're so easy to make, which is a must in this house!
Make a batch or 2, eat a cookie, and then let me know if you were able to resist eating 2 or 3 more! I hope you enjoy these as much as we do!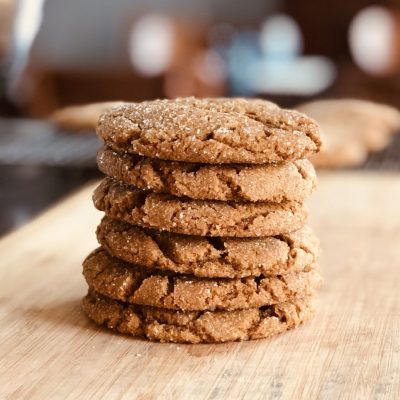 Ginger Sparkle Cookies
Crispy, chewy, soft, perfectly spiced ginger molasses cookies – so good, you won't be able to eat just one!
Ingredients
Dry Ingredients
2

cups

all-purpose flour

Spooned into the cup and levelled with a knife

2

tsp

baking soda

1-1½

tsp

ground ginger

1

tsp

cinnamon

½

tsp

salt

pinch

ground clove

– I personally don't like clove to be a dominant flavor, but if you love it, feel free to add as much as ½ tsp
Wet Ingredient
¾

cup

shortening (145g)

¼

cup

molasses (85g)

1

cup

white sugar

1

large

egg
For Rolling the Cookies
⅓

cup

sugar

In a small bowl, set aside.

2 or more

Tbsp

raw sugar

Optional, but very lovely for added texture & sparkle!
Instructions
In a medium bowl, whisk together the dry ingredients; flour, baking soda, salt, ginger, & cinnamon. Set aside

Using a stand mixer or handheld electric mixer, beat the shortening and sugar together until light and fluffy, scraping down the sides of the bowl as needed. Add the egg and beat for about 20-30 seconds, making sure the egg is fully incorporated, and scrape down the sides of the bowl. Add the molasses, mix well, and scrape down the bowl again.

Add the dry ingredients to the wet, and mix until just incorporated. Don't overmix, but make sure there are no dry, floury sections.
Preheat Oven to 350° & Line Cookie Sheet with Parchment Paper
Form the Dough Balls
Roll the dough into 1 ½ inch (50g) balls. Yes, they are quite big. I highly recommend using a kitchen scale (if you have one) to measure the weight of each cookie ball. It really doesn't take any extra time and the benefit is that you get wonderfully consistent cookies.

Roll each dough ball in the bowl of sugar to fully coat it, and place them 1 ½ inches apart on a parchment-lined cookie sheet. With the palm of your hand, press down very slightly on each dough ball. You don't want to flatten them completely, you just want each ball to have a slightly flat top.
Bake
Bake cookies for 10-12 minutes. It's important that the cookies puff up and crackle on their tops. Check the cookies at 10 minutes, and if they still have fairly smooth tops, leave them in the oven until you see cracks form, about 2 minutes more.

Remove the cookies sheet from the oven to a cooling rack. Let them cool for 5 minutes on the sheet before removing them with a spatula to finish cooling.
Notes
You can substitute the shortening for butter in this recipe, but you have to increase your flour to 2¼ cups, or even a little more, otherwise they overspread. 
These darlin's are their absolute best the day they are made since they still have the crispy shell and warm, soft middle, but they are still amazing the day after, and they freeze brilliantly.