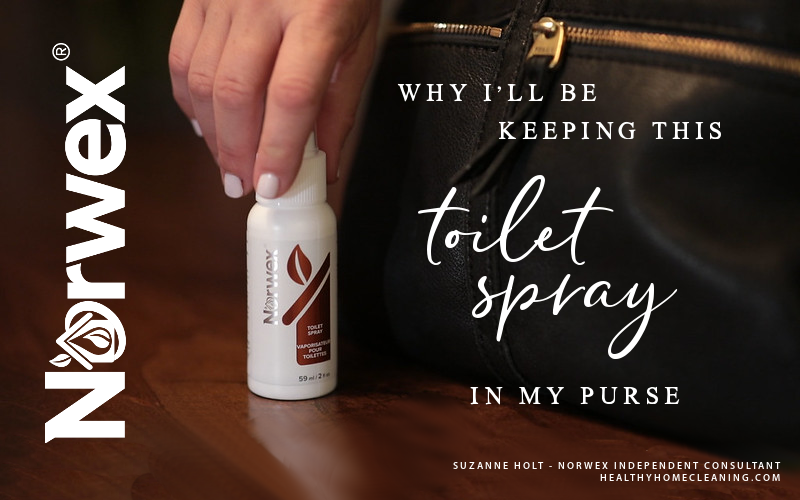 Confession: when I have to 'go,' I'd rather not anyone know about it. Being away from home makes that a little difficult. I prefer to keep things discreet. But that's a little challenging, since odors can give things away. That's why I'm going to always be carrying the Toilet Spray from Norwex in my purse! Here are the reasons why this is a new staple!
#1 Super simple to use
Before you 'go,' simply shake the bottle of Norwex Toilet Spray, then spritz three times onto the surface of the toilet water.
#2 – Effective at masking odors
The citrusy blend of essential oils in this product then creates a layer, preventing odors from escaping. So, when you leave a bathroom, no one smells anything unpleasant!
#3 – Compact
This bottle is small enough to fit in my small or medium size purse (or airplane carry-on). I don't have to worry about packing a bulky, large size item in my bag!
#4 – Non-toxic and natural
The ingredients in this blend are all natural essential oils, so I'm not spraying potentially harsh toxins into the air, just to inhale. A lot of air freshener products on the market consist of items I prefer to avoid (things like: formaldehyde, petrochemicals, p-dichlorobenzene and aerosol pollutants). There's some question as to just how harmful these items can be for once-in-while use, but as long as the debate is ongoing, I'm choosing the options I know are safest.
This product is free from: Synthetic fragrance, alcohol, aerosol, parabens, phthalates, formaldehyde, SLS/SLES
#5 – Long lasting
The bottle contains approximately 100 uses (as long as a three year old doesn't get a hold of it).
#6 – Septic safe
So it's safe to use in all bathrooms!
#7 – Great for home too!
I also have a bottle of this I keep in my main bathroom at home, just to make living with each other easier (and for guests!).
I have a feeling you'd love the citrusy Norwex Toilet Spray as much as I have begun to, especially if you're on the road a lot, with other people! Grab a bottle or two from my shop, and happy travels!