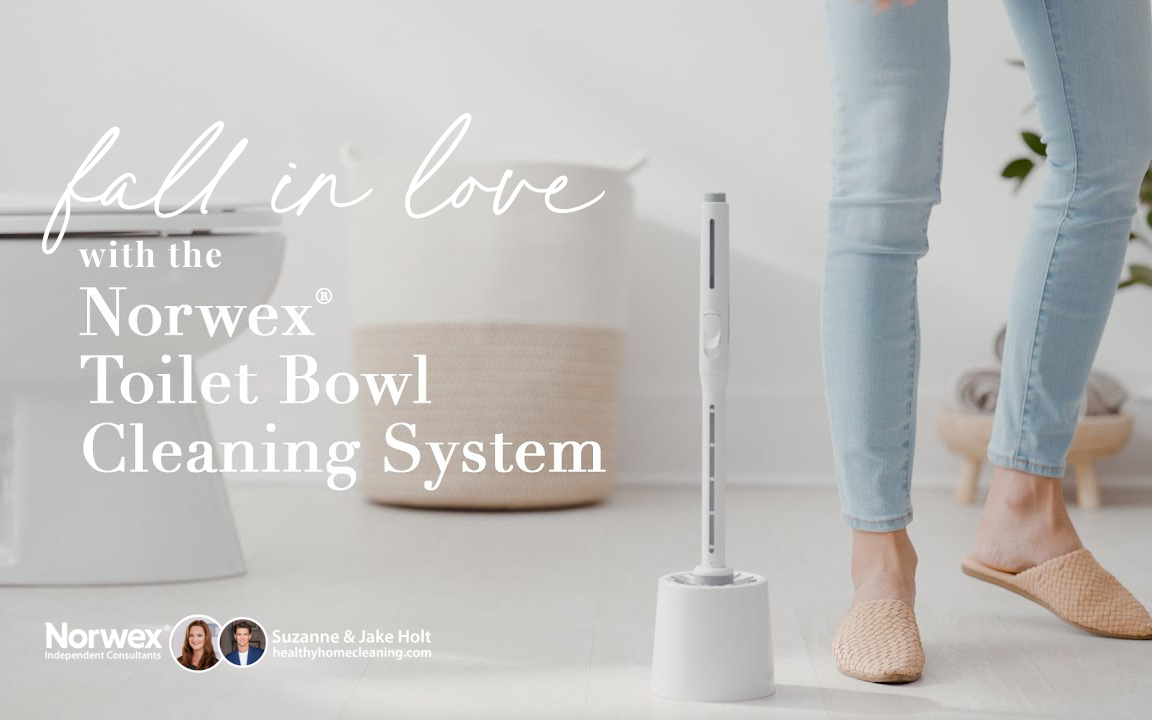 I've used the Ergonomic Toilet Brush in all of my bathrooms for over 6 years, and I've been happy with this brush (and impressed with its longevity). My favorite part of this brush is definitely its 'cleanliness' factor. It hangs suspended in its holder, so it's not sitting in a puddle of bacteria-filled water and can drip dry. It also has no metal parts (no rusting!) and the soft bristles clean very easily.
My biggest beef, though, has been that it doesn't have intense scrubbing ability. This is a helpful feature when cleaning the bowl of a low-flush toilet in a house with hard water.  The silicone bristles have gotten by, but I've always thought it would be nice to have a little 'more' scrubbing power. 
Then, Norwex introduced the Toilet Bowl Cleaning System and made all of my adulting dreams come true, ha! 
I'm personally a fan of this upgraded Toilet Brush. It's like the Deluxe version of a toilet brush for cleaning nerds. Let me give you the low-down on this brush; how it's different than the Ergonomic Toilet Brush, why I love this new one, and the fancy features you'll love!
This new system has two kinds of bristles: both soft and hard (evenly distributed).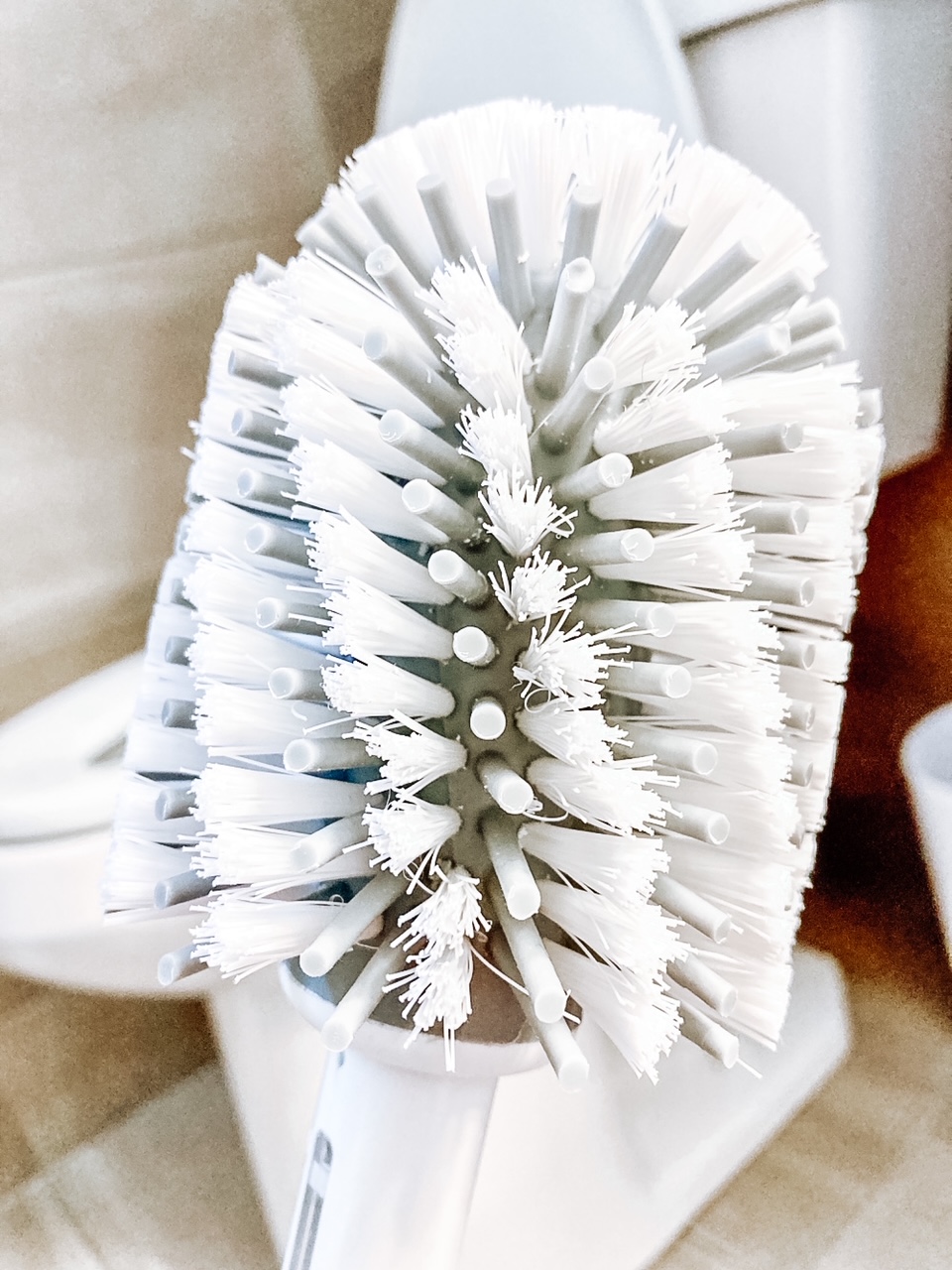 It's one of the upgrades the Ergonomic Toilet Brush needed! I've found it's been very helpful to have the combination of stiff and soft bristles for the cleaning issues I have with my low-flush toilets. BONUS: both types of bristles are made with recycled plastic!
Let me tell you. There's a lot to love about this Toilet Bowl Cleaning System!
Baclock on ALL Parts! This is the BEST feature is definitely that it has BacLock in the bristles and the base. This offers continuous protection against microbes and helps prevent odor due to bacteria, mold, and mildew within the product, keeping bristles and base cleaner and fresher, longer. Have you ever heard of a toilet brush that does this?! I'm awed and amazed ya'll! 
1-year Warranty. If it's as sturdy as the Ergonomic Toilet Brush has been for me (it feels sturdy!), this will be long-lasting.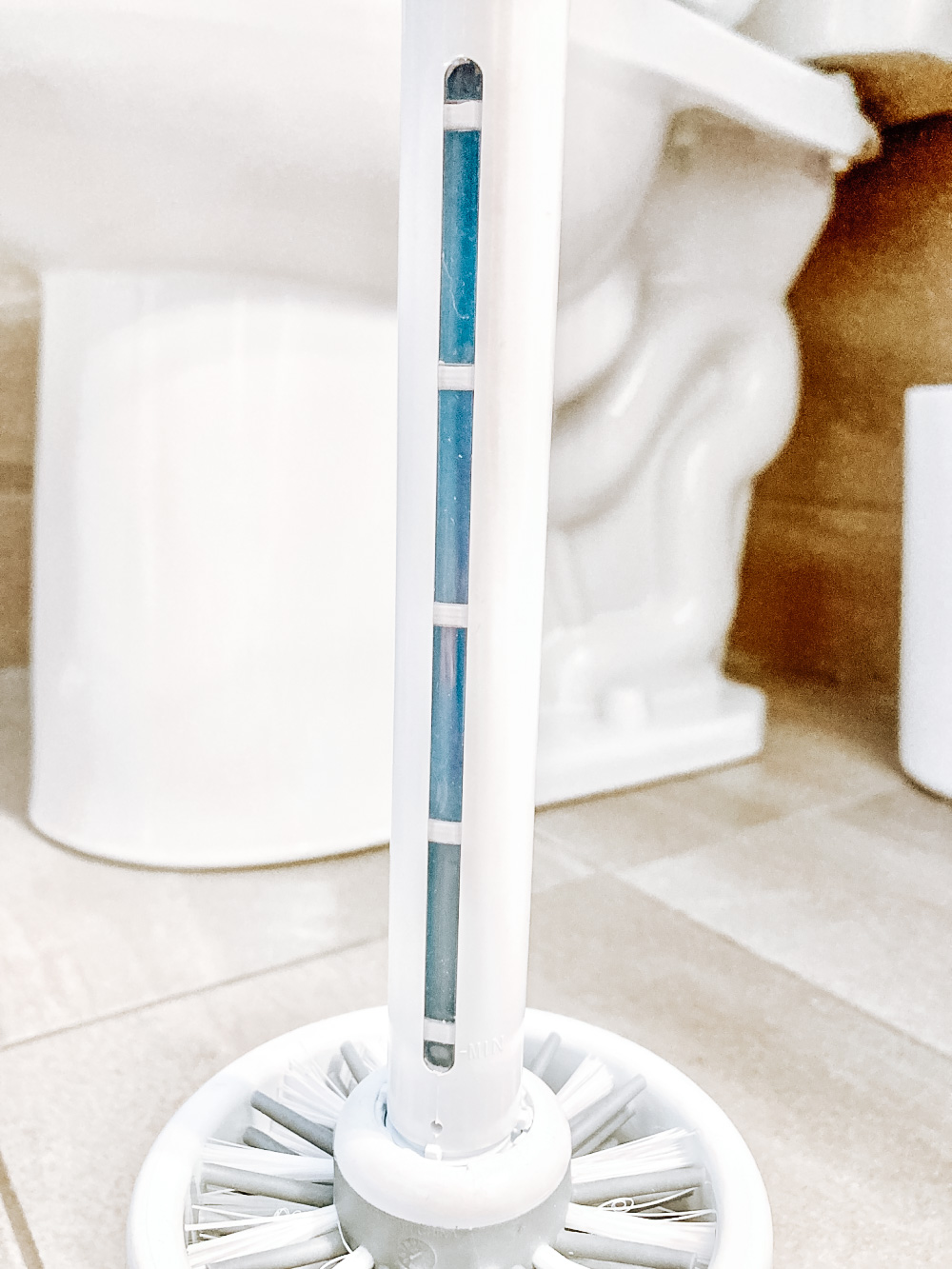 Reservoir and Dispenser Buttons. Just a few pumps of the dispenser button (one on top and one on the side) release the perfect amount of cleaning solution. Typically, you'll want 2-4 pumps. The reservoir is clear, so you know when it's time for a refill. The reservoir holds up to 120 pumps of any non-gel cleaning solution
No metal parts. That means no rust, no corrosion.
Easy to clean. The bristles rinse easily, and the base can be wiped clean with a damp EnviroCloth. 
Did You Know?
Toilet cleaning tablets often contain bleach or other caustic ingredients, which can break down weaker materials over time by interacting with gaskets, washers, and other plastic and rubber components. The longer these chemicals sit in the tank, the more likely toilet tank parts will corrode and wear down, eventually causing the toilet to leak. Source: ncconsumer.org
How to Use the Norwex Toilet Bowl Cleaning System
Press the button on the handle to dispense Norwex Bathroom Cleaner from the brush head onto the toilet bowl. Other cleaners can be used; just make sure they're non-gel based for best dispensing.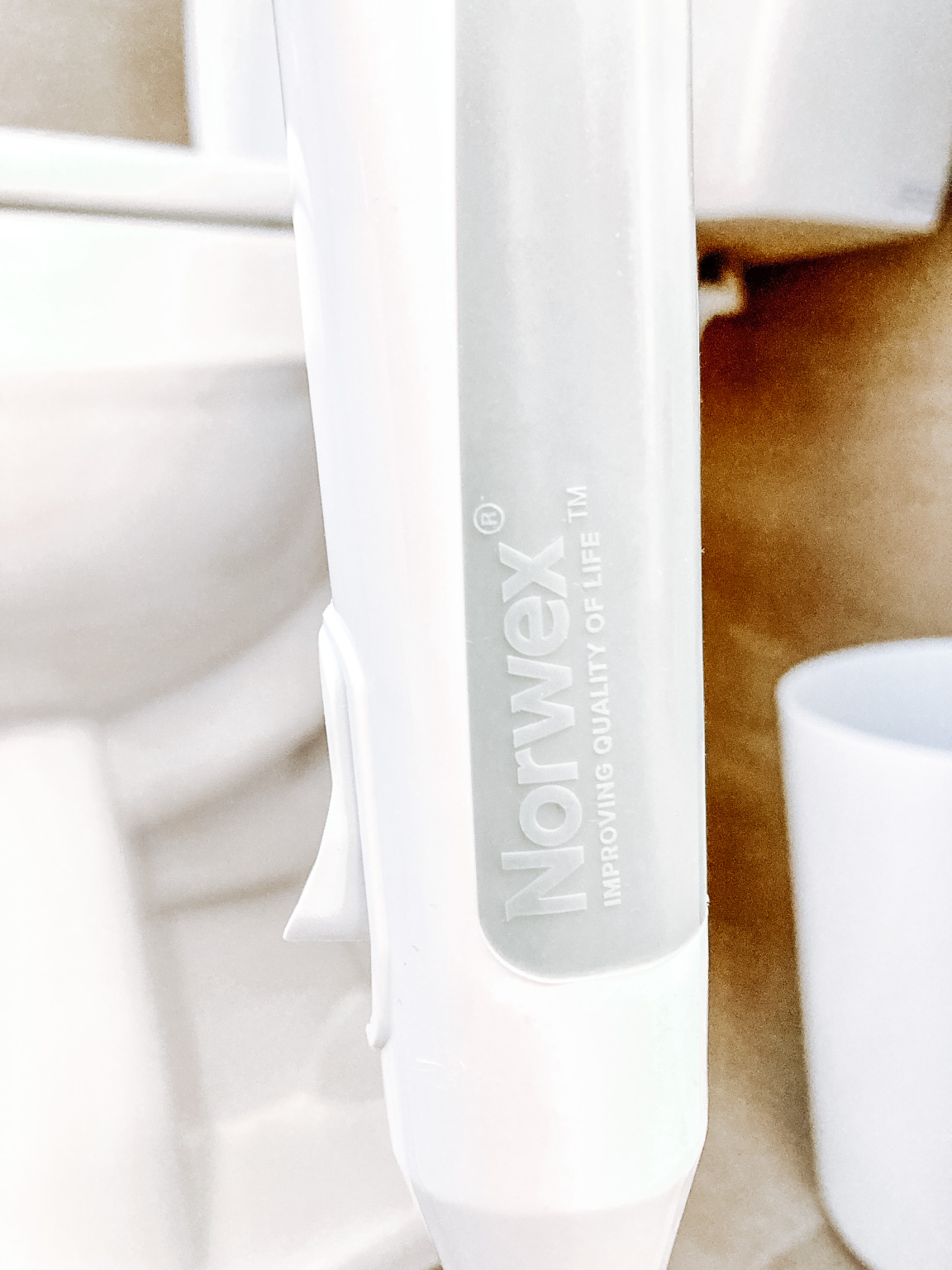 Use 2–4 pumps to clean the bowl.
After scrubbing, allow the solution to work for 3 to 5 minutes, then flush clean. 
Rinse the brush and place it back in its base (if necessary), letting BacLock go to work.
To fill:
Unscrew the handle cap and slowly pour Bathroom Cleaner into the reservoir.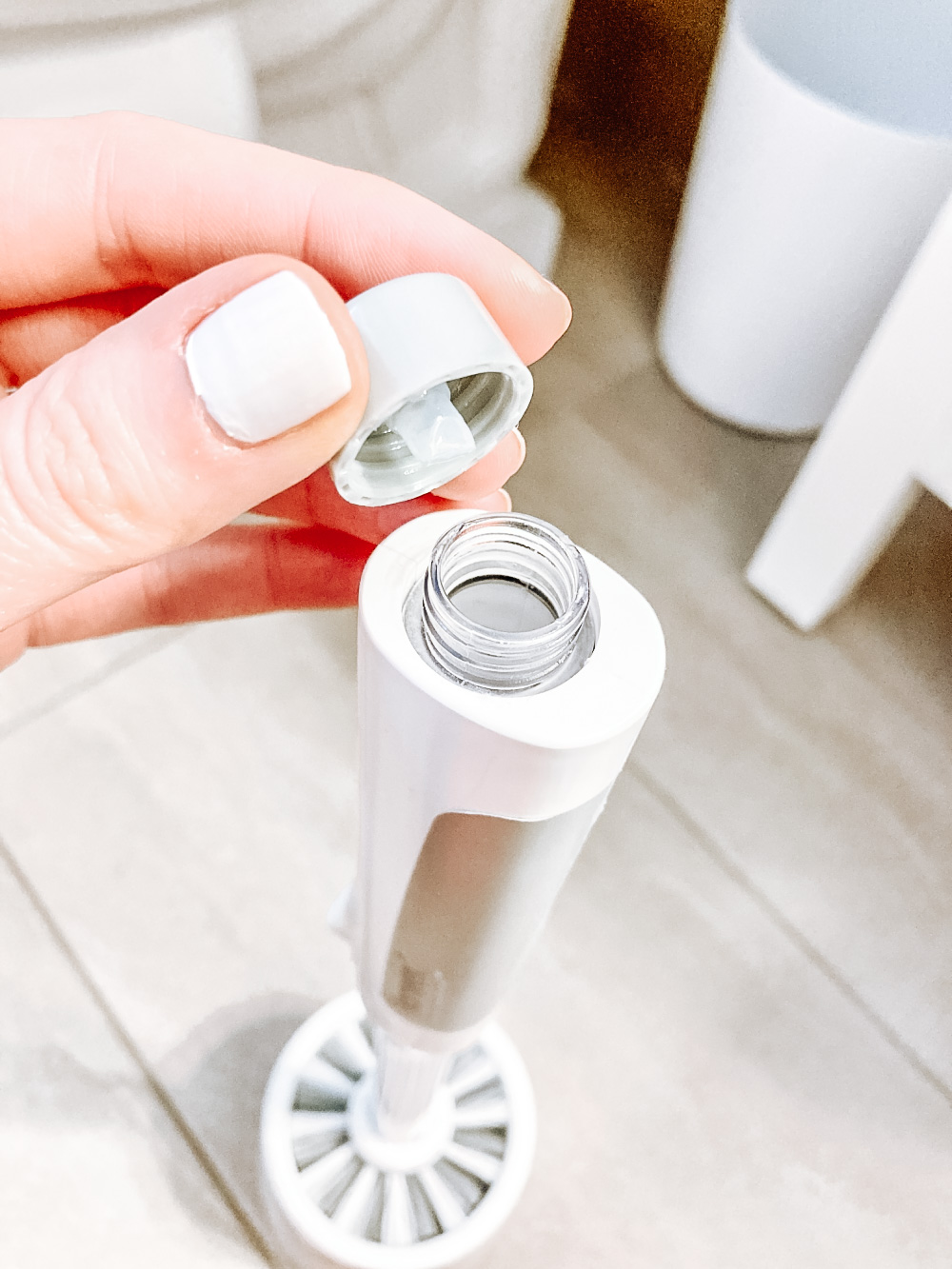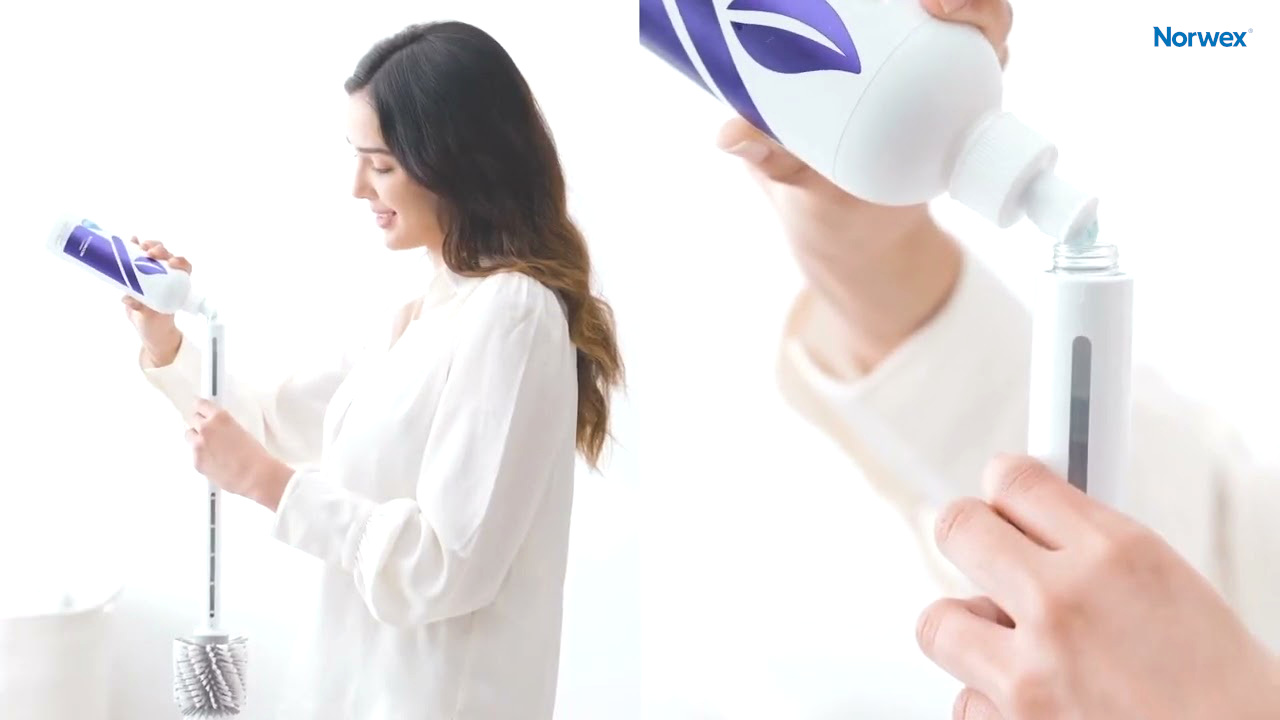 Do not exceed the maximum fill line. 
Use with any non-gel bathroom cleaning liquid.
Want to clean the rest of the toilet? Grab a damp EnviroCloth and wipe the seat and all exterior parts to remove 99% of the bacteria hanging out on the toilet! Check out this article if you're dealing with an extra-dirty toilet from boys in the bathroom(LINK to blog about cleaning up after boys)
Which Toilet Brush Should You Choose?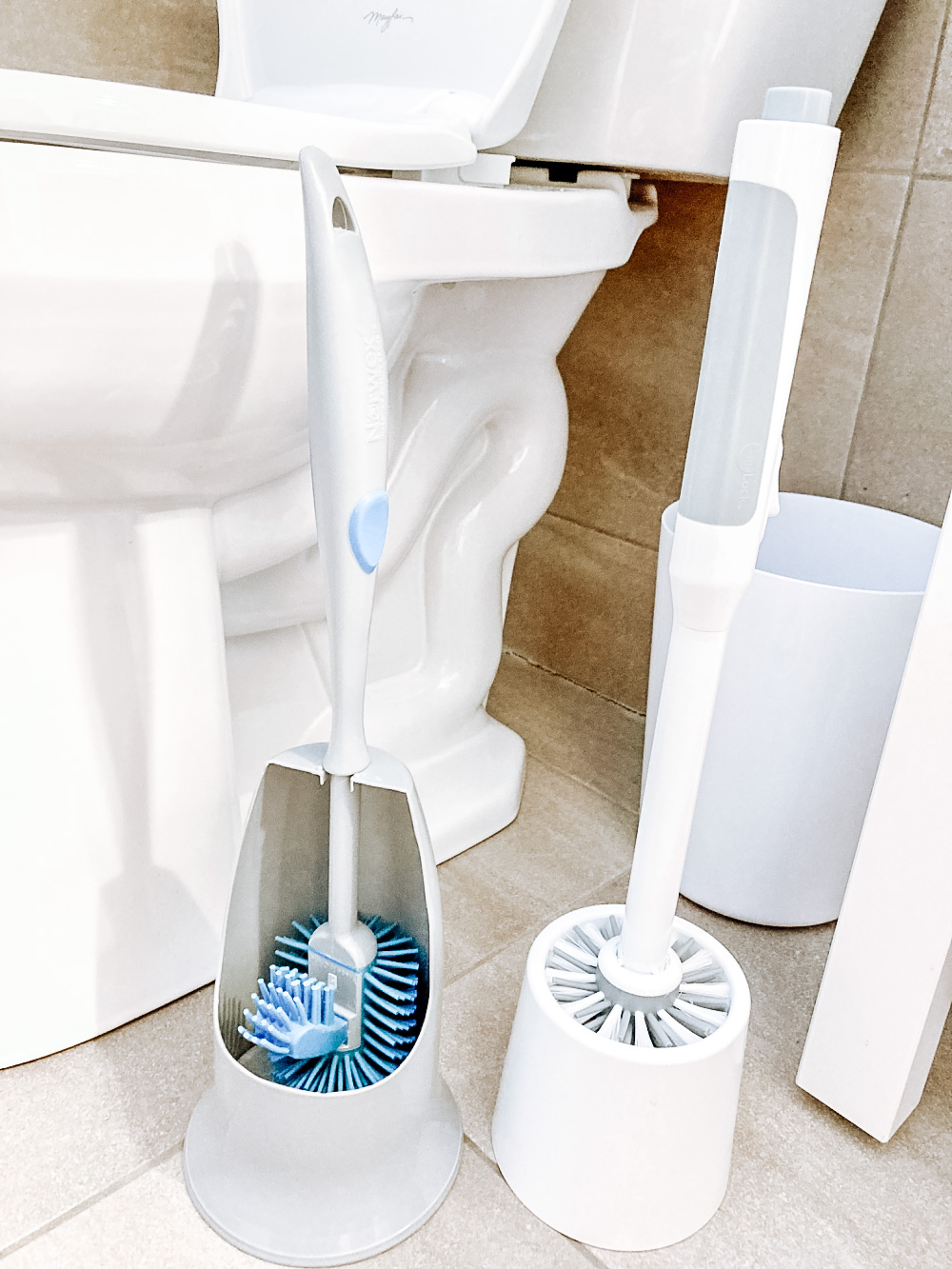 If you're looking for a basic toilet brush that will last you many years, doesn't sit in water, and harbor bacteria, and does not rust, then the Ergonomic Brush is the choice for you.
If you want all the bells and whistles of a toilet brush, that is SUPER clean because of BacLock coating and contains a handy cleaner dispenser, the new Toilet Bowl Cleaning System will bring you the joy you never knew a toilet brush could bring you! I definitely give this one a 5-Star review!
Products To Purchase Featured in This Post
Norwex Bathroom Cleaner and EnviroCloth