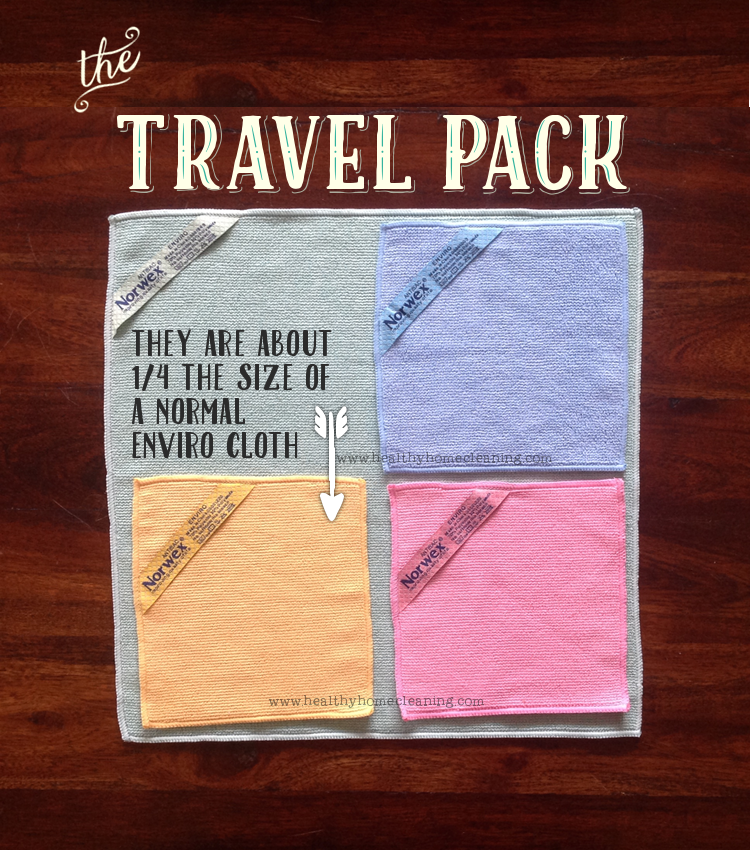 So, do you have a 'toothpaste problem' in your bathroom? A problem that likely drives you I.N.S.A.N.E?
Sticky blobs and strings of toothpaste on the bathroom counter!
Not only is it dirty looking, but it's sticky. So, if you put your make-up bag, hairbrush, elbow or anything else on the bathroom counter, it makes a mess on those things. The worst? If there are bits on the front of the counter, and you lean over to get a better look at your beautiful self in the mirror, you'll get toothpaste on my shirt and/or pants  *enter excessive use of curse words and strange noises of frustration.*
An Enviro Cloth is GREAT for cleaning up these blobs. Only thing is, even if it's really easy to clean the counter with my Enviro Cloth, you wouldn't likely do an entire clean of the sink and counter everyday.
The travel pack consists of four mini Enviro Cloths. They pack the same punch as an Enviro Cloth, picking up dust, dirt, grime and germs from the surface with just water, but in itty-bitty size! These are great for your purse, your car, your desk, etc., anywhere you're on the go or have limited storage space.
However, here is a genius system that fellow Canadian consultant Crystal Moore has  implemented in her home. She keeps a Mini Enviro Cloth hanging on the hook inside her bathroom cupboard, beside her EnviroCloth and Window Cloth.
This mini cloth is exclusively for the toothpaste blobs that are usually there twice a day. She's renamed it, "The Super Norwex Toothpaste Buster." Amazing products deserve amazing names, right?
So, when her counter has sticky toothpaste bits all over it, she runs her mini under the running water real quick, gives it a squeeze, wipes the offending stickiness, does a rub and rinse of this mini under the running water, squeezes it out again and hangs it up.
The greatest part about this: you can train your children to use this cloth, which is the PERFECT size for their little hands, AND it needs no dangerous chemicals to give an effective clean of those toothpaste blobs!!!!! And forget about those foolish disinfectant wipes. This will save you big $$$$ over time!
Train them on what to do (it's so easy), then next time there's a mess, remind them to grab 'the toothpaste buster' to clean up their mess. Eventually, they'll do it without being asked!
I bet you want to scream, you're so excited!
Clearly, this product deserves 5 ENORMOUS stars!
#Revolutionary  #ILoveNorwex  #kidscandoit   #SuperNorwexTootpasteBusterILoveYou!