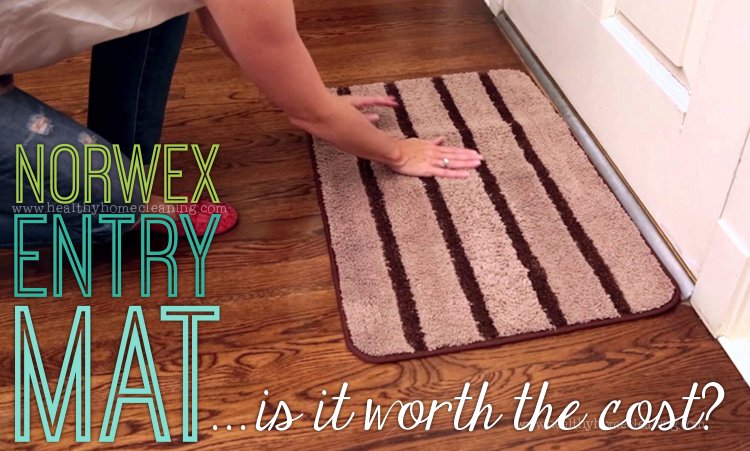 "Question: What's the best kind of dirt? The kind that stays outside!
85% of contaminants are brought into the home in the first four steps!  The Norwex Entry Mat features super-thirsty microfiber and stiff polypropylene bristles, so dirt and other pollutants get trapped in the mat instead of being tracked into your home.  You can use the Norwex Rubber Brush or a hand-held vacuum to keep it looking fresh between washings.  When it's really dirty, it can be tossed in washing machine and air-dried."
Hmmm.  Dirt and pollutants getting tracked into the home in the first four steps? I don't know that I have ever cared, or ever will.  I like the outside.  So, I'm okay with some of it being inside!
I love what Norwex is trying to do, but here's the low down on this product:
For a front entry mat, it's just too small!
This entry mat isn't even as wide as the door you will want to put it in front of!
I didn't want it, because I have a mudroom, so shoes don't enter my house.  And, I thought it was still much too small for a door mat in my mudroom.
My sister had just moved into an apartment with a very small, tight entrance, so we thought it'd be perfect for her. Except, it ended up being used under the kitty litter box to prevent the kitty litter from rolling around!
So, three households later, no one wanted it as an entry mat!
For a little mat, it's just too expensive!
$59.99.  For a really small mat.  That makes me gasp.  I just would not consider paying that much for any mat.  Unless, perhaps,  it complimented me every time I stepped on it:
It sheds when it's laundered
When washed, there's lots of fluffy pieces stuck to it that take a while to get off, on account of the bristles embedded in the mat.
I think it's a wee bit ugly…
… after it's been used for a while.  I know this is completely subjective and probably a little vain, but still, I think it's a point worth making.  The mat looks really nice when you first lay it on the ground.  It's fluffy.  It's clean.  It's not covered in lint.  But very quickly, it's 'beauty' fades.  It becomes matted, the dirt really shows on it, and if you wash it, it gets very linty.  To see my point, compare the 2 above pictures – new vs used.  It just starts to look ratty.  I know, I know, it's a floor mat which is meant to catch dirt, but still… I like my dirt catchers to look attractive!
There is one thing I do like.  Okay, two.  Well, maybe three…
While I don't have a ton of great stuff to say about this mat, I do like how soft its microfibre is. It's interspersed with dark brown lines of short plastic pieces that are, in fact, good for wiping your shoes. So it wipes shoes AND can absorb wet stuff. So if that's important for you, then great!
And while there is only one choice in colour, brown is a super-smart choice for an entry mat! I have ended up keeping this mat at the entrance of the hallway, so when you step from the mudroom into the house, there is another mat. When I pick the mat up and shake it out, there's surprisingly large amount of little rocks that come out. And we're not usually wearing our shoes when we step on it. So, it gets points for the handy feature of holding onto dirt.
I think that if you are in an apartment (small space), and you don't have a large family using it (maybe if you're single or just a couple?), this mat would really work for you!
I don't have much to gush about this product, and it is just so highly priced, so I would give this product 3-stars.
Do you have the Norwex Entry Mat?  What are your thoughts on it?