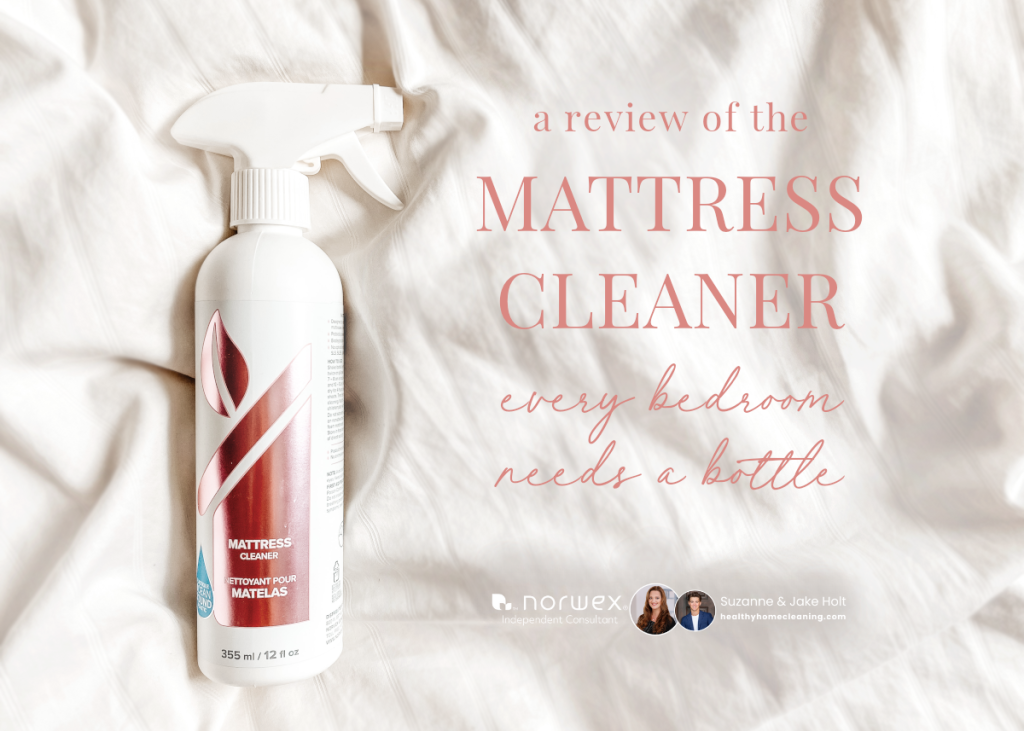 If you or someone you love suffers from dust allergies, you know how critical it is to reduce their numbers in your home.
Every person sheds almost 15lbs of skin per year, and 80% of that is in bed?! Where there are dead skin cells, dust mites thrive – they live (and breed and poop) in mattresses, sofas, carpets, and car seats (don't worry, they don't bite)!
Did you know that most dust allergy sufferers are allergic to the dust mite's POOP? I know… Yuck.
It's the protein in the dust mite feces that irritates the mucus membranes of your sinuses causing sneezing, congestion, itchy & watery eyes, coughing, dark circles under the eyes & asthma flare-ups; those of you with dust allergies know what I'm talking about. It's miserable.
The Norwex Mattress Spray KILLS dust mites, simply by out-competing them for food… no insecticides or dangerous chemicals are needed.
How Does Norwex Mattress Cleaner Work?
Mattress Cleaner has live, non-pathogenic (not disease-causing) organisms in it, which use enzymes to rid the mattress of debris. These enzymes encapsulate and digest dead dust mites and their poop (gross), dead skin cells, pet dander, yeast and fungi. These enzymes will continue to feed on all the above until it is all gone and the end product is carbon dioxide and water – completely safe. Once there is no longer anything left for the enzymes to eat, they disintegrate.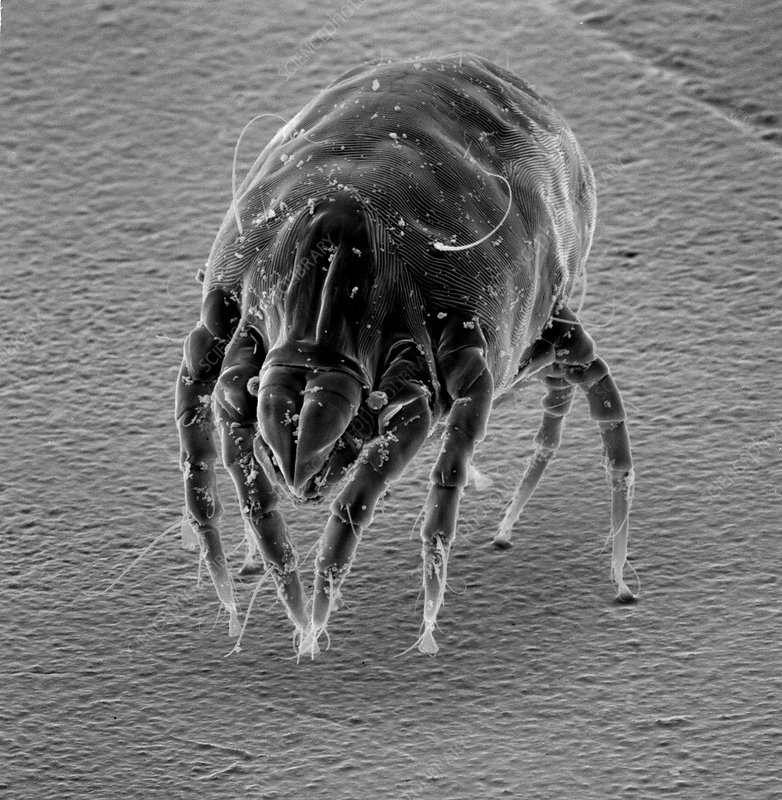 There is a misconception that the Mattress Spray kills dust mites but the truth is that the mattress spray doesn't actually KILL anything! It works by eating up all of the food that the dust mites would feed on (aka, your dead skin cells), and when the dust mites don't have anything to eat, THEY DIE! The Mattress Cleaner enzymes basically out-compete the dust mites for food which is a process microbiologists refer to as competitive inhibition!
So Does it Actually Work?
Absolutely! This is an amazing product for anyone who suffers from dust allergies, asthma, or people who snore! Yes, the Norwex Mattress Spray can reduce or eliminate snoring, depending on the cause of the snoring. My husband was a snorer, but about a month after my first application of the mattress spray, I noticed that his snoring had lessened noticeably – Hooray! I also have customers who have been able to significantly reduce the amount they use their inhalers, once they started using the Norwex Mattress Spray. Listen to this customers experience:
"Every morning I would wake, and reach for my inhaler (for my tight chest), and then spend the next 30-40 minutes sneezing repeatedly, as my system rid itself of the stuff that had accumulated in my sinuses and chest during my night's sleep. I used the Norwex Mattress Spray on our bed, pillows and duvet, and waited to see if it would help. Two weeks later, I didn't have to use my inhaler anymore, when I woke up! No longer was my breathing laboured in the morning, and the sneezing attacks stopped! This mattress spray is worth it's weight in gold!"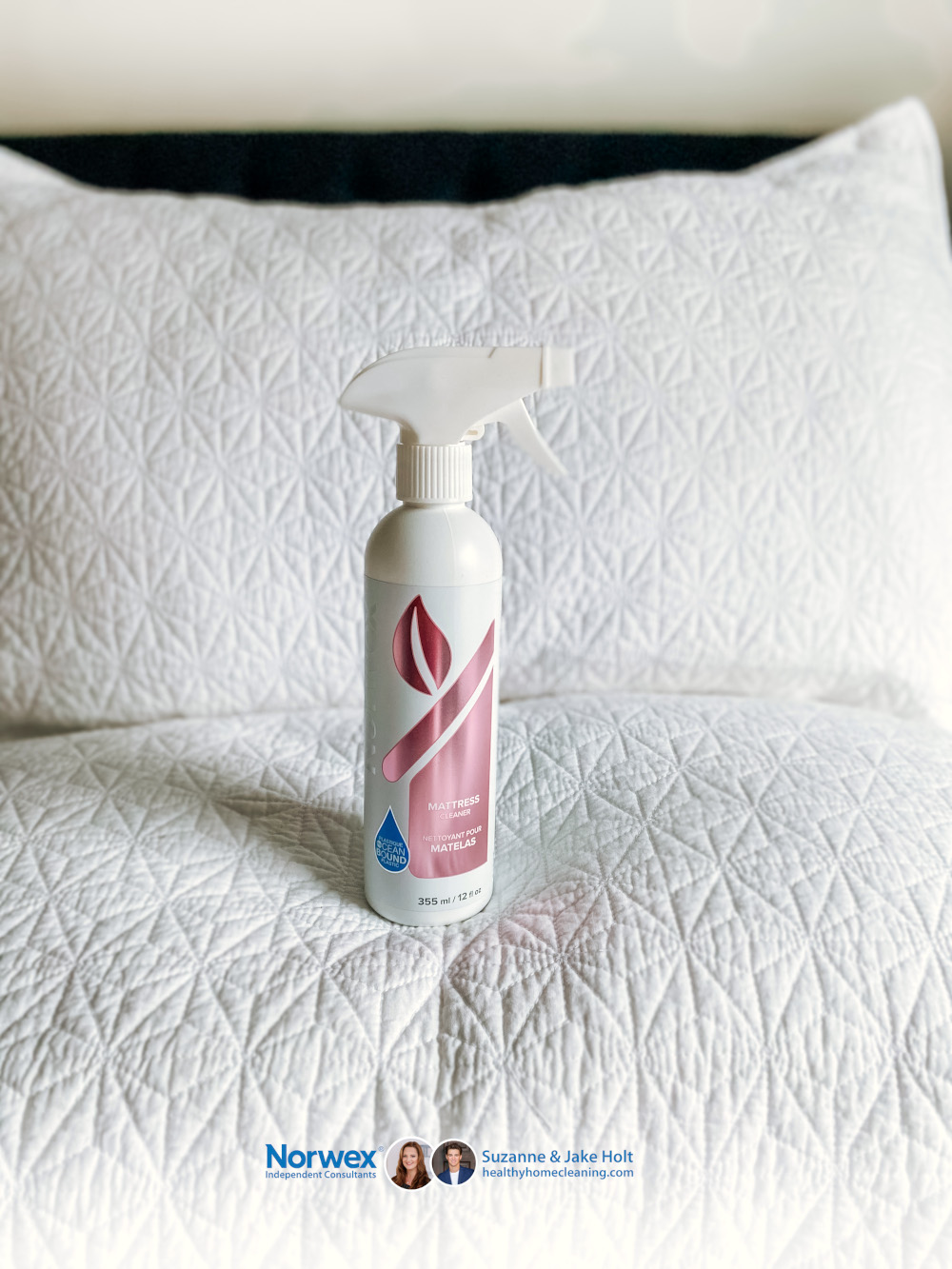 Here's a list of the benefits of using the Norwex Mattress Cleaner
Gets rid of dust mites and their feces (VERY allergy-causing in many people – snoring, coughing, etc.) and can help to eliminate or reduce allergic reactions
Gets rid of urine smell and staining (extremely well)
Only product on the market for elimination and removal of all organic waste inside the mattress
Environmentally friendly and biodegradable
Dual function: By use of Zinc complex and microorganisms unpleasant odors and organic material are encapsulated, neutralized and eliminated.
Minimizes bacteria and dust mite growth
Continues working until all organic material is removed
Quick and easy to use
Cleans where other products are unsuccessful
Helps to reduce the amount of dust in your house
Where can I use the Mattress Spray?
Oh, so many places, and wherever dust mites might live:
Mattresses
Pillows (sleeping and decorative ones)
Duvets (both down and synthetic)
Upholstered furniture – couches, chairs, sectionals, loungers, office chairs
Area rugs and carpeted rooms
Stuffed toys
Curtains
Dog & cat beds – this is a GREAT product for pet owners!
Car seats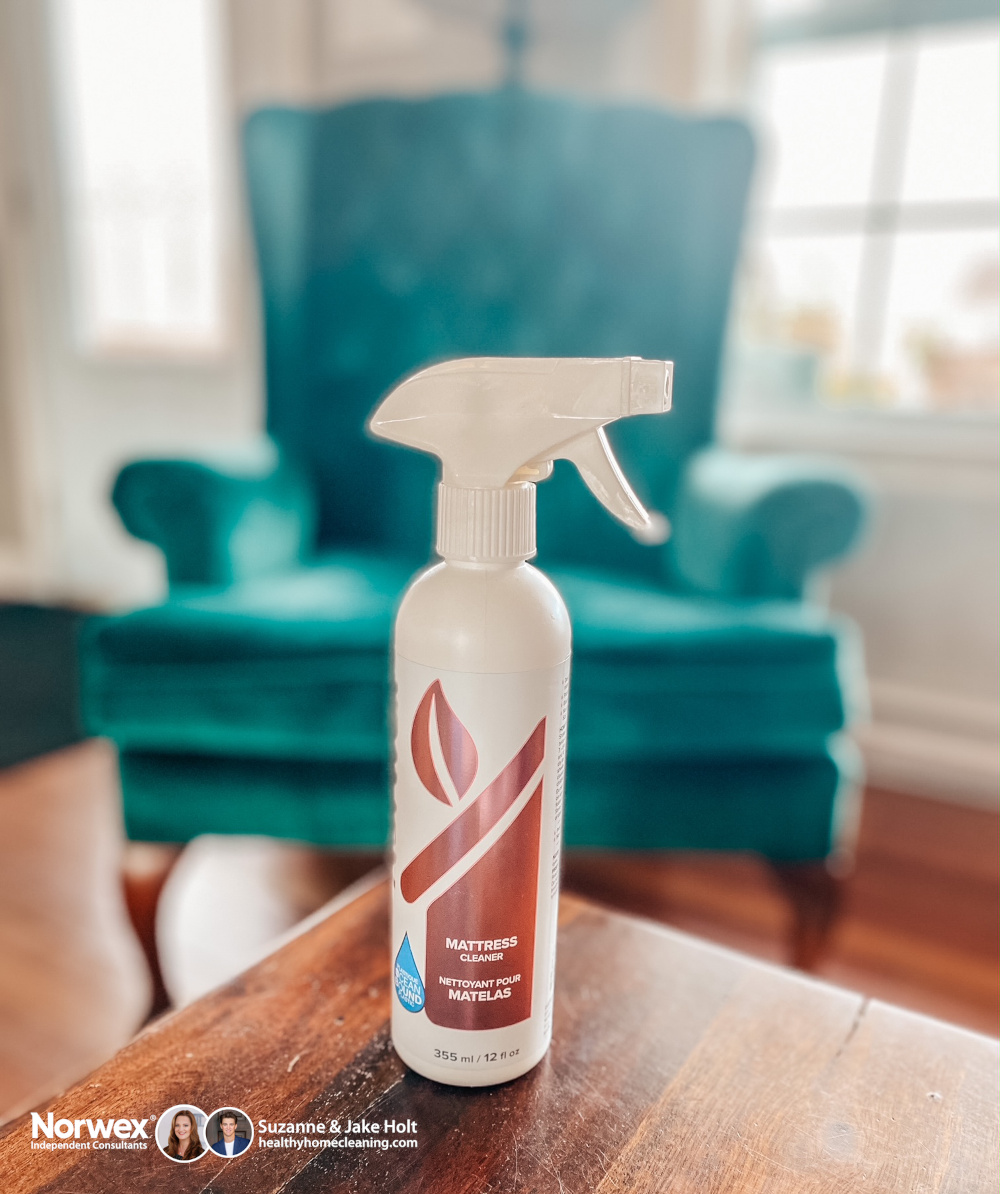 HOW TO USE the Norwex Mattress Cleaner:
Use every 3-4 months: 10 sprays for a twin mattress, 15 sprays for a queen-size mattress, 20 sprays for a king mattress.
Must be sprayed directly on the mattress (no need to flip), pillows, stuffed animals, furniture or carpet.
NOTE: This is NOT for use on non-absorbent crib mattresses (ones with vinyl-type covering).
Questions About the Mattress Cleaner
Why Is It Important To Reduce the Number of Dust Mites In Our Homes?
Dust mites are microscopic. About 50 of them can fit on the head of a pin. Dust mites feast on the fungus that grows from dead skin cells and animal dander. The average adult sheds about 15 lbs of skin cells per year; 80% of that is shed in bed.
On average, one dust mite produces 50 fecal pellets daily. These droppings are the most common cause of dust-related allergies. Approximately 80% of asthmatics are allergic to dust mites. Guess what? It's not the Dust Mites causing the allergies; it's the feces they leave behind.
There are millions of dust mites in your home, which live in your furniture, carpet, bed, bedding, and even your children's stuffed toys. Did you know that 10% of the average pillow's weight is dust mite feces?
Should I buy a bottle of Mattress Cleaner?
Honestly, if you live and have skin, and sleep on mattresses with pillows and sit on sofas, you should buy a bottle of the Norwex Mattress Cleaner! Even if you don't have a dust allergy, chances are someone you know does – they will thank you for spraying your couch with it. I give this Norwex product a gigantic 5 stars!
Purchase Products In This Post: