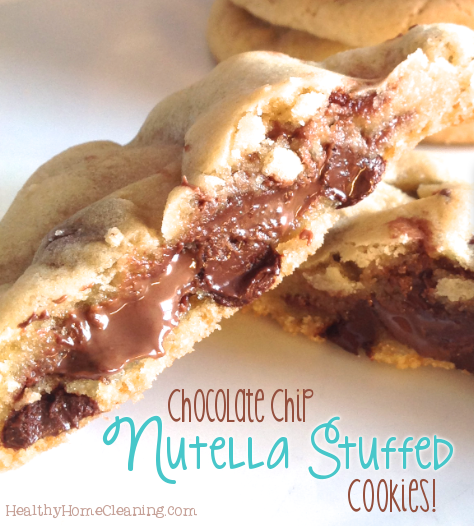 Nutella STUFFED Chocolate Chip Cookies.
These are wildly yummy.  They take the basic, but delicious, chocolate chip cookie to a whole new level of amazing.
Don't make them very often, because you will eat them.  Eat. Them. All.  In one sitting.  They're that good!
Here are a few tips to help you make a GREAT chocolate chip cookie:
DO measure the flour, sugar, and butter by WEIGHT, if you have a kitchen scale.  Let's use flour as an example;  1 cup of flour is considered to be 5oz, but it's quite easy to get as much as 5.6oz in a leveled off cup of flour depending on how you scoop.
DO use a mix of brown and white sugar.  Using a combination of the 2 sugars results in a softer, chewier cookie, that tastes slightly of butterscotch, with just the right amount of spread.  If you use only white sugar, you will have thinner, crispier cookies without the toffee flavour.
DO beat your butter and sugars until light and fluffy.
DO add the chocolate chips BEFORE adding the dry ingredients.
DON'T over-mix your dough when you add the flour in, this results in a tougher cookie.
DO chill your dough in the fridge for AT LEAST 1 hour (although a full 24 hours is best), to let the flavours blend and increase… it really does make a big difference!
DON'T over-bake them.  This can be tricky because a perfectly baked chocolate chip cookie LOOKS a bit under-baked in the oven.  You want to see the edges of the cookie just turning golden, and the top of the cookie should be matt, not shiny.  If they  look lovely and super golden in the over, you've probably left them in too long.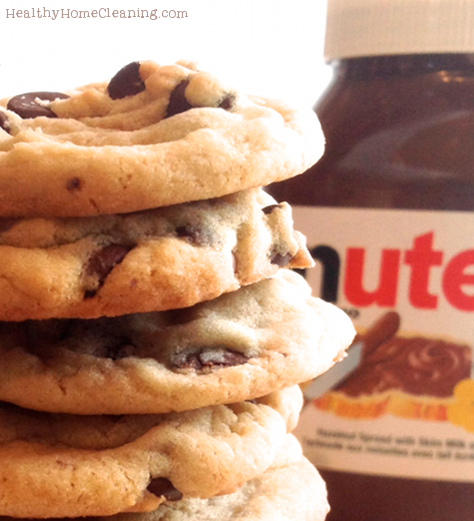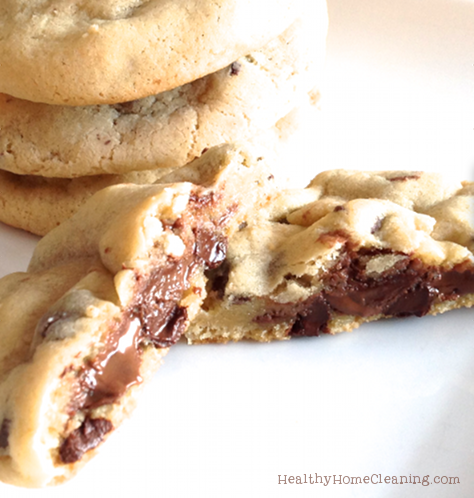 … mmm, delicious.  Now, here's the recipe.  Go forth and make cookies!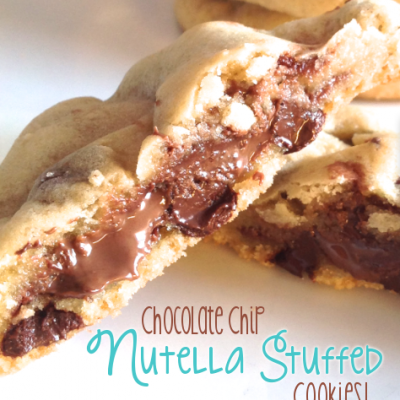 Nutella Stuffed Chocolate Chip Cookies
Chocolate chip cookies with a center of smooth & silky Nutella - Decadent!
Ingredients
1/2

cup

1 stick (4oz) unsalted butter

softened

2/3

cup

(5oz) white sugar

1/2

cup

packed brown sugar (5oz)

2

large eggs

room temperature

1

tsp

vanilla

1 3/4

cups

(8.5oz) all-purpose flour

1

tsp

baking soda

1

tsp

salt

1

cup

chocolate chips

1/2

cup

Nutella

approximately
Instructions
Line your cookie sheet with parchment paper.

In a medium bowl with electric beaters, cream the butter, sugars, & vanilla until light and fluffy, then add eggs one at a time until fully combined.

Mix in the chocolate chips - yes, add them to the wet before adding the dry.

In a small bowl sift together the flour and baking soda.

Slowly add the dry ingredients to the butter mixture, until a soft dough forms. DO NOT over-mix.

Refrigerate the dough for at least 1 hour, but way better is one full day (24 hrs).

For each cookie: Lightly dust flour on your hands. This step is REALLY important so that the dough doesn't stick to your warm hand, tearing holes and leaking Nutella while you're trying to peel it off.

Scoop a large spoonful of cookie dough (1.5 Tbsp), pressing it flat into the palm of your hand. It should fully cover your entire palm. Try not to over-work the dough at this point, and work quickly so the dough doesn't warm up too much.

Spoon about 1 tsp (or more if you can manage it!) of Nutella into the center of the flattened cookie, then carefully fold the dough back up, over the Nutella center, sealing it at the top (like a dumpling). If the dough tears, you can patch it up with a little piece of dough.

Place the funny looking Nutella, dough packets on your parchment lined cookie sheet. Make sure you give them ample room, they are big cookies!

Once all the cookies are formed, refrigerate them for a good 30 minutes. DON'T skip this step. If you do, your cookies will over spread, and you'll have very large, very flat cookies with a thin line of Nutella in the center instead of a thick, creamy center.

While the dough is setting in the fridge, preheat your oven to 350° F.

Remove unbaked cookies from the fridge and bake for 11-14 min, until just golden around the edges.