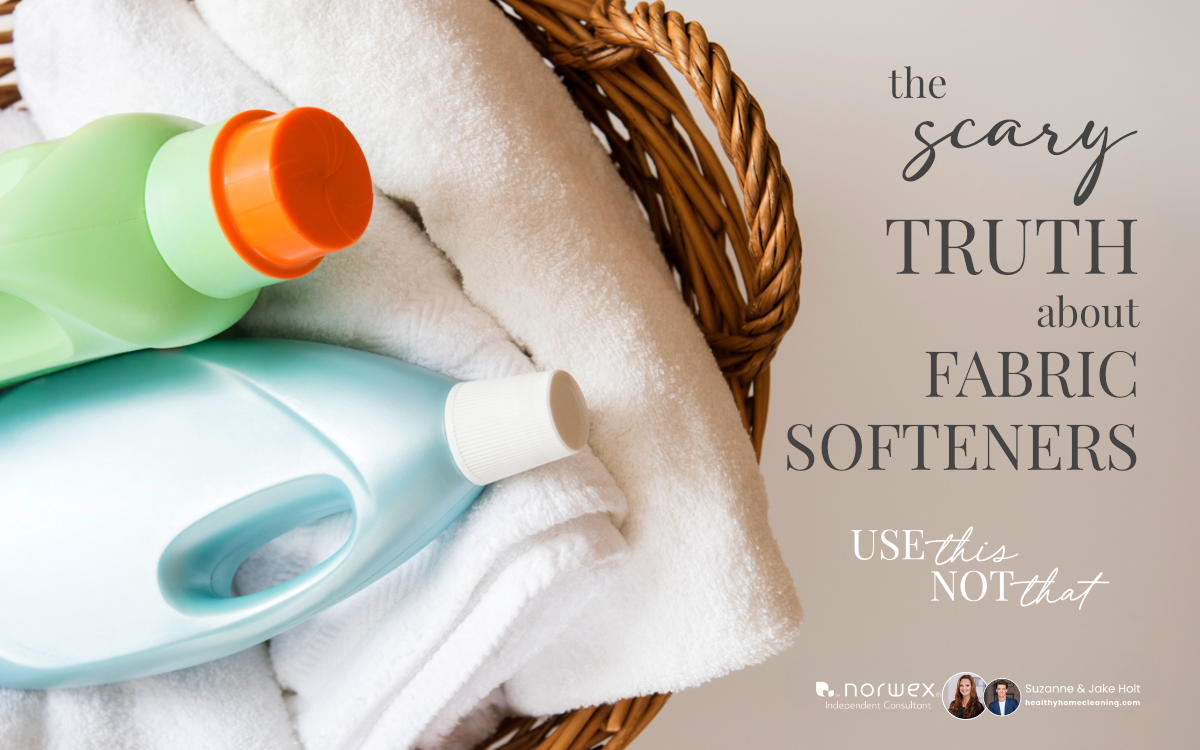 Today in the series, Use THIS, Not THAT, we're going to tackle fabric softeners and dryer sheets.
I'm going just to come out and say it – you need to stop using all forms of fabric softener in your laundry. STOP IT! It's horrible for your health, your clothes (especially activewear), and your washer & dryer.
Dryer sheets and fabric softeners are one of the most toxic household products on the market
I used to use them because I hated pulling static-filled clothes out of the dryer, but as I read more about the dangers associated with using them, I began to realize it just wasn't worth the risk.
How Fabric Softeners Work
Fabric softeners come in 2 forms:
Liquid fabric softener – used in your washing machine
Dryer sheets – coated sheets of paper that go in your dryer
The purpose of fabric softeners is to reduce static in your laundry, help prevent excess wrinkles, add a scent (we love the smells associated with clean), and make the fabric feel softer. It does this by coating the fabric in a thin film. This waxy film on your clothes makes them more 'slippery,' therefore reducing the friction that produces static. Also, by coating the individual fibers of the fabric, those fibers separate, and items like towels feel softer and fluffier.
This all sounds lovely, so what's the issue with using them?
Here's the low down.
Fabric softeners are bad for your clothes.
It wrecks your clothes.
On some of the fabric-care tags on your clothes, activewear specifically, you may have read that it says to avoid using all forms of fabric softeners when laundering. This is because the thin, waxy film prevents the fabric from absorbing and wicking away moisture from your skin. Activewear fabric is designed to absorb and move sweat from your skin to the outside of the garment, where it can then evaporate and help you stay dryer. When you coat it with a waxy film, it's like putting a layer of plastic wrap on each side of the garment – the moisture gets trapped, and you stay sweaty.
It prevents your laundry from actually getting clean.
Additionally, the more you wash your garments with fabric softener, the more this waxy film builds up, preventing water and detergent from penetrating the fabric. As a result, dirt and odors stay trapped in your clothes.
This lack of absorbency will affect more than just your activewear; towels, for example, which are meant to absorb a lot of moisture, as well as undergarments which draw sweat away from your body to keep you comfortable.
It can stain your clothes.
Over time the waxy build-up will start to yellow your whites, and liquid fabric softener is known to leave blueish-grey stains on clothes.
They aren't good for your washing machine and dryer.
In addition to leaving residue on your clothes, fabric softeners also leave a waxy film on washing machines and dryers, which isn't good for the machines.
The residue on the machines also transfers onto clothes. So even if you don't use fabric softener in a particular load (like your activewear, for instance), if you're a regular user, it will also get on those clothes.
Thankfully, with a little elbow grease, Norwex Cleaning Paste, and an EnviroCloth®, you can remove this residue from the drums of your washing machine and dryer. Unfortunately, if you've used liquid fabric softener, it's coating places in your washing machine that you can't reach. If you start adding white vinegar to your fabric softener dispenser in every load, it will begin to dissolve the waxy build-up in those no-reach places. It's not an immediate fix, but it will slowly clean the hidden places in your washer.
Fabric softeners are not a one-time purchase; you must repeatedly buy them.
Fabric softeners are unsafe for YOU.
Look at this list of dryer sheets on the Environmental Working Group website. The majority of products are rated "D" and "F" – that's a pretty extreme universal rating for one type of product – and the fabric softening and fragrance ingredients are known to cause asthma/respiratory systems and skin allergies. I don't know about you, but that's the last thing I want coating my family's bedsheets and clothing.
Here are a few of the chemicals found in many commercial dryer sheets and the side effects they are linked to:
Benzyl acetate: Linked to pancreatic cancer
Benzyl Alcohol: Upper respiratory tract irritant
Ethanol: On the EPA's Hazardous Waste list and can cause central nervous system disorders
Limonene: Suspected Gastrointestinal or Liver Toxicant, Immunotoxicant,
Kidney Toxicant, Neurotoxicant, Respiratory Toxicant, and Skin or Sense Organ Toxicant
A-Terpineol: Can cause respiratory problems, including fatal edema, and central nervous system damage
Ethyl Acetate: A narcotic on the EPA's Hazardous Waste list
Camphor: Causes central nervous system disorders
Chloroform: Neurotoxic, anesthetic and carcinogenic
Linalool: A narcotic that causes central nervous system disorders
Pentane: A chemical known to be harmful if inhaled
Quaternary Ammonium Compounds (QACs or "quats"): reduce static in your clothes but can cause skin and respiratory irritation. In addition, the widespread use of quats is linked to the rise in antibiotic-resistant bacteria.
Also, did you know that studies have shown that liquid fabric softeners make fabric more flammable? No one wants extra flammable clothes and pyjamas.
Early in my journey to reduce chemicals in our home, I had a conversation with my sister, which completely clinched my decision to never use dryer sheets again.
The area she lives in was beginning a recycling program, and she wanted to know if her used dryer sheets could go in the paper recycling or if they had to go in the garbage. The answer she received was disturbing:
"If the dryer sheet has been used, you can put it in with the paper recycling or throw it in the garbage. However, if you haven't used the dryer sheet, and you want to get rid of it, you'll need to take it to the toxic round-up station."
Please tell me I'm not the only one who sees a HUGE problem with this scenario.
We all need to ask ourselves this question: Am I so bothered by a little static that I would intentionally coat my family's clothes with toxic chemicals that would be absorbed into our skin?
Fabric softeners are expensive.
With the cost of living continually increasing, many of us are looking for ways to cut out unnecessary spending. Is there anything more unnecessary than fabric softener? Put a few extra dollars into your bank account and STOP BUYING FABRIC SOFTENER.
Is there an alternative?
Yes! Use Norwex Wool Dryer Balls instead!
Norwex Fluff and Tumble Wool Dryer balls, thrown into your dryer with your clothes, prevent static cling and wrinkles while your clothes are drying and can be reused hundreds, if not thousands, of times before they need to be replaced. Even better, no toxic fragrances or additives are used to coat your clothing, towels, or bedsheets. I encourage you to read this post, which talks more in-depth about these great little wool laundry buddies and why I (and sooo many others) love them!
Have you tried Norwex dryer balls yet? What did you think?
Purchase Products in this Post