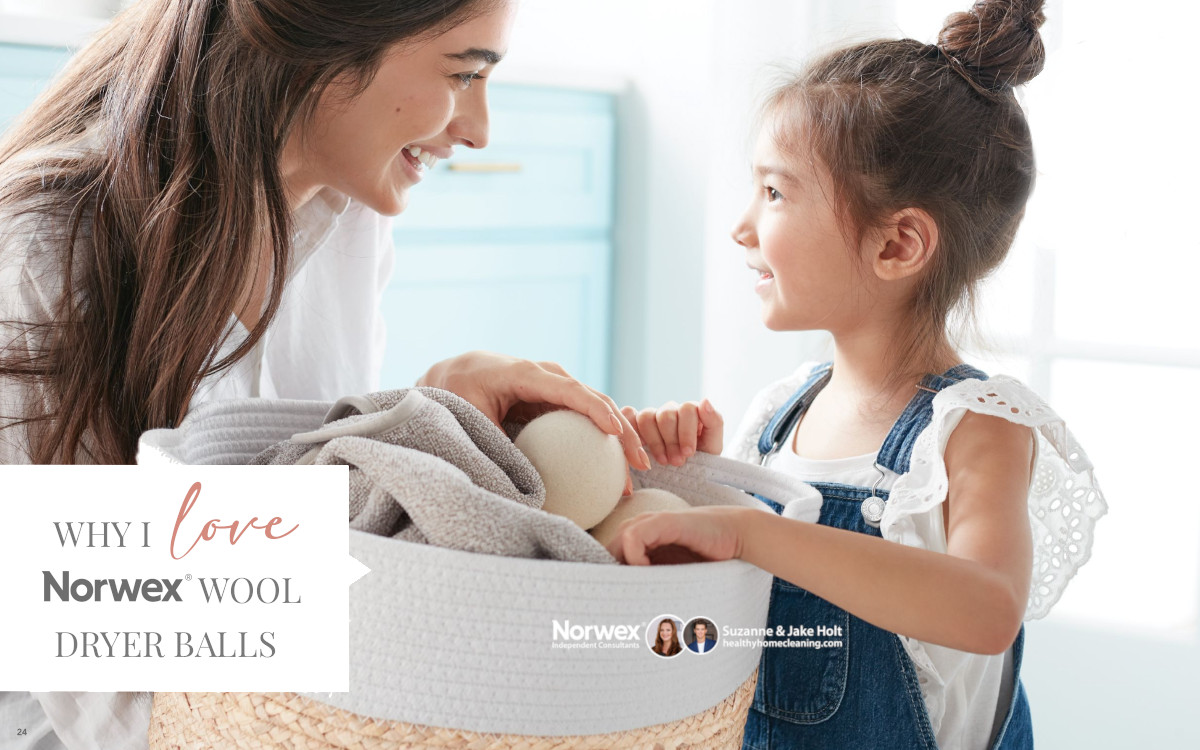 You've used dryer sheets your whole life, so why should you bother switching to dryer balls? Dyer sheets, while helpful and convenient, are actually the most toxic thing in our homes. They're a waste of money, compared to the alternative available to you too! The alternative people are switching over to is wool dryer balls. There are a lot of benefits to this healthier and cheaper option. Let's review them.
What I love about wool dryer balls
Wool dryer balls help you REDUCE drying time as well as REDUCE static. As they tumble around your laundry, they create pockets of air. This means your clothes can dry faster. It also reduces friction. Friction is what creates extra static.
100% wool means these are made from a completely natural and renewable resource. No plastics are needed!
No harsh chemicals, like those required in a dryer sheet, are needed for a dryer ball to reduce static or reduce drying time.
Since these are made from lightweight wool and not plastic, they aren't as noisy as a heavy plastic dryer ball can be when it tumbles around the dryer.
You can still add fragrance to your load with this alternative. Simply use a few drops of essential oils. All-natural, and you can change the scent depending on your mood. Once your laundry is done, simply put three drops of the oil of your choice on one ball. Throw back in the laundry on the 'fluff' setting (that's the no heat setting). Run for 10 minutes, and your laundry will smell heavenly!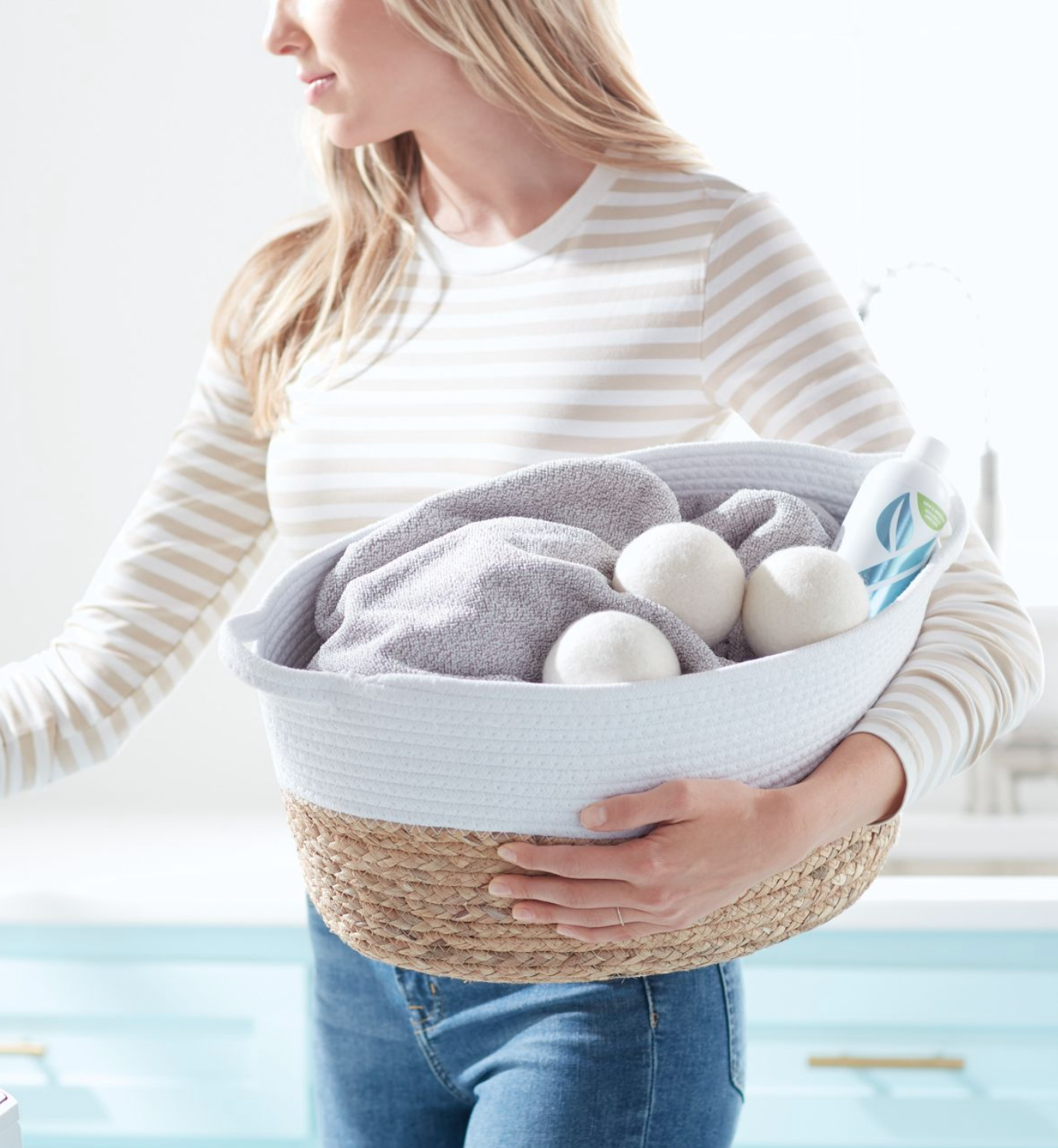 What makes the Norwex brand different than other brands
A lot of companies are creating wool dryer balls. I'm so happy that this healthier alternative is becoming popular!
When comparing dryer balls with other brands, there are a few things to note about the Norwex brand:
Norwex dryer balls tend to be larger in size than others. You get more bang for your buck!
Norwex balls are GUARANTEED for two years. If they start to unravel before that time, simply contact the consultant you purchased them from to have a new set sent to you. They should last you around 1,000 washes. Um, that's a lot of laundry!!!
Tips & Tricks
There is an adjustment period to switching over to dryer balls from dryer sheets. Some users complain that they're getting a lot of static when using dryer balls. Here are some things to consider to help you with the static issue:
Over-drying makes those dry clothes rub against each other for too long (friction!), creating static. Since dryer balls help reduce drying time, start by reducing your usual drying time on your dryer by 10 min. If that doesn't work, keep decreasing the amount of time you're drying. You should know the right length of time within a few loads, and you can adjust accordingly for the future. Certain types of loads will need even less time. For example, while a full load of clothes takes approximately 60 minutes in my dryer, my bedsheets really only need 30 minutes before they're dry
Avoid mixing in a fleece sweater with your load. Fleece is a static multiplier! You can hang your fleece to dry, or dry separately. This goes for big fluffy blankets too!
If you typically dry large loads, it is recommended that you use six balls, instead of just three in the dryer, to assist with adequately separating the fabrics as they spin around.
Crumple aluminum foil into a ball and toss that in your laundry as well. This will harden over time, and shrink. You'll need to throw a new one in once it shrinks really small.
Refresh your Wool Dryer Balls
If you've been using your dryer balls a while and are having major static issues suddenly, you likely need to refresh them. To refresh wool dryer balls, place each dryer ball in a thin sock, or the end of a pair of pantyhose (with the foot part cut off). Tie the open end of the sock or pantyhose, and stick it in a hot wash cycle. Throw them back in your dryer, and you're good to go again!
A note on pilling
Your wool dryer balls may start to pill over time (this is bits of lint attaching to them). You can remove the pills, but they actually aid in the drying process, so you're better off leaving them on!
A Few "Warnings"
If you have young children, you should be aware that these balls are fun! Your toddlers are going to love throwing them around if they come across one. No biggie of course, just makes it hard to find.
Same goes for dog owners. Only, if your dog gets a hold of one, it will chew it completely apart. This a common problem, so keep them off the floor and away from the dog!
If you're ready to make the switch to wool dryer balls, click the button to order.