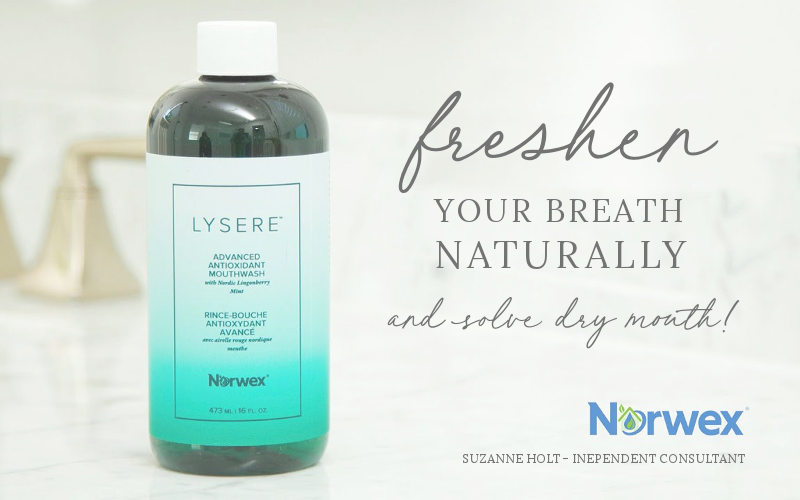 Do you struggle with bad breath? How about dry mouth? I have a solution to your problem, that is a safer and more effective solution to traditional mouth wash! The NEW Lysere Advanced Antioxidant Mouthwash is a natural blend of ingredients that will not only give you long-lasting fresh breath, but will moisturize your mouth. You read that right. It.will.moisturize.your.mouth (naturally).
WHY IT'S SAFER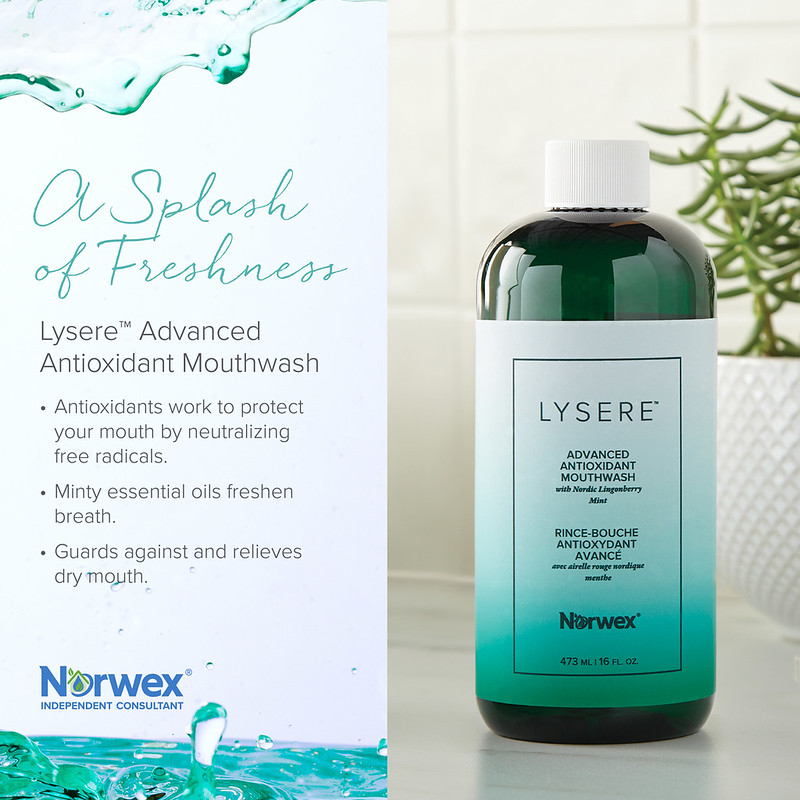 The Lysere Mouthwash is a safer alternative to freshen bad breath because of the guarantee of what it's FREE FROM. You won't find the following in the ingredients of this product:
•Alcohol • SLES • SLS • Artificial flavors • Artificial sweeteners • Dyes • Fluoride • Parabens • Phthalates • Peroxide • Triclosan • GMOs
This mouthwash is also naturally flavored with beneficial essential oils to cleanse the mouth and offer a refreshing mint flavor.
DID YOU KNOW? Many oral care products contain alcohol to eliminate bacteria in the mouth. However, alcohol also dries oral tissue, creating an environment in which bacteria can actually thrive.
This chemical-free mouthwash also promotes a healthy oral microbiome
Let's get science-y. Teeth, gums, tonugue, tonsils provide a rich environment for good and bad microbes to flourish. The microbiome is an ecosystem that maintains a state of equilibrium. Imagine a rainforest that has only one species of fern. It may be beautiful, but not healthy. It's the variety of plants that brings helath to the soil. When it comes to your microbiome, having the right community of bacteria working together is ideal. When the microbiome is balanced, the good bacteria fight off the bad. Negative results of an unbalanced microbiome (too much bad bacteria), can be cavities, gingivitis or bad breath.
In traditional mouthwash, alcohol is going to be effective at destroying bacteria that causes bad breath. However, it's also going to destroy the good bacteria. This is going to disrupt your oral microbiome. That's why the natural ingredients of the Lysere Antibacterial Mouthwash are going to be a better alternative for your health!
WHY it's effective: freshen your breath naturally
The Norwex Lysere Antibacterial mouthwash contains natural antioxidants. Antioxidants will help neutralize free radicals for overall oral health.
KEY INGREDIENTS
Lingonberry Seed Oil and Vitamin C: Super antioxidants known to help neutralize free radicals.
Aloe Barbadensis Leaf Extract: Antioxidant that helps moisten and guard against dry mouth.
Xylitol: Inhibits bad breath.
Spearmint and Peppermint Essential Oils: Refresh the mouth with an invigorating mint flavor.
Full Ingredient List: Water (Aqua), Sorbitol, Xylitol, Glycerin, Ascorbic Acid, Aloe Barbadensis Leaf Extract*, Stevia Rebaudiana Leaf Extract*, Calcium Glycerophosphate, Mentha Piperita (Peppermint) Oil*, Mentha Viridis (Spearmint) Leaf Oil*, Vaccinium Vitis-Idaea (Lingonberry) Seed Oil, Menthol, Polysorbate 20, Potassium Sorbate, Sodium Benzoate, Citric Acid. *indicates organic ingredient
HOW TO USE
If you want to freshen your breath naturally, and guard against dry mouth, use daily. Swish about one tablespoon in your mouth and between your teeth for 30 – 60 seconds and then spit out. Do not swallow. If possible, refrain from eating or drinking for 15 minutes after use. If looking to use with children under 6 years of age, it's recommended you consult a dentist or physician.
Complementary Products
If you like the sound of this product, then you'll likely like the sound of these ones too:
Lysere Probiotic Whitening Toothpaste (blog post with more details coming!)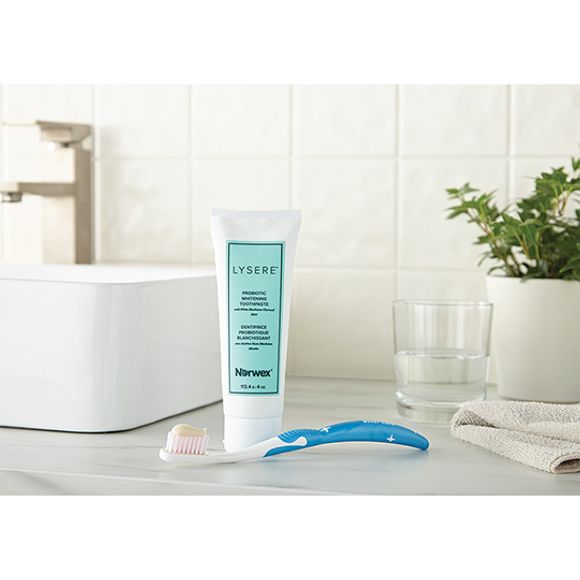 Lysere Toothpaste & Mouthwash Set
Buying these two items together will help you save
Lysere Whitening Toothpaste, Mouthwash & Toothbrush Set
Get all three of the oral care products from Norwex as a set and save!