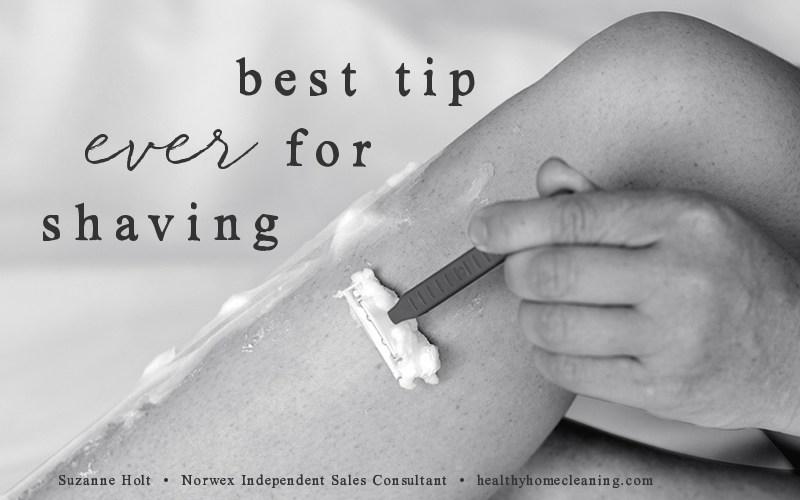 Shaving can be a nuisance, because you not only need to do it so frequently, but it's kinda awkward, right? This is me: I stand in the shower, fumble with slippery shaving cream or soap, lather it on, then turn the water off  so it doesn't get accidentally rinsed off (I have a single shower, so it's very narrow). But consequently, after only a minute, I start to feel cold with the water off. So, I turn it back on, and have to squeeze myself into a corner of the shower and keep turning to avoid too much water, so my cream doesn't get rinsed off my legs. But it still does. So I have to reapply. It's this awkward shower dance I do, all in the name of smooth legs. The bathtub is a little less awkward. But it's still a messy procedure.
THANKFULLY, I was introduced to a little known secret about the Norwex Body Cloths. Here it is: When you rub your legs with a wet Body Cloth, you can SHAVE WITH JUST WATER. Yes. I am yelling at you right now. Because this is a GAME CHANGER!!! I know that your mouth is hanging open in shock right now, just as mine was when I tried this for the first time.
So – why don't you know about this little secret? It's because you just think about the 'main' uses for the Body Cloth. It's intended to be used as a facecloth, only it's the kick-butt version of a face cloth. What makes it kick-butt? Well, the texture, for starters. Its fibers are fluffy. And, its fibers are made with microfiber. Microfiber that has been split 1/200th the size of a human hair. So that means that it has the ability to pick up dirt, oil, make-up, sweat, dead skin cells (you name it), LIKE A BOSS, with just water. No soap necessary. If you don't already have these, HOW ARE YOU LIVING?! 
This cloth is the CEO of all cloths. Not only are those microfiber's going to dry quickly in between uses, but they are woven with micro-silver. This antibacterial agent is going to enable the cloth to self-purify in-between uses. Which means – no smelly, crusty facecloth hanging in the shower or by the sink. You can also use this cloth a few times before it needs to be laundered. Those of you that have them know that once you got your hands on a set of body cloths, you kicked 'regular' facecloths to the curb.
And now, I'm going to show you how to use this cloth to make shaving 16 hundred billion times faster and easier (*not exact statistical math). You'll turn your nose up at facecloths even more. And you'll REALLY not be able to travel to a friends' house or to a hotel without your body cloths ever again!!!
Shaving With JUST Water – Here's How
Step One
Get your legs (or underarms) wet. Do this by standing in the shower. Step one done.
Step Two
Take your body cloth and get it wet. Do this by holding it under the running water of the shower. Step two done.
Step Three
Rub the cloth over the area(s) that you want to shave. Leg. Knee. Underarm. Do it. One to two swipes is all that's necessary.
Step Four
Get your razor wet. Now, shave the area you just rubbed with your body cloth. If doing lots of shaving, just make sure that your skin and razor stay moist.
That's it. That's all. You've just shaved with water, avoiding awkward twisting and dancing in your shower. And not only that, but you've also saved money (bye-bye shaving cream). As a result of your efforts, you're smooth and beautiful, ready to put on your short shorts, your cute dress, or your bathing suit, and sparkle before the world!
Give it a try!
Close your jaw-dropped, open mouth, and get shaving! And let me know – did you know about this little secret? Are you scared to try it, thinking you'll get full legged razor burn, like I did? (It never happened! And I never nick myself shaving anymore either!)
~ Suzanne