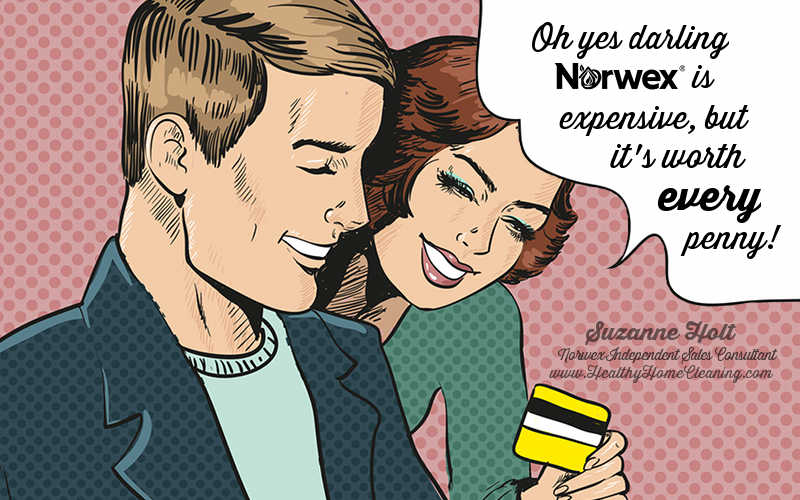 One of the most frequently asked questions from potential customers us consultants receive is, 'Why is Norwex So Expensive?' People who are newly introduced to the product love it, but are surprised by the cost. I admit – so was I. It was hard to wrap my head around the cost of these 'rags.' And who in their right mind pays 'that much' for just a mop? However, the more I used the products, the more I began to 'understand' the reason for the expense. So let's talk about why it is expensive, and if it's actually worth it.
Why Norwex Is Expensive
Quality
This is not your dollar store microfiber. Or even the microfiber you can buy at the hardware store or from other home party companies. It's a whole different level.
Contains BacLock®, an antibacterial agent woven into the fibers, for self-cleansing purposes. Does your microfiber self-cleanse in between uses?
More absorbent than the average item made of microfiber, as it holds seven times its weight in water.
Guaranteed: While Norwex offers a 60-day return policy, that's not even the best part. The best part is the warranty. You're purchasing products with an exceptional warranty on them. All the microfiber products have a two-year warranty. Other products vary in length in warranty, from 60 days to 5 years. And from experience, as a consultant, who has made warranty claims for her customers: Norwex is GREAT to deal with. They don't give customers a hard time. They offer superb customer service that impresses me every time!
Durability: Customers find that their products last them much longer than 2 years. While every customers experience will be different, based on frequency of use, you too will be impressed with how long they last!
1/200th the size of a human hair: To compare that to other microfiber products you use, think of it this way. In order to be defined at microfiber, the fibers are split at least 1/6th the size of a human hair. Compare that to the Norwex microfiber. With at difference of 194 splits, you can see why Norwex is that much better in quality than others. And ask yourself this about the microfiber that you buy at the hardware store – Do you know how many times it has been split? That's always hard to know, because it's not on the packaging (I look, every time)!
A Little Goes A Long Way
The Norwex Laundry detergent, Bathroom Cleaner, and Odor Eliminator (to name a few) – these are concentrated formulas. So, you only need a little, and that means they'll last you a long time! You don't need to be intimidated by the cost of the Bathroom Cleaner, compared to your 'regular' bathroom cleaner. This will last you MUCH longer than the other brands, that you typically need to replace every few months.
One product that has a history of lasting a long time is the Cleaning Paste. This comes in a container as a hard cake. You only need to scrape off a little bit for your job. That means that it will last you a long time. A year. Two years. Perhaps even three, depending on the types of jobs you're using it for (and it can be used for so many!), and how frequently you use it.
Or what about the Leather Care. This is a versatile product, like the Cleaning Paste. You can use it on couches, boots, shoes, purses, coats, saddles, belts, car interiors and dash boards. And yet – you use it all the time, for so many things, and it continues to last for YEARS.
Customer Service
With Norwex, you get your own PERSONAL company rep to help you with your products. Who doesn't love personalized customer service? Here are some examples of what I mean:
You received your new products, but you're not sure how to use them. Contact me, and I'll walk you through it!
You've had your products for a year, but are suddenly encountering a problem. Easy. You just contact me, we'll talk through it, and figure it out together.
You have a cleaning problem, but not sure what product to use, and wonder where to start.  I can help you with that!
Uh-Oh. Your product has broken/fallen apart and it's been less than the warranty period. Simply contact me, and I'll get a replacement sent
 I'm here. For you. Always! 
It's actually NOT that expensive, when you do the math
Most Norwex products actually significantly reduce the use of costly cleaning products. Many Norwex products are reusable, washable, and durable, so once you've purchased them, you've automatically reduced the amount of products you need to keep purchasing on a monthly basis at the grocery store or your run to Wal-Mart.
Check this out. This graphic outlines how much you save in a year, when you purchase the Norwex equivalent: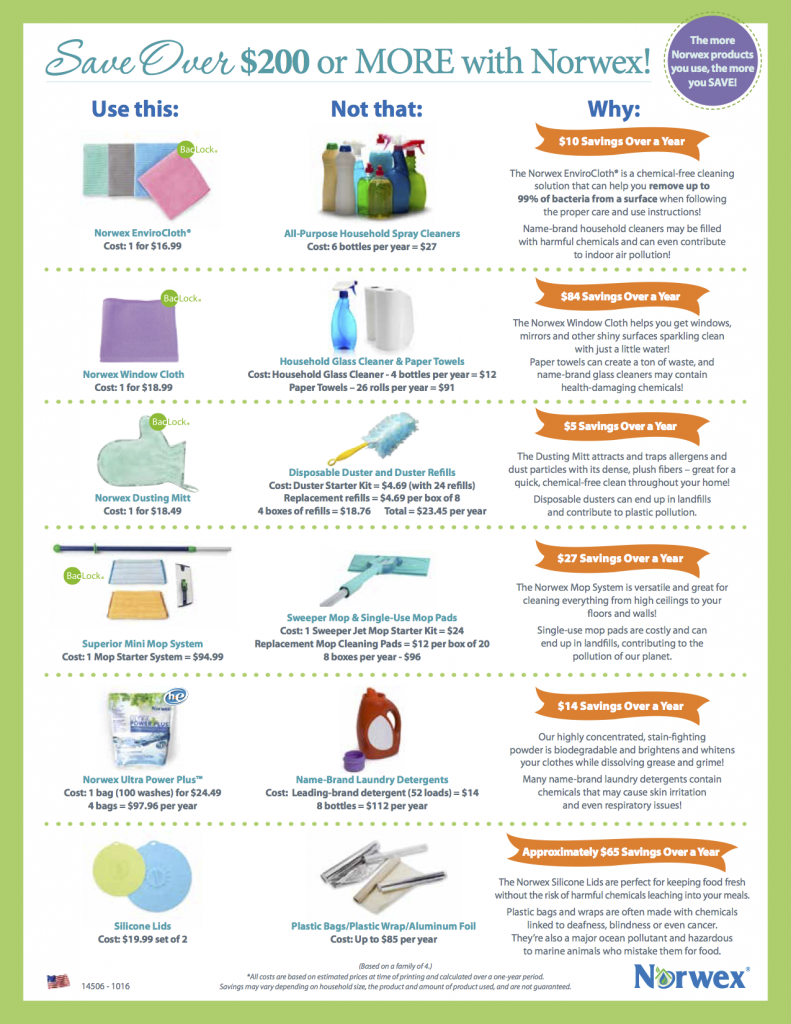 I Get It
I get the whole cost thing. When I first got my hands on the bath mat, I, a consultant, was SHOCKED at how small it was. For the price I was paying, I was expecting a very large bath mat! I couldn't 'believe' it and figured I was NOT going to like this product that was obviously too tiny, and way overpriced. However, I was totally proven wrong. This mat is worth every.penny. It's simply better than any bath mat I've ever used. Heck – I even use one in my puppy's kennel for absorbing his accidents, it's that worth it!
Every time I get my hands on a Norwex product I hadn't used before, I admit that I'm surprised by them. I always begin as a sceptic, and turn into a lover! These products are practical, made with quality, and are going to last me longer than the 'average' product. They work, they work well, and also make a real difference. My home is a safer place for me,  and my family, because of these products. I'm making a real difference in reducing chemicals in my own life, and in my own community.
Don't forget the free stuff
You can actually get Norwex for FREE! Norwex is a party company. So, when you help Norwex by telling your friends about the company, you are rewarded with free product. A business model that rewards its customers? Awesome! Hosting a Norwex party is your opportunity to tell your friends about a great product. Something practical that they'll use, everyday. You're sharing a product that makes a difference in their life, because it's radically reducing the chemicals in their home. Which ultimately, helps them create what Norwex refers to as a safe haven. You're not bullying your friends into buying. You're offering them a game-changer in their homes! 
Our Core Values
Integrity. Trust. Respect. Working for this company has shown me that Norwex cares about its customers, and is always creating with these values in mind, for their customers. That's worth a lot!
Want to learn more? Contact me anytime!
~ Suzanne