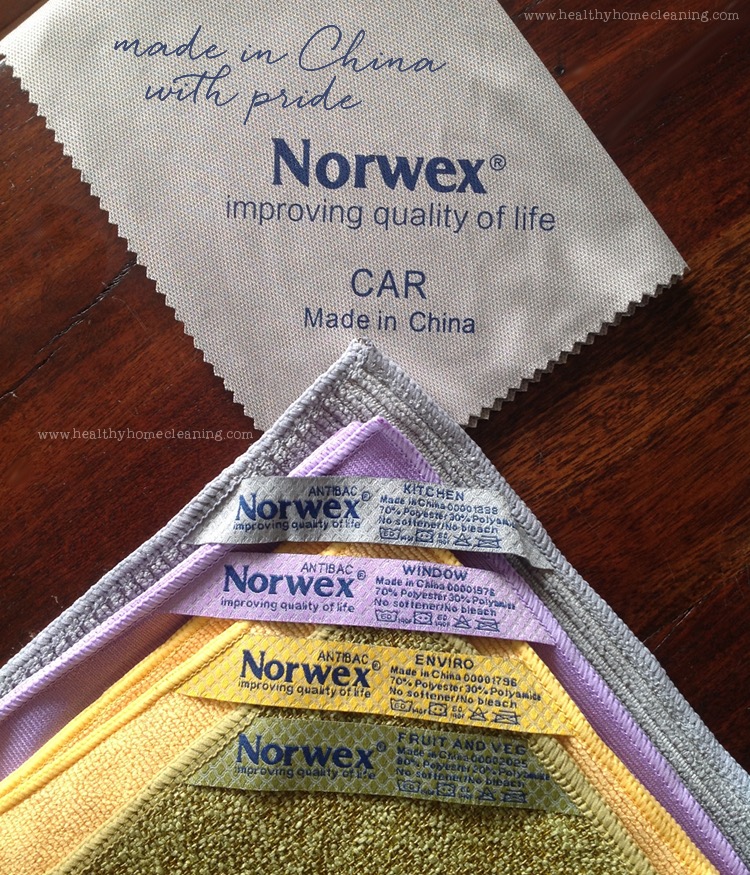 Are Norwex Products Made in China?
Yes, Norwex Microfiber is made in China.
This was one of my biggest concerns when I first started using Norwex, and was contemplating becoming a Norwex consultant.  As someone who tries her best to think global and act local, this worried me because as much as I loved the products, I didn't want to support a company that was employing workers at unfair wages or providing unsafe working conditions.
Norwex issues an annual global report, outlining everything going on in overseas factories each year. Complete and utter transparency… a company after my own heart! I was intrigued to find out a little more about the workers in China and how Norwex conducts global business.
Why is Norwex Microfiber made in China?
In China, there is a degree option for a Ph.D. in textile engineering. When the original Norwex plant in Sweden could not keep up with production, a new plant was opened in China due to the high level of expertise in textiles.  Once the plant opened, the amount of microfiber in Norwex cloths went from 1.5 to 2.9 million meters of microfiber per cloth. Impressive!
Norwex owns their factory in China – they do not simply contract the work out.
This point is extremely important to understand.  Because Norwex own their factory, they are able to oversee and control everything.  Norwex is NOT contracting the work of making the Norwex cloths, to a shady, barely-know-anything-about-this-operation, poorly managed factory, that puts it's employees healthy & safety at risk because of greed.  Norwex runs all the day to day operations of its factory, and takes complete responsibility for everything that happens there.
According to the 2011 global report that focused on Norwex owning and operating their factory in China:
every staff member has access to healthcare and insurance.
the working conditions are clean and tempered,
there is a well-catered cafeteria (that everyone from the chairmen to factory workers eat in!),
competitive and fair wages are paid consistently,
maximum weekly hours are strictly regulated,
and employees are guaranteed vacation and sick days every year.
Norwex is committed to the fight against corruption and seeks to provide an ethical, safe working environment for everyone.
Norwex China conforms to the United Nations Global Contract, regarding employee management, including their suppliers of raw materials.  It also governs Norwex regarding environmental and human rights standards.  I love that I can see Norwex' status and 'grade' within the UNGC on their website… transparancy and honesty.
The Norwex global report also interviewed several Chinese employees of Norwex, several of which have relocated to the area and work for Norwex, alongside their spouse.
Norwex also has a Norwegian managing director living in China to oversee all practices and make sure that the UNGC's 10 Foundational Principles are being adhered to. The CEO, Debbie, also pops in on occasion to make sure everyone is happy.
Reading these reports from Norwex gives me peace of mind knowing I am buying from and working with a company that offers plenty of transparency and seeks to provide a safe, ethical product from the ground up. I hope this information gives you a little more peace of mind next time you see the "Made In China" tag on a Norwex microfiber cloth, and you'll smile knowing you're helping families across the globe make a living and enjoy a positive quality of life.
Norwex China Factory Employees, Fish & James
To  download & read the full  Norwex Global Update issue, which includes more stories from the Norwex China Employees, CLICK HERE.
In a once in a lifetime trip, I personally visited the Norwex factory in China!  It was an AMAZING journey, which you can read more about HERE on healthyhomecleaning.com's sister blog, www.LittleGreenCloth.com.
Save