I've talked to a lot of readers, friends, and even Norwex users who say they want to "go green," but are completely overwhelmed by the idea of it. I get it! I've totally been there. Between natural cleaners, energy-efficient lightbulbs, plug-in vehicles, recycling plastics, and vegan recipes, there are a million things you can do, and figuring out where to start is quite possibly the biggest hurdle. The good news is that you don't have to do everything at once! If you're not sure where to start, here are a few ways you can slowly transition your habits into a greener, healthier lifestyle for you and your family:
1. Switch to unscented products. What many of us don't realize is that a lot of the dirty chemicals in cleaning products are used to make it smell pretty. Remember the "real" smell of clean we talked about before? Choosing unscented detergents mean you're cutting exposure to phthalates, a dangerous chemical found in 97% of Americans that can lead to hormone disruption and sperm damage.
2. Replace kitchen plasticware with glassware. It's easy to store leftovers in plastic Tupperware containers, but the problem is that if you want to pop the food in the microwave, you have t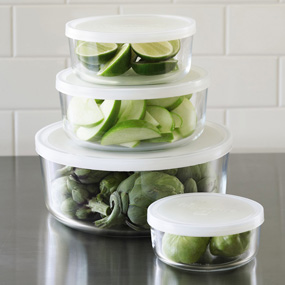 o transfer it to a microwave-safe dish or bowl. Hot food should NEVER come in contact with plastic, so recycle those old plastic containers and replace them with glass versions! Pyrex sells an extensive line of microwave and dishwasher safe glass food containers, or you can visit any thrift store and find an assortment of them for only a couple bucks each (just make sure to wash them first!).
3. While we're talking about thrift stores, buy secondhand! You can purchase far more than Pyrex at the thrift store. I know they can be overwhelming, but when you need something new, consider thrifting it first. Halloween costumes, dishes, art, holiday decorations, and shelving units/storage areas are popular items that we spend LOTS of money on but can often be found for a fraction of the price at a secondhand store. Always clean items as soon as you get home, and if you're buying clothing, don't be afraid to ask the store manager about the laundering process before items go out on the floor. Buying secondhand also means you can score some valuable vintage or unique items you won't find at IKEA or department stores.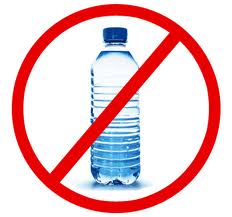 4. Stop buying bottled water. Purchase a water filtration system and aluminum reusable water bottles for everyone in your family. Not only will you save money by no longer purchasing plastic water bottles, but you'll make a HUGE impact on the amount of plastic accumulating in landfills every year. Did you know?
Bottled water consumes around 2000 times more energy than tap water.
Tap water is tested more frequently and held to higher safety standards in the US.
30,000,000 (that's 30 million) water bottles are thrown away EVERY DAY, and end up in landfills or the ocean.
Only about 5% of plastic water bottles are recycled.
Bottle water costs 10,000 times more than tap water.  That's more, by volume, than gasoline or soda! Egad!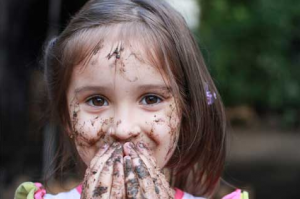 5. Lower your cleanliness standards. OK, ok, this sounds crazy, I know, but as a society we've gone WAY overboard with germ phobia, and in our compulsive need to "kill the bacteria" we've been exposing our bodies to toxic chemicals that are far more dangerous than the bacteria ever was!  Dirt isn't bad!  Since I started using Norwex, I've been  rethinking the average person's standards of clean. For example – using Norwex body cloths means I don't use face wash, which is less product consumed and less plastic wasted.  We are all so obsessed with lots of soap and suds, when in reality it's often hot water that does the job just as good.  Rather than buying another bottle of window cleaner when yours runs out, replace it with the Norwex Window Cloth.  It's an easy way to cut out chemicals, save money, reduce waste, and enjoy a healthier home.
It's not about changing your entire life, throwing away what you already have, or feeling guilty about the jug of bleach under your cupboard. Small changes like these will help you save money and feel good about reducing your carbon footprint, and require virtually no dramatic changes or sacrifice.
What kind of baby steps are you taking to go green?