Norwex Style Camping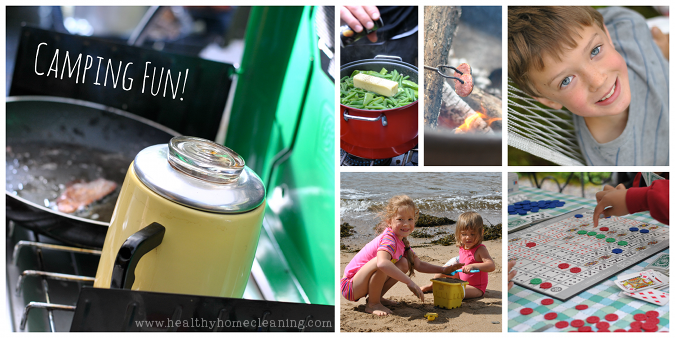 Want to be eco-friendly when camping? Follow the "leave no trace behind" philosophy and avoid bringing chemical products with you that will contaminate the local water, vegetation, or wildlife.
Several Norwex products are great at helping you follow these guidelines so you can keep your family, campsite, and the local environment clean and safe.
BONUS: They help reduce the work load while camping!
Try these Norwex products while camping:
Norwex BacLock Enviro Cloths or Norwex Kichen Cloths – These can be used to clean and disinfect & degrease just about anything and all you need is warm water. Wipe the vinyl tablecloths after meals, wipe down coolers, and clean campfire equipment after cooking.

Norwex Dish Washing Liquid – A little goes a long way with this stuff; just a little squirt washes lots of dishes.  You can just toss the dirty, soapy dishwater into the bushes, because the Norwex dish liquid is so environmentally friendly and biodegradable.  Oh, and that fact that the cap on the bottle closes tightly, without leaking, is a bonus for packing up the kitchen stuff… you don't have to worry about it leaking all over the other camping gear.
Norwex Netted Dishwashing Cloth – Like I wrote in my review of this product, it's FANTASTIC for camping!  Paired with the dish-washing liquid, this little cloth makes dish duty easy.  It dries so quickly, and is surprisingly scrubby.
Norwex Spirinetts –  A must have for those burnt messes to clean up, these little scrubbers do a bang up job of cleaning up tough messes.  TIP: they're FANTASTIC for getting burnt marshmallow off metal roasting sticks!
Norwex Bath Towels – Camping by the damp ocean air?  The Norwex microfiber towels are fantastic for camping because THEY DRY SO FAST!  These are an ESSENTIAL for camping!
Norwex Face Cloths –  Camping is just dirty! So pack these incredible face cloths that do the job of cleaning little faces and hands after meals, play and of course, s'mores!  You don't need any soap, just get them wet, and wipe.
Here are a couple more "green" guidelines to follow:
Bring a garbage bag and recycling bag.
It can be challenging to remember to recycle when camping, so always brings two different bags – one for trash and one for cans, bottles, plastics, and other items that can be recycled. This makes it much easier for everyone to keep trash off the ground and keep the importance of recycling in mind.
Bring reusable plates and cups.
Bring a reusable plate, bowl, and cup for each camper. This way there is less paper and plastic waste, and each camper is in charge of keeping his or her own utensils clean and ready for food and drinks. Of course, remember to bring a non-toxic, biodegradable soap to clean everything, and be sure to dispose of waste water on dry ground rather than into a lake or stream.
These are just a few ways my family enjoys eco-friendly camping without chemicals or waste. Do you have any tips or tricks? I'd love to hear them!