I recently had a customer email and ask me "What is the difference between Norwex Spirinetts and Steel Wool?", and I thought, 'What a great question!  Everyone needs to know this.'
Here's the answer:
Steel Wool (SOS pads)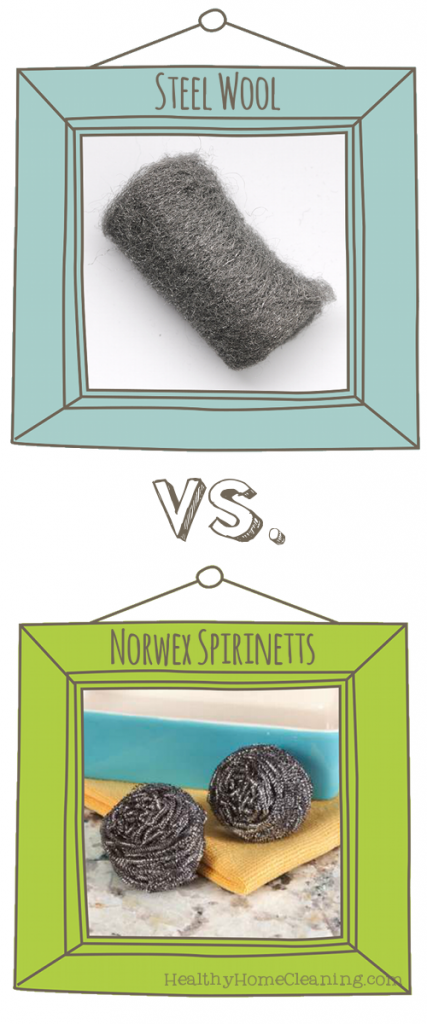 Steel wool is made from thin STEEL filaments that are either matted together or woven into a pad.  Steel is a combination of iron and carbon, and this combination corrodes & rusts quickly, once wet.  Not so ideal when for wet kitchen cleanups.  SOS pads (steel wool pads "filled" with soap) work great for a short period of time (1 day?), and then need to be thrown out because they rust almost instantly.
Although they don't have longevity in the kitchen, steel wool is useful for a few other things, some of them, very unique;
Keep Critters Away – Stuffing steel wool into the gaps around pipes, or in the bottom of wooden garbage boxes, keep rodents out since they won't chew through it.
Eco-Friendly Wood Stain – If you soak steel wool in vinegar, it oxidizes, and turns the vinegar into a beautiful wood stain which gives a grey/brown weathered look to whatever you use it on.  It's great for making something new, look old and distressed.
Norwex Spirinetts
Norwex Spirinetts, on the other hand, are made from a high quality STAINLESS STEEL (a combination of chromium and carbon) and they do NOT rust or corrode… they last for a loooong time. The stainless steel in the Norwex Spirinetts are more like narrow ribbons vs fine filaments.   You should read my full review of the Norwex Spirinetts HERE, but I'll just say that they are THE BEST little scrubbers I've EVER used in my kitchen… far better than steel wool.
The Spirinetts will eventually start to break down, and even though they don't rust, you should throw them away once you start to notice little pieces of the stainless steel breaking off.  These little pieces have the potential to get caught up in your drain, act like a hook, and catch more little bits of drain debris, and clog your drain.
This is what I've been told CAN happen, but I have NEVER experienced it personally, nor, in my years of being a Norwex consultant, have I heard of it happening to anyone else.  I usually keep mine hanging around the kitchen sink for at least a month, sometimes 2.
Which Is Best?
Well, this is entirely based on what your purpose is.  If you're looking for something to sand down a piece of furniture, or keep the mice out of your garbage box, then I definitely recommend steel wool.  BUT, if you need to scrub a casserole dish covered in burnt cheese, or get last years gunk off your BBQ grill, and NOT have it rust in your hands, then ABSOLUTELY get the Norwex Spirinetts!  They're cheap, and they work – there's nothing better than that.