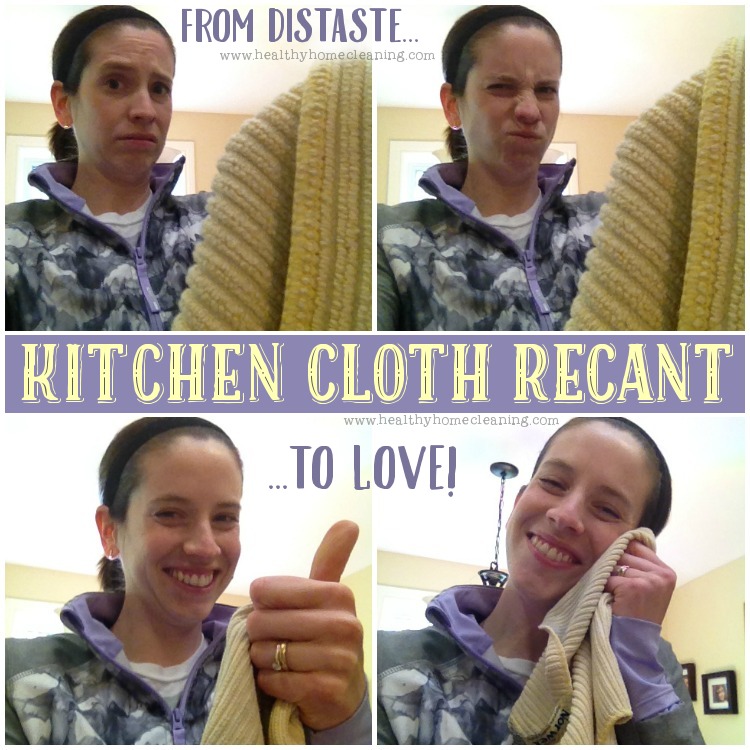 Remember the rant post about the Kitchen Cloth, and how much I didn't like it because I couldn't figure out how to make it work in my routine? I gave up on the thing, inevitably giving it a bad review, remember?
Well, I was WRONG. I take it back. All of it. I fully admit the error of my ways!
I ended up getting my hands on a few more Kitchen Cloths. Being a Norwex Consultant, you get free stuff mailed to you, based on your sales, very frequently. I'll not even realize how much product I've sold in a month and come home to packages of free Norwex [Yeah, I know. AWESOME!!!]. And one of those things was a Kitchen Cloth and the All-Purpose Kitchen Cloth. Another consultant had shared with me that she likes to wash her dishes with the Spirisponge, and just use the cloth for wiping down kitchen surfaces (remember how my previous post touched on the fact that the Norwex Kitchen Cloths aren't meant to go in soapy dish water, as the eventual soap build-up will most definitely make your cloths smell all the time?)
So, I decided to try again. I felt a little hopeful after hearing that.
I changed how I washed dishes, using the Spririsponge instead, since this doesn't scratch, even non-stick surfaces, and has good scrubbing power. It also doesn't start to smell nasty, like a cotton dish cloth. It's easy to rinse out under running water and lasts a number of months.
Then, I got my hands on the Dish Cloth, which is a loosely woven net, essentially. I began using that to wash my dishes with sometimes, just to compare the two. This cloth dries quickly (*ahem* it's full of holes), has surprisingly good scrubbing power, is great for caked-on wet flour, and is easily rinsed out (you can throw it in the wash if you need to, as well). This cloth is not going to smell bad either.
Once I began using these two items in my kitchen sink, EVERYTHING CHANGED.
This new 'system' allowed me to have a non-cloth item for washing dishes that wasn't going to get mixed up with another kitchen cloth that couldn't go in the soapy water, because I never needed a kitchen cloth for washing the dishes. It became the norm to use my cloths only for wiping tables, counters, stove-tops and cupboards. All of my former 'problems' were now gone. And I got addicted.
I don't like my cotton cloths anymore. In fact, I threw them out!  Cotton cloths wipe dirt and grease from side to side, and you need soapy water with them to clean a surface. But Norwex microfiber is so fine that it acts like little shovels, scooping up dirt and grease, removing it from the surface, with just a damp cloth. They're better than anything for grease, like bacon grease spatter! Fold your cloth into fourths to have eight new clean surfaces as you clean, turning your cloth as you go. And yes, it 'scoops up' bacteria too (ie. chicken juice)! Just rinse your cloth under running water, rubbing it together, to rinse away the majority of what you've picked up.  If you're the paranoid type, you can toss it in the wash right away! Norwex kitchen cloths also contain BacLock – BacLock is an antimicrobial agent solely intended to protect and self-clean the cloth by inhibiting growth of odor-causing bacteria, mold and mildew. Note that your cloths are going to sometimes still smell. It's hard for those kitchen cloths to dry between uses, as they're used so frequently in the run of a day! Follow the instructions in this post to give your cloths a good deep clean and make them smell like nothing again.
If I had to choose which cloth, the Kitchen Cloth or the All-Purpose Kitchen Cloth, I liked best, I would choose the Kitchen Cloth for these reasons:
It's cheaper
It comes in all sorts of fun colors that you can match with your towels!
The ribbed parts are REALLY great at holding onto the crumbs!
The darker the color of the kitchen cloth, the better. The lighter colors show stains right away, and you don't want to bleach these cloths (bleach will degrade your fibers).
I've finally gotten over myself and embraced the Norwex Kitchen Cloths. I hope you do too. You won't regret it!