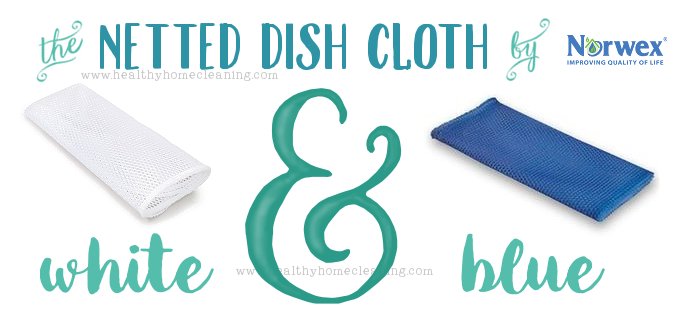 If you don't have a dishwasher (and even if you do), the Norwex netted dish cloth might be just the thing for you.
You might be asking, "What IS the netted dish cloth for?"
Hand washing dishes, and pots & pans.

Cleaning floury, baking messes from your counters after making pies, biscuits, etc.

Here is the testimonial of a "netted dish cloth skeptic".
I had a bunch of friends who really seemed to like then and said that they were wonderful to keep in your sink because they're really "scrubby" and their netted fabric means they don't harbor bacteria. So I tried one, but honestly, I couldn't really see what all the fuss was about. My opinion changed drastically over the summer, when I was at a lake cottage where there was no dishwasher, but there was a little netted dish cloth. All of a sudden, I could see the value of this nifty little item. It's for cleaning dishes in the sink! It does a great job of cleaning anything from plates and bowls to stuck-on food in pots, pans and casserole dishes. (Kerry, Edmonton, AB)
Even better, because it's so "holey", this cloth can just be rinsed through with a little soap and water and left to sit in your sink for quite a while before washing. When you do need to wash it, you can put it straight into the washer and dryer using any laundry soap you like.  It's wonderful for dishes, and it works pretty well on wall stains, too.
So, do I like it?
I like it, but I don't LOVE it.  Here's the low down.
PROS:
it does exactly what it's supposed to do – it scrubs dishes and gets them nice and clean
its scrubby-ness gets pots, pans and cheese covered casserole dishes clean, even the cooked on bits.
it dries quickly and doesn't get smelly
it washes up well in the washing machine
you can use it to clean up "baking messes" without gumming up your cloth…. flour on the counter (and in the bowl) can be cleaned up, and the gooey dough rinses easily out of the netted cloth.
it's pretty inexpensive…and if you cut it in half (as I have done), your money goes even further.
this cloth would be great for camping.
CONS:
I really don't like the texture of this cloth and how it feels in my hands, and so, I tend to avoid using it.
I don't like the size – it's quite large and I have little hands.  The size was enough of an issue for me that I decided to cut it in half (which helped)… and I may cut it into quarters to see if it makes using the cloth more appealing.  I was really happy that the cloth didn't fray when I cut it – I give it a star just for that!
it's fantastic for washing dishes and picking up floury messes, but you CAN'T use it to clean your counters, wipe greasy handprints from the fridge, wipe down ketchup & mustard bottles, or wipe your table clean.
it's drippy and non-absorbant.  Water fills the little netted holes, and you can't really ring it out, so it drips all the way to whatever part of the counter you're taking it to, and you have to follow along with another cloth to clean up after the netted cloth!  To me, this is inefficient and takes up too much space… I like just one cloth in my kitchen sink for wiping everything
I have the Norwex Netted Dish Cloth, and I sometimes use it, but for the most part it doesn't make it into my dishwashing routine.  I much prefer the Norwex Spirisponge for hand washing dishes.  I like to be able to completely wring out the sponge without all the drips.  I see the merits of the netted cloth though, and I know many people who wouldn't want to be caught without this by their sink, so I'm giving it 4 stars.  Not every Norwex product can get 5 stars right?
I should add here that  I looove the Norwex Microfiber Dish Cloths for the rest of the kitchen wiping, including cleaning up gooey, floury messes… the flour rinses right out of these cloths as well!
I'd love to hear what you think of the Netted Dish Cloth.  Am I the only one who doesn't like the texture and the size?