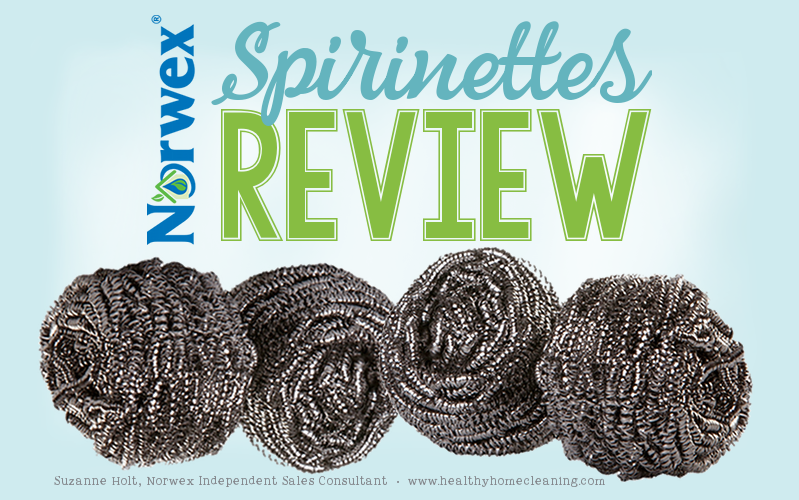 Norwex Spirinetts Review
Right off the bat let me tell you, I give these a roaring 5 stars!
Norwex Spirinetts… so just what are they?
The Norwex Spirinetts are the most AMAZING scrubbers that you will ever find, and despite their small size, they can tackle even the biggest "stuck on" jobs! They come in packs of 2, and will amaze you with what they can clean!
The Spirinetts look like tiny balls of yarn that are made of thin, flat, curly strands of rust-proof stainless steel, and they are completely chemical free.  The Norwex Spirinetts are like steel wool, but soooo much better (read what makes them different from Steel Wool). They are hardy little things, that last and last. Over time they get looking quite ratty from use, but it doesn't affect their scrubbing performance – they just keep on cleaning, regardless of their shape and appearance.
I have used WET spirinetts on old muffin tins and casserole dishes both glass and metal ones, and they have come out looking shiny and new. I have used WET spirinetts to remove dried or burned-on food from pots and pans. I have used them WET to take off the sticky residue left from tape and glue, I have used them WET to clean the burnt on stuff from the burner rings of my old little stove, without pre-soaking. A friend of mine used one WET on her smooth, white top stove, and it removed years worth of burnt on food. They are truly amazing.
You may have noticed that I like to use my Spirinetts WET – that's very observant of you! When used WET, Spirinetts won't scratch MOST things. There are exceptions however – Spirinetts should NEVER be used on stainless steel appliances, under any circumstances – even wet, they WILL scratch stainless steel. If you are really concerned about scratching, I always recommend testing it on a small, inconspicuous area first. I would also recommend that you scrub lightly at first before going crazy with it! You could also try using the Norwex Spirisponge, which is another great scrubber, but not as powerful as the Spirinetts.