So, I saw this Life Hack scroll by one day on my Facebook Newsfeed: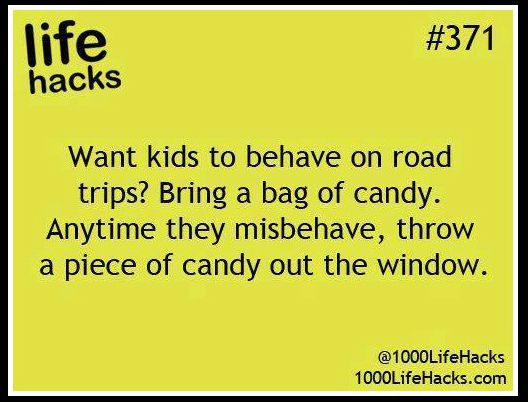 I laughed pretty hard, thought it was hilarious, commented on it and moved on.
However, I couldn't get this idea out of my head.
We were planning a little road trip later in the summer. Just a quick three day trip that didn't involve too much driving.
But I dislike road trips very much. I do not like being stuck in a car for long stretches of time. It's boring. And uncomfortable. And my kids have been bickering and bothering each other in the back seat on short trips to the store lately.
I admit that I wasn't really looking forward to our little road trip. I was going into it assuming I'd be irritated with the kids most of the time.
So this funny little life hack stuck in the back of my mind. As I mulled it over, I thought, "Why not?"
So, I did. *Grin*.  Here's what I did…
How to Get Kids Behaving While Traveling
I told the kids I was going to do this, about two weeks before our vacation. I said, "If you guys fight in the backseat of the car, Mommy is going to throw a piece of candy out the window every time you do." They did not doubt such a serious statement. They asked A LOT of questions about this scenario. The What If's, The Why's, The How's. They for some reason began to understand this scenario to not just encompass bickering, but general listening skills as well. I didn't correct them. As their anxiety levels rose, mine began to fall. I began to find great, secret pleasure over these conversations. I fantasized about that moment I threw the candy out the window and laughed with glee!
My kids talked about it so much leading up to the vacation that I knew I HAD to do this.
So, I went to the store, bought some candy, and put it in a paper bag. I took out a sharpie marker and in BIG, BOLD letters wrote CANDY on the front so that everyone would know what it was for, just in case I actually needed it.
And let me tell you something – I didn't need to throw one piece of candy out the window! My kids were SO WELL BEHAVED in the back seat! I didn't have to listen to bickering. Annoying behaviours. Poking, Whining. My kids were pleasant with each other. They shared. They were kind. They listened to us.
They toed the line. It was glorious, beautiful, blissful, wonderful and a Mother's dream come TRUE!
So my friends, I am here to tell you that this life hack is not a joke. It's the real deal! AND YOU NEED TO DO IT!
When I recounted this story to my own Mom, she called it a gold nugget and said that I needed to share it with others.
My friends, please accept this gold nugget from me to help you experience road trip bliss! Pin this post to your "Summer Road Trip" board so it's ready for this year or next year and revel in the glory of well behaved children!