Kids have been testing out the NEW Norwex Pet To Dry in bathrooms across the country.
The stats are in:  they.just.love it!!!
The Norwex Pet To Dry is a hand towel for kids. It's made of chenille microfiber that dries hands quickly.
This towel gets 5 stars from me! Here's why.
It's so cute! Kids literally hug the thing. They have been known to request to sleep with it!
My kids are motivated to wash their hands, just so they can use the towel to dry their hands!
Three different pets to choose from!
Norwex BacLock™ technology, the micro silver antibacterial agent in the towel, works to self-purify the towel in between uses. That means it's working to inhibit odors from bacteria, mold and mildew growth within 24 hours. Yeah that's right – that means less laundering necessary! I have yet to launder mine (oh my).
Dries quickly so you don't have a soggy towel that becomes ineffective.
The Velcro Handle means you don't need an extra towel bar, but can attach it to hang on your current rack, doorknob, stroller, etc.
1-Year Warranty baby! I love warranties on kid stuff!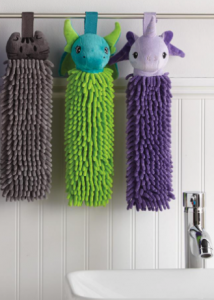 I admit. It's not just my kids who like this towel.  I do too!
It is super soft. Norwex has a Hand Towel that offers a lot of the same qualities. But it's just not as cute!
Maybe I like this one better than my "grown-up: towel", *wink*