Norwex has a whole line of bath & body microfiber, and the most popular (and my personal favorites) would have to be the Norwex face cloths – the Body Pack Cloths & the Makeup Removal Cloths.  You can read my reviews of them here, and here, but in a nutshell, these cloths completely clean & exfoliate your skin with JUST WATER – no soaps or cleansers needed.
I often get emails from customers asking, "So, what's the difference between the 2 types of Norwex Face Cloths; the Body Pack and the Makeup Removal Cloths?  Well, I'm glad you asked!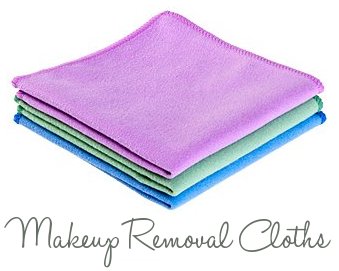 they are velvety soft & have a suede like texture.
extremely gentle for those with sensitive skin… great for kids faces.
great for the tender skin around your eyes.
they exfoliate your skin, but they're not SUPER exfoliators… they just give your face a mild dose of dead skin removal!  This makes them ideal for everyday use, you can use them both morning & night.
they remove all traces of makeup, from foundation to mascara.
they are smaller than the Body Pack, which makes them easy for kids to wrangle!
even with my oily skin, these cloths are my pick for the dry winter months, when my poor cheeks take a beating from the cold.
—————————————————————————————————
they are a looser weave and a fuzzier texture.
these are SUPER exfoliating cloths!  If you have rough, dull skin from dead skin build up, you will be amazed at the transformation in the look and feel of your skin when you use one of these cloths.  When I first started washing my face with the Body Pack Cloths, I just wanted to touch my face all the time because it felt so velvety & smooth.
they are great for every day use IF you have oilier, "tougher" skin (like I do), but I don't recommend them for daily use if you have sensitive or dry skin.  If your skin is sensitive & prone to dryness, you should use the Makeup Removal Cloths daily, and only use the Body Pack Cloths once or twice a week for extra exfoliation.
Things about them that are the same:
both the Body Pack & Makeup Removal Cloths have silver woven throughout them for self sanitation purposes
the washing care instructions are the same for both… in the washing machine, no bleach, no fabric softeners (or dryer sheets), and they can be thrown into the dryer!
Which ones should YOU use?
If you have to choose just one, make sure you get the right pack of cloths for your skin type;
I personally recommend investing in them both, if you can… Trust me, you'll use them and love them!