Ever wonder if there was an easier way to dust hardwood stairs?
The GUARANTEED fastest and easiest way to clean your hardwood stairs is………
This mitt needs only static electricity to attract dust and hair to its fluffy microfibers. Just rub it against itself, or rub two mitts together, to charge it up with static, and start wiping!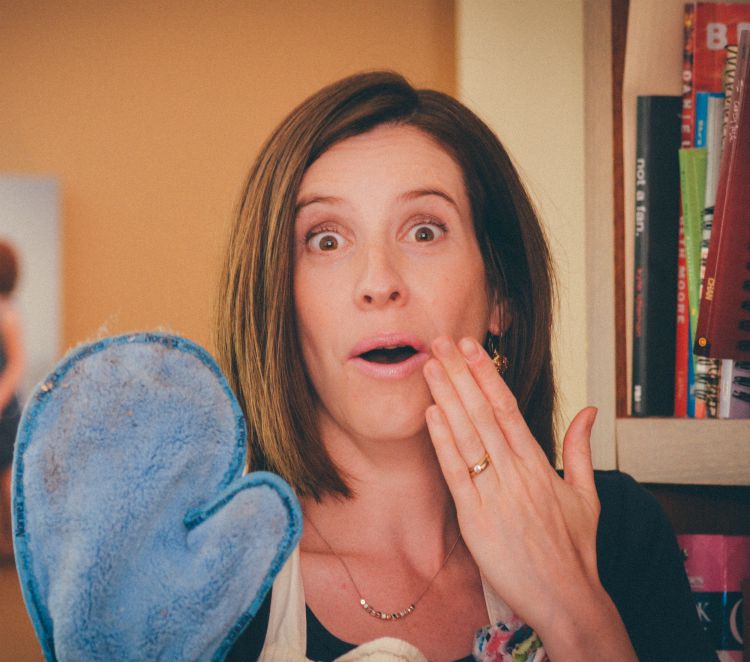 While it cleans your shelves and knick knacks, it's also great for your hardwood stairs! I love how this Mitt can get into the corners of your stairs where your dry mop pad can't and that it clings onto dust like your broom can't! It also gets in between the spindles really well, where NO dry mop or broom can go!
It gets even better!
Not only is this Mitt one-size-fits-all, no chemicals or toxic sprays are necessary. This means, of course, that you're going to get your kids to do the dusting for you! (It can't get any easier than that!)
This mitt is so easy to clean when you're done. You only need to shake the mitt outside (or beat it against a wall, my favourite method)! You can clean and release your frustrations all at one time! You can launder it after those REALLY dirty jobs too!
How to dust hardwood stairs with the mitt
Check out just how easy it is to use to dust your hardwood floors!
This is a top-selling product from Norwex. It's a favorite of many and I know that it will become a favorite of yours too! The best part – you'll actually start dusting your house when you get one! I never used to dust, but this mitt makes it so easy that I love it now, and it's my go-to on my hardwood stairs.
Happy Cleaning!