The Norwex Kitchen Cloth has a little sidekick, the Norwex Kitchen Towel… you know, the kind you dry your dishes with?
Well, I'll be upfront. It's not awesome at drying dishes.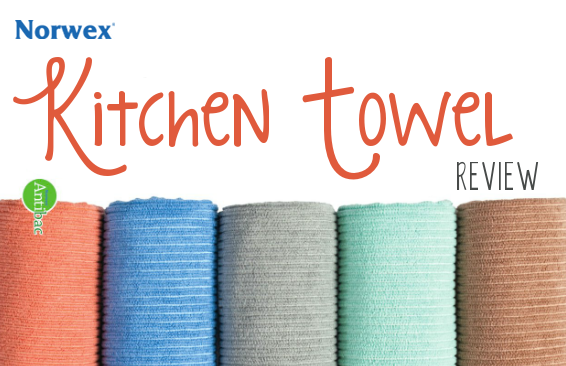 A strange quality for a kitchen towel, I admit.  I don't like drying my dishes with it, because it just moves the wetness around.  However, I do LOVE it as a kitchen hand towel. We always have one hanging on the stove handle for drying hands in the kitchen. However, I have customers who just LOVE this towel for drying dishes too! One customer said that she likes it because it "polishes the dishes dry, kind of like the Window Cloth polishes a window dry." She also LOVES that you can color coordinate with her Kitchen Cloths. That's very important to her! If you feel like this isn't drying your dishes quite like you like, I recommend that you try the EnviroTowel; that's what we use in our home.
The quality I like best about the Norwex Kitchen Towel is that it works well for drying hands.  It's my official kitchen hand towel.  It's redemption comes in the BacLock® feature – silver in the towel that works to self-purify the towel as it dries. That means that it doesn't get smelly as quickly as the 'average' towel. And I have to admit, being made of microfiber, it does dry quicker than the average towel too@
So I have 2 different ratings for this little towel, based on 2 different jobs; 1) drying dishes, and 2) drying hands.
Because this is the towel that gets used for drying our hands in the kitchen, and it does a great job of that, I give the Norwex Kitchen Towel 5 stars for that purpose.  Maybe it should be renamed, Norwex Kitchen Hand Towel?
Since I never use the Norwex Kitchen Towel to dry dishes with, which is it's job, it's purpose,  it receives a two star rating.   
What do you think about the Norwex Kitchen Towel?  Like it?  Love it?  Hate it?  We'd love to hear from you!
Save