Those who are married know this truth: You and your spouse don't always get along, and your partner is just irritating some days.  And – cute, but not always useful.
So, perhaps I should marry my Norwex kitchen cloth, because, as much as I love its cute colours, it is not perfect, and sometimes just irritates me when I'm in the kitchen?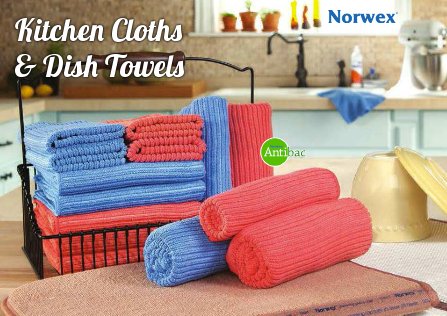 PROS
The Norwex Kitchen Cloth is ribbed, which is its defining feature.  These ribs are power 'grabbers.' Quite frankly, it's the best cloth I've used for wiping up crumbs on the counter and table.  I would say that I prefer using it over a standard kitchen cloth, or even an Enviro cloth.  That feature would make it a five star product in my books.
It has silver in it, which makes it antibacterial – again, awesome.
It's great at degreasing – no soap or other cleaning product needed, just the cloth and some water.  Great at getting all the bacon grease splatter from the stove, counters, and walls.
CONS
However (you were waiting for the however)…
the amount of care this little cloth needs is what makes me irritated, knocking down its star power.  The best way to care for this cloth is to NOT put it in your soapy dishwater.  That soap residue builds up over time and breeds smelly bacteria.  So you say, "Okay, just don't dunk it in your sink of dishwater then!"   Well, the problem is, I always have a sink of soapy dishwater on the go.  I have found it inconvenient to always remember to run this cloth through fresh water and avoid the soap.  Essentially, I have found this cloth to be a piece in the kitchen that needs to be "managed" (not to mention training children and husband the 'rule' with this cloth, which we know they're not going to care about!).  It means that I need to have two dishcloths on the go and that just seems pointless to me.  Knock down 1 star.

Due to its antibacterial qualities (which are awesome), it should not be bleached.  Which means, if it becomes stained, many of those stains will linger.  Leaving it dirty looking.   And I like my dishcloth to have a clean 'look,' you know?  A deep clean is possible, but it's not as convenient as a bleach wash (I know, I know, bleach is horrible for our health, but it gets stains out of dish cloths, and I like clean dishcloths!).  Knock down another star.
This is after my cloth has been removed from the washing machine…
I actually really want this cloth to work though.  A good feature is that it can be used for many days if you rinse it well and hang it to dry at the end of the day.  And that saves time on laundry as well as eliminating gross-dish-cloth smell.  Alas, since I can't seem to get a good 'system' going, it hasn't become a central piece in the daily washing routine (despite the fact that I even have a special little hook for it).
Hanging all by its lonesome. I think it knows it's not loved! 
Conclusion:
For me, I'm leaving it at a 3 star rating for those days it comes through as a super-crumb grabber and de-greaser.
This may be a 4 or 5 star product for some people… people who don't always have a sink full of soapy dish water, and who remember to only wet the cloth under running water.  Also, I have kids, and they make a royal mess of my kitchen.  For those whose cloths don't get all stained, or for people who just don't care if their dish cloth gets stained, this may be a winning dish cloth for you!  I'd really like to hear other peoples experiences with the Norwex Kitchen Cloths!
Fortunately for my marriage, I've been able to figure out a good system for lovin' my husband and working around irritating moments with him. We've got a good system going, and he's a piece I'm always gonna keep around!
***UPDATE***
After spending more time together in the kitchen, a change of heart concerning the Norwex Kitchen Cloth has occurred! Read the updated post on this Kitchen Cloth HERE to find out how you can make this a five-star favourite in your kitchen!!!