I will admit, the Norwex Enviro Wand looks weird. Maybe even a little flashy. I mean, it's fluorescent and has a ton of these crazy little nubs all over one side. Initially, I couldn't see why I would want this over the Enviro Cloth, or the Dusting Mitt.  It seemed… excessive.
However, once I began using it, I saw the magic promptly unfold…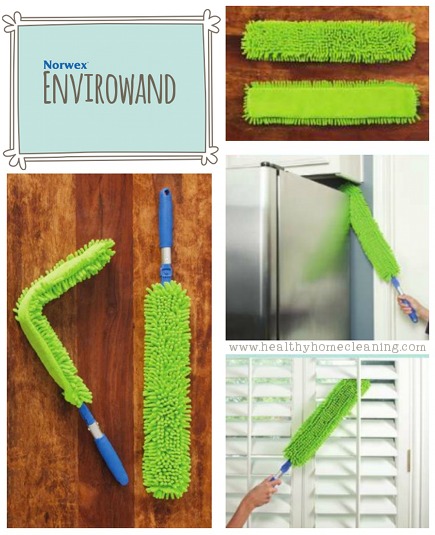 Price: Under $35
Comes with: Flexible Wand and Double-sided Microfiber Sleeve
General Idea: Dust in hard to reach places. No additional products, like furniture polish, needed.  Throw it in the wash when you're done. Warrantied for 2 years.
My Initial Thoughts: Too good to be true.
My Final Thoughts:  Best invention EVER for dusting tricky, hard to reach, hardly ever dusted places!
I've nicknamed it the EnviroWANT!
Here's why I love it:
It reaches EFFECTIVELY into those 'hard to reach' places.
1.  ELECTRONICS
My kiddos grabbed this the first day we had it and began dusting the TV, stand, dvd player, etc. While I've always used my EnviroCloth on these surfaces, I noticed that this wand eliminated the need to reach around or move behind the TV to get to the dust that is hard to reach (but still visible from the couch), like inside the small space between the Playstation and that thing-that-controls-the-speaker-volume (my husband will be mortified at my lack of knowledge).
Most importantly, the Norwex Enviro Wand eliminated the need for me to do any of the work, seeing as my daughter was doing it all for me (willingly and without prompting, I might add)!
2.  STAIRS, COMPUTERS, PIANOS…

My kids then moved to the stairs. Genius! Here's why: I have this little lip on the other side of the steps that is hard to sweep because the spindles are in the way. This dusty little ledge always bothers me, but I consider it too much work to get in between the spindles. So it stays dirty and I stay bothered. But not anymore!
This was PERFECT for that tricky spot.  In fact, I then quickly swiped the wand along each stair, and this did an even better job than a dry mop, as it can get into those corners better! Who knew that dusting could feel so exciting (I may or may not need to get out more)! While we were on a roll, we popped right into the office and did the computer screens, desk and piano as well!
I never had to shake out the wand, and didn't even need to throw it in the wash for the next use.
Over the next few days, I became aware of so many more uses.
3.  That space on your kitchen floor, between the oven and the cupboard, or the one between the firdge and the cupboards, that is ALWAYS full of humongous crumbs.
You think to yourself that you should do something about it, because it will give you that clean-all-over feeling that takes you to your happy place. But you never actually do anything about it, because it means actually moving those giant appliances. Well, no more, my friends! The Norwex Enviro Wand fits in that space, grabs all the dust, and allows you to pull out those giant crumbs that laugh at you every time you prepare food!  You just have to sweep them away! Look who's laughing now!  This is the feature that got me the MOST excited, and the one that really emphasizes my need to get out more.
4.  CEILING FANS
My dear, clean-loving friends: this wand also reaches the ceiling fan! That's what that strange bendy-feature is for! Bend it in the middle, and you can drag it along the top of the fan blade. Ceiling fan too high? This wand it made to also attach to your telescopic mop pole to reach high places (including ceiling corners that contain spider webs).
5.  IT'S ALSO GREAT FOR WINDOW LEDGES, VENETIAN BLINDS,  AND CLEANING THE TOPS OF YOUR CUPBOARDS!
This wand is obviously a wonder. It sounds too good to be true, but it really does grab ALL the dust. I can't seem to see any dust-grabbing difference between the two sides, as they both work just as well in all situations for me so far. If the sleeve gets nasty, you pull it off and throw it in the wash. And it's actually really easy to put back on.
The Norwex Enviro Wand is a five star product, and a purchase you truly won't regret.
You could even add it to your bag of tricks with your kids. ie: "If you don't start behaving, I'm going to have to take away your Enviro Wand privileges."