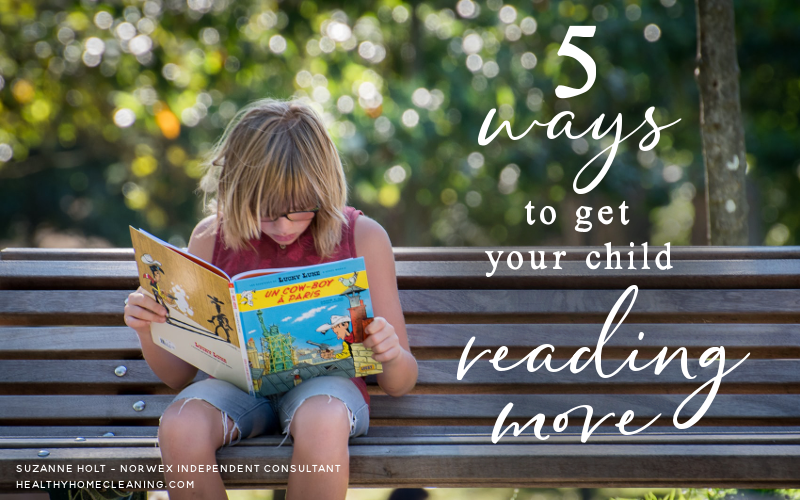 Are you a parent that wants to raise their kids to be strong readers? Do you wish your little wants wanted to read more? I've got 5 simple tips for you to help make it easy to raise strong readers! Each of these tips are helping you create a culture of reading in your home. When you create a culture of reading, you'll have strong readers that have also developed a LOVE of reading!
5 Ways to Get Your Kids To Read More (and fall in love with it!)
Have books EVERYWHERE! Have a shelf or book basket in your main living spaces, as well as in their bedrooms, and even the backseat of your vehicle. Keep them well stocked. When they're bored, they can then easily reach for a book!
Visit your local library. This keeps the books on your shelves and in your baskets new and interesting, without breaking the bank! Plus, if your kids go with you and choose the books they are interested in, they're more likely to not only grab for them at home, but to go back on your next visit for more of either the same or similar type of book.
Introduce them to different formats. As they get older, introduce your kids to comic books and graphic novels. This book format helps them enjoy pictures alongside their books (and makes reading an easier process). Audiobooks help them fall in love stories, and if they have a physical book they can read along with, it makes it easy for them as well. Ereaders make reading accessible and just a touch more interesting because kids love screens!
Read to them. Introduce the wonder of books to kids when they're babies. Read at bedtime, read in the afternoon, read to them all the time! Then, as your babies become elementary aged, graduate to reading them novels. This is also an opportunity to introduce them to some classic stories, like The Lion, The Witch and The Wardrobe, Little House on the Prairie, or Anne of Green Gables!
Talk about what you're reading. Share the interesting or funny books you're currently reading. You can also talk about and introduce them to the books you loved as a kid. If you weren't a big reader as a kid, ask another adult friend to share their favourites! Then, ask them to share more about the book they're reading right now, with you! Ask them things like: what do you like about this story? Is there a character in this story you don't like?
Keep Things Interesting with New Books
If you feel like your kids have tired of the books they have in the house, you could organize a book swap! This can be with a friend that has kids similar in age to you, and you each trade books the kids are done with. Or, arrange a bigger book swap with multiple friends. Everyone brings books they're done with to the event. You lay them all out, and everyone 'shops' for new books for their home!
I have found big stacks of books for my home at bargain prices by visiting yard sales and local thrift shops. If you pop into these every once in a while, it's easy to grow your collection and have fresh content laying around the house!
Your kids' love of reading will grow when reading is something you do TOGETHER. Sit quietly in the livingroom and each individually read your own books. Share your reading experiences, and your culture of reading will come naturally.
Thanks for stopping by! You can find other articles with helpful tips for raising kids here:
The Lazy System to Keep Kids off Screens This Summer
The Cleaning Game You Should Be Playing with Your Kids
Why You Should Get Your Kids To Do All The Dirty Work
5 Easy Ways to get Kids to Drink More Water
How To Make Your Kids Behave in the Backseat of the Car
~Suzanne