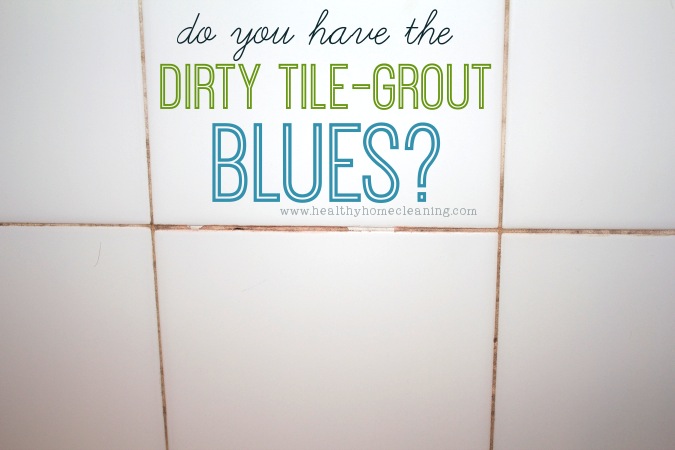 Here's how to clean tile grout, both in the bathroom and in the kitchen, the green, eco-friendly way!
What You'll Need:
You'll also need some good motivation and some elbow grease, because even with these supplies, you'll need to do some intense scrubbing. I'd say the ideal time for this procedure is when you're pregnant and nesting and it's a full moon. I just don't want you to think that this is a magic solution that is going to make the job easy. Let it be known that it won't be easy, but it will get done!
How To Clean Tile Grout:
Start by adding enough peroxide to your baking soda to turn it into a paste.
Spread this paste into the grooves of your tile where the dirty grout is.  This should sit for 10-15 minutes.
Fill your spray bottle with some of the peroxide. Once your solution has sat, spray the section you'll be concentrating on with the peroxide.
Take your stiff brush and give the grout a good scrub. You should see immediate results. If not, spray again and give another scrub.
Your tile will look quite dirty after this process since you're smearing the grout dirt all over them.
Now you can rinse your tile with water.
My pictures don't quite do it justice, and the colouring is off, but you can see that the grout has a much cleaner look to it!
Since this task is quite labour intensive, I prefer doing this task in sections. I did the same thing on my kitchen floor grout and did about only ten tiles each time. It's easier on the knees that way too! The kitchen floor was trickier to rinse, as the baking soda is hard to 'pick-up' with a cloth. I didn't have my Norwex Mop at the time, so I wonder if that would have made the rinsing process easier, since it's so good at 'grabbing' stuff!… or maybe my Enviro Cloth would have worked.  Oh well, next time.
Here's the difference on my kitchen floor, which had very black grout:
Want a quicker, easier solution? Try the Norwex Cleaning Paste and use with a Spirinette or Spirisponge on your grout. This is really effective at cleaning grout. I find that the hydrogen peroxide, baking soda and vinegar mix does create a 'brighter' look, but the Cleaning Paste is a quicker-fix, especially if you don't have years of build-up.
Best of luck!