Salt. Ice. Snow. Water. Mud.Your leather boots deal with a LOT of MUCK!
Take care of your beautiful leather boots using Leather Shine from Norwex!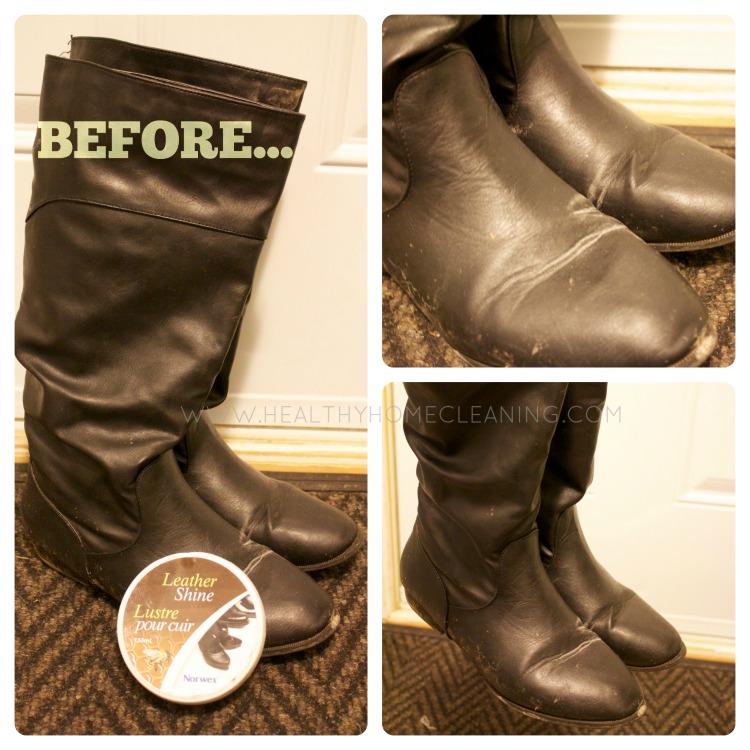 Leather Shine is made with pure Bee and Carnauba Wax. There are no man-made waxes or harmful chemicals in this product. Geranium and Celery Seed Oils moisturize and impart a subtle, natural scent. This product replaces the natural oils in dry leather as it waterproofs, moisturizes and protects!
Fun Fact:
Carnauba wax is wax of the leaves of the palm Copernicia prunifera, a plant native to and grown only in the northeastern Brazilian states of Piauí, Ceará, and Rio Grande do Norte.
You can see that my Norwex Leather Care is well loved! This thing is so beat up, but there's still a ton left!
How to Restore Your Leather Boots
 Wipe off the dirt and salt from your boots. An EnviroCloth is perfect for this job, since it removes up to 99% of the dirt from the surface with just water!  
Rub the black side of the sponge in the leather care.
Rub onto your boot, sparingly.
Turn over the sponge and polish the boot with the white side of the sponge until glossy.
Your friends will think you've gotten new boots! Your boots are shiny again, and they're ready to repel some of that winter muck!
Since you're feeling so inspired by the lovely shine of your boots, you can go and tackle your leather couch! Did you know that you should treat your leather couch once a year to increase the life of the leather? You'll enjoy this investment for many more years if you treat it just once a year. I love the light, natural smell of this product, so it's no biggie to treat both of my couches at one time. It's a very relaxing process, believe it or not!
And heck, while you're at it, tackle the inside of your car! Leather seats, vinyl, all of it! Like most Norwex products, this product is versatile. There are  many different applications for it, so you'll get your money's worth!
What do you love using the Norwex Leather Care on?