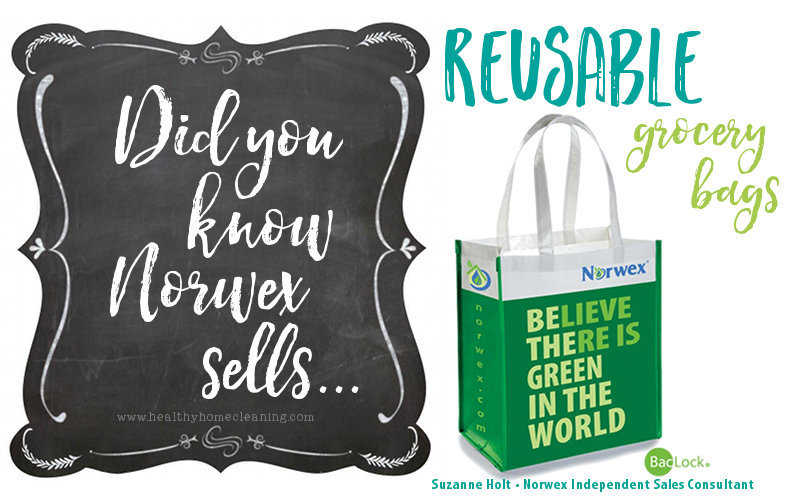 Today's article features the Norwex Reusable Grocery Bag, as part of an ongoing series that helps you discover the hidden gems that you may have missed at your first look through of our catalog! Norwex has SO many products in their catalog. In fact, with over 80 items, I bet there's a lot that you've missed that will surprise you! I get a lot of friends, family and customers who see me using things, and they say, "What?! Norwex sells ________?"The items featured in this series have been chosen because they haven't been featured much on this blog, so if you're a regular reader, you get the chance to see something you've never seen before!
You can see previous posts in this series, like "Did You Know Norwex Sells Deodorant?"  or "Did You Know Norwex Sells Dish Soap"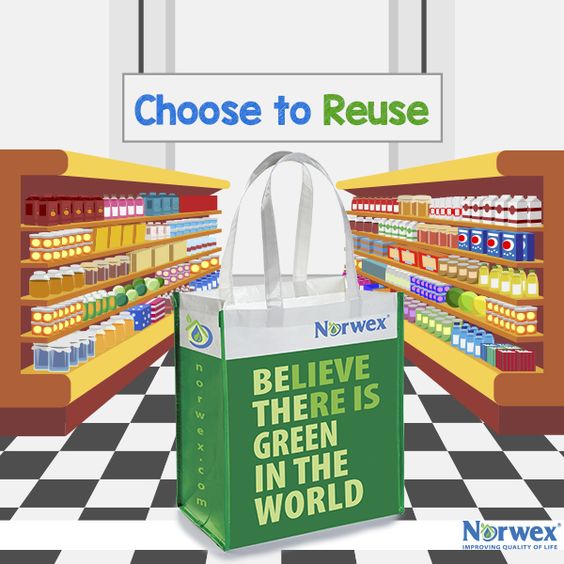 Perfect to keep in the car for quick run-ins to the market, or use in multiples to carry your full grocery load. You can help eliminate single-use plastic bags, go green (and save money if your local store charges for plastic bags). This has been made with food-grade material and recycled plastic.
They're strong and durable, so you can use them over and over again!
Contains BacLock – Your 'other' reusable bags don't contain this awesome feature! The self-cleansing BacLock lining inhibits bacterial door, mold and/or mildew growth within the bag. Sweet!
You will look SO cool – You'll look like a hipster, carrying around this green, reusable bag, with it's uber-environmental message "Believe There is Green in the World." Well. At least, that's what I think I look like. I feel totally cool carrying it around! I know. I'm weird! Be weird with me!
Why this Bag Rocks for the Environment
Made with Recycled plastic
Reduces plastic waste
Reduces demand for tree-consuming paper bags
How to wash
Wipe clean with a damp EnviroCloth and air dry. Bam.
This is the perfect time to highlight the fact that Norwex also sells reusable produce bags!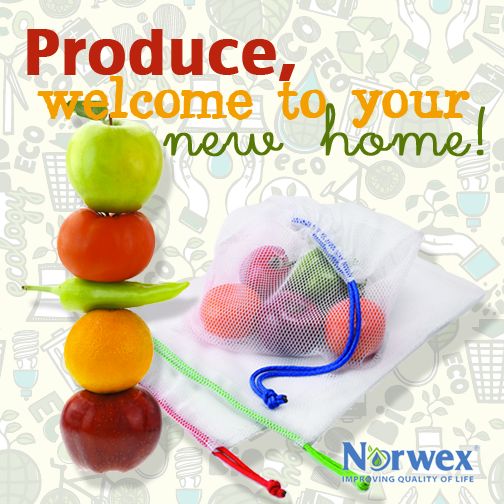 Use these cuties to carry around your produce, INSTEAD of the little plastic produce baggies in the store, to UP YOUR COOL 'Environmental Hipster' factor!
These little baggies are machine washable and durable, so they're easy to use and will last!
So, now you know about this hidden gem in the catalog, and you're one step closer to 'cool!'
Here's an infographic to show you why you want to say 'No Thanks' to plastic bags, brought to you by another maker of reusable grocery bags!

~ Suzanne